Adam Phelan's Tour of Turkey Diary: stage 5
Don't miss out on the latest CyclingTips updates.
The 50th edition of the Presidential Tour of Turkey is currently underway and Adam Phelan, of Australia's only ProContinental team Drapac Professional Cycling, is writing daily reports for CyclingTips from within the race. Here's Adam's report from stage 5.
There were shouts within the peloton. "Piano! Piano!". We had just hit kilometre zero and the road started to climb. I wondered if, behind the veil of the joke, some riders were secretly hoping that their calls may actually work and we would ride up the climb slowly. That, however, was never going to be the case.
The attacks began and the pace lifted. I would soon find out how my legs were faring after my day in the break yesterday. (If you're wondering, they were sore!)
After a succession of attacks nine riders broke free with our man (and my roommate) Lachlan Norris in the move. Lachie told me before the stage he wanted to be in the break. He came up with the goods. That's harder to do than it may seem – especially with a hard start like we had on today's stage.
They quickly got a solid gap and Cofidis began to ride on the front of the peloton (for race leader Rein Taaramae). This doesn't mean the rest of the peloton is able to just kick their feet up, despite what it may look like on TV. It's uncomfortable all day.
There is pressure being applied – even if it is only slight at times – constantly for the whole 184km stage. It also did not help that the roads today were often that dead and bumpy they would make Usain Bolt feel slow. There were several times were I was convinced I had a flat tyre or my breaks were rubbing.
I also wondered how the riders – mainly Lachie Norris – were travelling in the breakaway.
There were peaks and troughs of pace throughout the stage. At some points the peloton was suddenly stretched out into a long thin line and I found I was suddenly getting cosy with the gutter.
Other times the bunch was more grouped together and it's more comfortable in the wheel. These moments you can chat with other riders, get bidons from the race car or take a toilet break.
I bumped into one of the riders from yesterday's breakaway. We talked about the solid start and about how our legs were sore from the previous day's effort. I told him I was happy that the break went away fairly early in the stage today. He seemed to agree.
I even had a quick chat to Cameron Wurf about this very diary. Yep, CyclingTips was discussed in the peloton! If you haven't already, you should check out the race blogs he has done in the past — he provides some good laughs and incredible insight. It's good having some Aussie company in the bunch.
The run on into the finish was harder than I was expecting. It was 10km to go and we could see the breakaway up the road. The road went up highway climbs. The peloton was going full noise. Riders began to drop back through the bunch; there were some tired bodies beginning to show themselves. I hung back with our sprinter Wouter Wippet to help move him up in the bunch. Thankfully my legs had begun to feel better as the stage went on (luckily!).
We caught the breakaway with six or seven kilometres to go. I was going to pat Lachie on the back after his long and solid day in the break, but we going going too hard for me to make the effort. That'd have to wait till after the stage. There was one more short and hard drag before heading into the final four kilometres.
Unfortunately after a tough day Wouter just lost contact with the peloton. It was the same for some other notable sprinters such as Andre Griepel and Theo Bos.
The hard lead-in meant I had found myself in pretty good position as we hit the last 4km. We were going unbelievably quick as the road began to descend slightly. It was a crazy finish. Gaps opened and closed around me as the peloton moved around like an agitated snake. The movements were abrupt and aggressive. Riders leaned on each other and swore at each other; they braked, swerved, yelled and sprinted. It was organised chaos.
Should I go left? Right? Or stay on the wheel in front of me? Not too much thought can go into it; instead instinct takes over. You don't have time to think. You have to make 1,000 spilt second decisions in the final few kilometres of a race like today.
Riders who had finished their lead-out sunk back through the peloton like lead weights. They are akin to a pothole or piece of road furniture, they can ruin your whole sprint. Avoiding them is key.
Bodies were flying around in front of me like we were in a washing machine. Thoughts of crashing passed my mind but I pushed them away – that'd do me no good. I had to switch off. Then the sprint opened. It was 500m to go. I still had good position. I was next to the barrier. A gap opened up to my left and I took it. Before I knew it I was across the line. Yes! I still had all my skin!
I wasn't sure were I finished. It is always hard to tell in the those chaotic sprints. I thought top 15, but it could have been 30th for all I knew.
It ended up being a top 10 – just. I finally got to pat Lachie on the back after his effort for the day once we got back to the team van. I was looking forward to hearing the stories from the break. It's funny how you can be in the same race, finish on the same time, and yet have completely different tales to tell at the end of the day. That's what I love about cycling.
Tomorrow is set to be a ripper of a stage with a summit finish. Hopefully it's a good one for us at Drapac.
Till then,
Adam.
Stage result
Presidential Cycling Tour of Turkey (2.HC) Marmaris → Turgutreis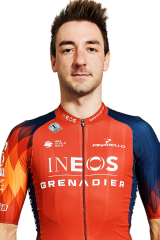 Cofidis, Solutions Crédits