Adam Phelan's Tour of Turkey Diary: stages 6 & 7
Don't miss out on the latest CyclingTips updates.
The 50th edition of the Presidential Tour of Turkey is about to come to a close over in Istanbul, but before that happens here's Drapac rider Adam Phelan with his latest diary piece from within the race.
I'm sitting on plane heading to Istanbul. Half the peloton is accompanying me on the flight. I must say I've never had a stage transfer quite like this. There is only one more stage to go in this year's Presidential Tour of Turkey: a street circuit around the city that Napoleon Bonaparte once called the capital of the world. It will likely end in a bunch sprint.
When I last I left you, it was stage 5 and we had Lachie Norris in the break and I snuck in for 10th place. Stages 6 and 7 have now been raced and won. Here is what you missed …
Stage 6
Let us jump right to the final kilometres of the stage. We had just caught the breakaway. The leaders had been away since the early stages of the race. With it being a summit finish, the sprinters' teams would not help in the chase, so it was left to the GC teams. We had a couple riders help out (as we were not in the break).
With the break caught we headed towards the final climb. The lead-in to these finishes are no less chaotic than bunch sprints. Lead-out trains form kilometres before the start of the climb and the battle for the front is constant and fast. I followed the Lotto-Belisol train on the left of the bunch. Adam Hansen sat at the end of the line. He would go on to have a good stage and was a good person to follow.
The peloton bunched up and lined out as we headed around a U-turn. You can't hit the front too early or you run the risk of getting swamped right before the climb. Lotto held back. They were going to time it well.
At 5km to go we started the climb. I had fairly good position. As the road turned up, riders began to fly backwards – those who had the job of leading into the climb were done for the day. We started fast but the first bit of the climb had a fairly gradual gradient. This was likely the last stage to grab time for GC and the fireworks would soon begin.
Cam Wurf hit the front and riders began to drop. I was at the back of the small group. With 3km to go Adam Hansen attacked and my connection to the wheel in front broke. It is here, when you are just being dropped and you are on the limit, that you have to try and keep calm and composed.
I tried not to panic while trying to keep the same distance to the group. It is hard to do: the sight of riders powering ahead of you is demoralising, and a barrage of differing emotions floods you. I tried to ride within my limits and not lose too much time.
I ended up about a minute and half down in 29th. My legs weren't great. Lachlan Norris had an awesome ride after the day in the break the previous stage to get in the top 20. I rolled across the line with sweat stinging my eyes and my legs throbbing in pain. That was enough climbing for now, I decided.
Presidential Cycling Tour of Turkey (2.HC) Bodrum → Selcuk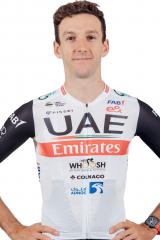 Cofidis, Solutions Crédits
Stage 7
On the start line for stage 7 Andre Greipel nudged me and pointed to the thin and ripped legs of MTN Qhubeka's Merhawi Kudus as he sat in front of us. "It mustn't take long to give him a massage," he said.
If you are unfamiliar with Kudus, he is the climber who finished runner-up in Genting Highlands in the Tour of Langkawi this year. His legs look skinnier than his arms; it's impressive. It's no wonder he goes well when the road goes up! Needless to say I agreed with Greipel. I also asked him whether he needed two soigneurs per leg for him. It would not surprise me.
The race started. Over a series of rolling climbs attacks came thick and fast. Orica-GreenEDGE made sure no group got away that didn't have the right combination. It took quite a while before a group finally got away. Wezman (Wesley Sulzburger) got in a move with Piotr Gawronski (CCC) and Wesley Kreder (Wanty). A three man breakaway — they were in for a tough day.
I checked with Adam Hansen to see how the rest of stage 6 went after his attack left me off the back. He said Adam Yates attacked not too long after he had attacked and was not caught again.
Yates has been really impressive this tour. I raced him last year as an U23 and he has stepped it up another level again this year. It would have been interesting if his brother and Orica-GreenEDGE teammate, Simon, hadn't crashed on stage 3. I think you might have seen two Yates' high up on the general classification. They are both riders to get excited about for the future, that's for sure.
Back to stage 7, the three riders out front were allowed three minutes before the peloton began to chase in earnest. It would have been a very tough ask for the riders to have stayed out for a stage win, especially with the sprinters hungry for another stage. But you never know in cycling.
It was 10km to go. I didn't quite see what happened, but there was a screech of brakes and the crack of carbon. We were going nearly 50km/h and riders fell. You don't have time to think. I swerved left. It was good choice — the crash skidded right and cascaded further through the bunch.
My teammates Floris Goesinnen and Bernie Sulzberger were caught in the fall, with Bernie still holding a bottle in his hand as he laid on the ground. (He retrospectively admitted that ditching the drink may have helped his chances of avoiding the crash.) Another close call. I tried to find our sprinter, Wouter Wippert. He didn't crash. Phew.
A dog also posed a threat to the bunch. It sprinted alongside us. It seemed as though it could turn left at any moment. The image of what would happen if it did run into the peloton filled my mind, and it wasn't pretty. Thankfully that didn't happen. With the help of some riders and their water bottles, we left the dog incident free.
I think we caught the break at about 7km to go, but I'm not exactly sure. I was paying more attention to the wheel in front and moving up to a better position with Wouter. It was a big effort by the boys out in the break though. I found it to be solid enough in the bunch!
The last 5km was another chaotic dance within the peloton. Picture 20 different lines flicking about spasmodically. Replace the lines with riders, place them on winding roads at differing speeds, many over 60km/h, and you begin to get some idea of what it's like. The bunch broke apart entirely through the middle at one point, with different lead-out trains choose opposing sides of the road, before moments later reforming in a clash of bikes and bodies. Riders were moving up and back, flicking side to side in a constant cycle.
A U-turn came at 2km to go. Wouter had good position near the Omega Pharma-QuickStep lead-out train. Along the final straight I heard another loud bang and riders in front of me began to swerve. A Wanty rider was spinning on the tarmac. I just missed him. Riders to my right were not so lucky. They flipped into the barriers, making a sickening sound. I was left with all my skin; that was a good enough success for me.
Wouter had another strong sprint with a top-10 finish. After his two stages just outside that, I'm sure he'll be pretty satisfied.
Tomorrow is another day and possibly another sprint. It's one more shot before the tour pulls in the curtains and riders move on to their next race. It'll be a show that's for sure.
Presidential Cycling Tour of Turkey (2.HC) Kusadasi → Izmir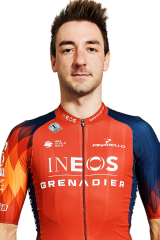 Cofidis, Solutions Crédits
–
Our flight is nearly over. I can see the lights of Istanbul below us. Tomorrow we race down there and I can't wait. I'll be sure to let you know how it all ends. Right now I better put my tray table up and buckle my seat belt.
Till tomorrow,
Adam