Adam Phelan's Tour of Turkey Diary: the final stage
Don't miss out on the latest CyclingTips updates.
Over the past week and a bit Adam Phelan from Drapac Pro Cycling has been blogging for CyclingTips from within the 50th edition of the Presidential Tour of Turkey. In this post Adam talks us through the final stage of the race.
The famous Blue Mosque of Istanbul towered over us as we sat on the start line. It was the final day of the Presidential Tour of Turkey and the rain had finally eased. Ruins and crowds lined the barriers.
My morning started with an allergic reaction. Something from the hotel didn't agree with me and my face puffed up like a hot air balloon and it itched. This was about as enjoyable as it sounds. I looked forward to the race — "that should be good", I thought.
Before reaching the race-ending city circuit laps we changed continents, from Europe to Asia. It wasn't even that big a bridge! As we raced along the road, I glanced out at the harbour of Istanbul. It oddly reminded me of Sydney, though it bore no real resemblance. Maybe I missed home?
It took a while for the break to go, roughly 30 to 40km. I was busy choking on pollen. My day wasn't going well and it wasn't about to get any better. My right knee began to hurt as a sharp pain shot up my leg. What? Why now?
I rode along and tried to stretch my leg out. The pain still hung around and I sat at the back of the peloton. The pollen itched at my already puffed eyes and I coughed; some had found its way to the back of my throat. We had still averaged just under 45km/h for the first 80km. I dropped back to the race car to talk to our director Henk Vogels.
It was at this point I considered pulling out. My knee was really sore and I didn't want to do any damage. After making it all the way to Istanbul, however, it would hurt to have a DNF next to my name.
I decided that I should wait it out. That I should go back up the bunch, stretch and massage my leg on the bike, and hope the pain would ease. If it then kept up I would likely pull out. I was annoyed that I couldn't enjoy the last stage of what's been a great tour.
Thankfully the pain had mostly faded away towards to the final few laps. I was happy I didn't pull out, and deep down I don't think I could have anyway. A sprint loomed. One more day for the fast men.
Because of my knee I was going to be fairly useless for the final. That meant I got to see the final few kilometres from a different perspective. From behind, the chaos, the bumping and the nudging looks fluid and not too chaotic at all. I knew that up there, in the middle of it all, it was a very different story.
The last lap was fast. Riders and teams jostled for position. Some lead-out trains left their run late, hanging near the back of the peloton. Others, namely Omega Pharma-QuickStep, took control of the front. It was going to be another spectacular sprint. Wouter Wippet would have another sprint for us at Drapac. I felt bad that I couldn't really help him.
I didn't actually get to see the finish. I was in the peloton, but you don't see much unless you are actually racing for a result. I heard Mark Cavendish won, his fourth for this year's tour. Wouter ended up 14th.
I crossed the line and the tour was done. There were no more hotels, no more transfers and no more races. It felt weird. I almost wanted it to keep on going. I had gotten used to being on tour. But it was done.
I am now sitting in my hotel room writing the last race diary. Out my window is a jungle of buildings and off in the distance I can see planes taking off. This all feels quite different from when I started these posts, when I sat on a beach in Alanya, unsure about what awaited me.
It has been fun trip since then. It's been hard, crazy and exciting. And I thank you for coming along on the adventure with me. I hope you've enjoyed it as much as me!
Now it's time to check out the sights of Istanbul.
Until next time,
Adam.
Stage result
Presidential Cycling Tour of Turkey (2.HC) Istanbul → Istanbul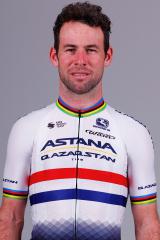 Cofidis, Solutions Crédits