Inside Line: Nettie Edmondson's Friends Life Women's Tour (part 1)
Don't miss out on the latest CyclingTips updates.
After months of build-up and excitement the first ever Friends Life Women's Tour was held in Britain last week. The five-day race attracted the biggest names in the women's peloton, including world champion Marianne Vos and World Cup leader Lizzie Armitstead. Nettie Edmondson, who splits her time between riding on the track and riding on the road with Orica-AIS wrote the following two-part piece from within the race.
The lead-up
I am relatively new to not only the Orica-AIS team, but to the professional peloton, so I spent almost the entirety of 2013 racing on courses that were completely new to me. Luckily my teammates knew the courses inside and out, so I had some idea of what to expect. The Women's Tour was different. Everyone was going into the unknown. It was actually pretty exciting!
I had read reviews of the courses and studied the profiles, as I would expect each and every rider to do before a major race. From what I could tell, positioning was going to be crucial. The tour may not have had steep climbs like Italy, nor strong winds like Holland, but the roads were winding and constantly changing from wide to narrow throughout the entire race. Should you find yourself out of position as the peloton turned on to a narrow road, it could all have been over.
There were a handful of riders we really needed to watch out for at the Women's Tour, including Olympic gold medallist and current road world champ, Marianne Vos (Rabo-Liv). When Marianne enters a race, she wins more often than not. She was hungry and was looking to edge out the Women's Tour's pin-up girl Lizzie Armitstead (Boels Dolmans).
Armitstead herself is in the form of her life, currently leading the World Cup Series, placing no worse than second in each World Cup race so far. She's on the hunt for Commonwealth Gold but this race is also high on her priorities list this season.
It was clear there were going to be a few bunch sprints among the five stages (or select bunch sprints) which would suit Wiggle Honda's Georgia Bronzini, young British rider Lucy Garner (Giant-Shimano), Hitec's Chloe Hosking and of course Vos and Armitstead. We went into the race in support of our Orica-AIS superstar Emma Johansson who can sprint, climb and 'ride the wind'. She's one to watch, in every situation!
Stage 1: Oundle to Northampton (93.8km)
In a typical European road race, with a mixture of club and professional teams, you see riders lining up on the startline up to 45 minutes before the actual race start. They may stand in rain, or freezing temperatures to ensure they start in the best position so they don't have to fight as hard to 'move up' when the whistle blows. This race was different.
There were thousands of people out, lining the roads, watching and cheering at the team presentation. Other than the Olympic Games and World Championships, I don't think many of the girls had experienced such crowds. I think some had 'stage fright' and didn't want to line up in front of such excited fans. With 20 minutes to go, I gave up waiting, lined up at the front and tried to take in as much of the atmosphere as I could.
WOW! Who'd think these crowds are here for a WOMEN's bike race??! Times ARE changing!! ???? @thewomenstour [pic:velouk] pic.twitter.com/0b2rEPcVGp

— Annette Edmondson (@NettieEdmo) May 10, 2014
We did a short, neutral lap of the town, lined with supporters and school kids, screaming at the top of their lungs. It was so uplifting and really made us feel like this was something special. The men's peloton might shy away from this kind of treatment, but this is a rarity in women's cycling. To hear people excitedly saying, "I can't believe we get to stand so close to them!" was pretty cool.
Soon enough we were off. The race was relatively slow and uneventful for the first 30km. Due to the headwind, the bunch was constantly moving, with riders pushing forward, forcing others backwards. I think the best description of a peloton I've heard is that it's like a living organism. Constantly moving, constantly changing shape.
As there were bonus seconds given at each sprint prime, it was my job to lead Emma out into the first sprint at the 30km mark. Unfortunately the hill before the sprint proved too difficult for me to stay at the front, so Emma was on her own.
There's nothing worse than looking up and seeing where you're supposed to be in the peloton, yet can't manage to get to. Luckily she was in amongst good wheels and managed to get second over the line.
The next 30km were tough for me. The race got hillier so I was having to use more energy to move up to the front of the peloton after each hill than I would have liked. I'm still trying to find my road legs after track season and those extra two kilograms I put on after my break certainly aren't helping either!
There were a few attacks during this section which my teammates Gracie Elvin, Loes Gunnewijk and Vale Scandolara managed to cover. Most were short-lived until the French National Champion, Elise Delzenne from Specialized-Lululemon, managed to get away solo after the second Queen of the Mountain hill climb.
The photo bombing competition has moved to inter-team. @NettieEdmo gets @emmaprocyclist during a BBC interview. pic.twitter.com/w74T6gd4w8

— ORICA-GreenEDGE (@ORICA_GreenEDGE) May 7, 2014
I finally found my legs again as the rain started to come down. It's always a tough decision: do you keep your sunglasses on as they fog up and struggle to see the wheel in front through the blotchy rain drops? Or do you take them off and put up with both rain and dirty water flicking up off the wheels in front, straight into your eyes?
The rain stopped a few kilometres later and it was time for the second sprint. We hadn't planned to go for the second sprint, however both Emma and I were up in a good position and so it made sense just to go for it.
Marianna attacked with Lizzie on her wheel with 400m to go. Emma's SRM fell off at that exact moment, so she hesitated and couldn't quite get on the wheel. Delzenne was still out in front, so that was the bonus seconds gone.
It was now 10 kilometres to go and our entire team was at the front, keeping Emma protected and out of trouble in preparation for the sprint. Delzenne was reeled in by the hungry peloton with 1.5km to go. The sprint was messy with not one team organising a sprint lead-out train. Luckily Emma managed to find our Dutch motorbike, Loes Gunnewijk, with 1km to go. She kept Emma up in position, with the pace up high.
By the time I had a free run up to the front, I had Giorgia Bronzini and Lucy Garner beside me. We were about seven or eight metres back with 500m to go so if I moved up to the front to try and help Emma, it would mean giving these two sprinters a perfect lead out. I decided it wasn't worth it, especially as Loes was doing a stellar job, and Emma was in a perfect position.
Loes peeled off with 450m to go. Lizzie Armitstead started her sprint too early, with more than 400m to go and straight into an uphill headwind. Vos then took over with 250 to go, which gave Emma (who loves long, hard sprints) a perfect lead out into the finish. Emma Johansson won the first stage of the inaugural Women's Tour for Orica-AIS!
Cheers! Skål! A moment of celebration together with my @ORICA_GreenEDGE – AIS family #selfie pic.twitter.com/nFHYZ5ZuRw

— Emma Johansson (@emmaprocyclist) May 7, 2014
We were ecstatic! It was the team's first win in a while, so it really meant a lot. Not only that, but Emma had just beaten the current world champ and World Cup leader, fair and square, despite not having received much attention as a 'favourite' in the lead up. It was great! Emma proved why she is ranked number one in the world and why she should never be underestimated.
Personally I was a little disappointed with my job. I was up there, helping Emma a lot throughout the race but I needed to do more for the team in both the first sprint and the final sprint. I felt much better at the end of the race than I have in Europe so far, so that's definitely positive.
It was time to defend the jersey!
The Women's Tour (2.1) Oundle → Northampton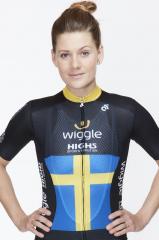 Stage 2: Hinckley to Bedford (118.5km)
I found this stage a lot harder than the day before. Defending yellow is a taxing job. The hills were sharper this time and they really strung the field out. I was expecting it to be windier, especially as we were set to have crosswinds for the majority of the day, but thankfully it wasn't too bad. Although it did rain for the entire race!
Since we had the yellow jersey, our main goal was to be represented in every move. If a team attacked, we needed to make sure we had at least one rider in there, sitting on, not working. That would mean other teams would have to chase if they wanted to bring it back. We ultimately wanted it to come down to a bunch sprint, or a small group which included Emma.
There were a lot more attacks today, and understandably so. Our team did a great job covering moves and only one rider managed to slip away before the first sprint. This time I was in a better position and managed to find Emma coming into the sprint. She was happy with where she was and wasn't too interested in taking sprint points, instead choosing to save her energy for later. Armitstead and Vos fought it out for second and third.
The bunch was relatively relaxed over the first hill climb, but that's when the action started to pick up. The course got hillier over the following 30km and naturally, so came the attacks. This was my least favourite part of the race.
When I am really fit, I can do a pretty good job up power climbs but for the most part I struggle up hills. On an undulating course, I often spend my time yo-yo-ing through the bunch, starting the hill at the front of the bunch, finishing it at the back, then spending the next downhill working my way back up to the front.
When a teammate is in yellow, this increases the importance of getting back to the front of the bunch as it's critical that I be there to help the team cover any further attacks or to help control the bunch in general.
After around 85km, I made it to the front as my teammate Loes closed down an attack. I looked around in sixth wheel and waited for the counter-attack. It came from none other than Rabobank's Annemiek Van Vleuten. She isn't someone you want to mess around with.
I had no time to think, I had to go, sprinting after her to try and get in her wheel as quickly as possible. We went up a bloody tough pinch and I honestly had to give it absolutely everything just to get on the wheel. If I didn't make it to her, my teammates would have to get on the front of the bunch and team time trial to pull her back, which would mean using too much unnecessary energy.
If I could get on the wheel, it would be up to other teams to bring us back. I could just sit on (as we had yellow) so if she wanted to go all the way to the finish she would have to take me with her.
Thankfully I made it to her wheel and as planned, just sat on the wheel, not taking a turn. I feel bad in situations like that, not sharing the workload by taking a turn. She tried to get me to take a turn, and instead I stayed on her wheel, saying, "sorry!" When she noticed my jersey she completely understood. She kept out there for a little while longer before eventually giving up and waiting for the bunch to pull us back in.
From then on my legs were pretty heavy as the attack took it out of me. I had had to dig really deep, even just to stay with her. Every time we hit a hill after that I had nothing (i.e. even less than normal!)
Two riders, Rossella Ratto and Susanna Zorzi managed to sneak away and with 25km to go their lead had extended to 1:55. We had no option but to chase. Rabobank and Boels Dolmans were also interested in chasing, because if the move stayed away, it could mean the tour was all over for both Vos and Armitstead as well.
Shara Gillow, Vale Scandolara and I went into the chase, swapping off with three Rabobank riders and a couple of Boels riders. My legs gave in with 7km to go. I told Gracie and Loes to look after Emma if it came down to a sprint.
I dropped off the back and cruised in with a smaller group. I actually got to take in the scenery for the finish and couldn't believe the number of people out lining the streets, despite the terrible weather. It was really exciting to see!
I rode through the finish and found the Orica-AIS vans parked 400m down the road. Unfortunately they didn't have good news; the bunch hadn't quite caught the leaders, which meant that Emma had lost the jersey to Ratto. Despite the result, we know we gave it absolutely everything and couldn't have done much more.
The Women's Tour (2.1) Hinckley → Bedford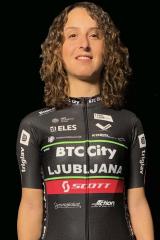 Astana BePink Womens Team
To be continued …