Tiff Cromwell's Giro Rosa Diary: stage 2
Don't miss out on the latest CyclingTips updates.
Throughout this year's Giro Rosa, the longest and most prestigious stage race on the women's calendar, Tiff Cromwell (Specialized-Lululemon) is blogging for CyclingTips, providing insight and analysis from within the race. In this post Tiff talks us through stage 2 of the 10-stage race, a stage held on her 26th birthday, and one that ended in a bunch kick.
The sprinters finally had their day to shine today and the Italians had something to celebrate as Giorgia Bronzini (Wiggle-Honda) took victory ahead of current pink jersey wearer Marianne Vos (Rabo-Liv) and American Shelley Olds (Ale-Cipollini).
What better way to spend your birthday than playing a real-life video game on bikes? That pretty much sums up what today's stage was like to race. It was another day of circuit racing with six laps of a 20km loop in Frattamaggiore on the outskirts of Naples.
Clearly someone had forgotten to pay their bills to the local mafia as the road conditions made it feel like we were back in Belgium racing on the cobbles. There were potholes galore and rough surfaces — many roads looked like a patchwork quilt.
We were promised a circuit for the sprinters today and it certainly didn't disappoint. It was a predominately flat course with only a couple of overpasses to create any kind of altitude gain. There were corners and lots of them; it was like a giant criterium circuit.
After a very challenging race yesterday and with another tough course awaiting us tomorrow, today was about recovering and looking for opportunities for breakaways. We went in with the plan to race conservatively with Ally Stacher and Tayler Wiles taking control of the early work if any moves went off the front. Evie was given a day to relax and save herself for the coming climbing stages. Chantal Blaak, Trixi Worrack and I were in charge of the final lead-out for Carmen Small if it was to come down to a sprint.
Sunday church was dismissed in Frattamaggiore and plenty of fans had come out to line the streets and cheer us on. There was a great atmosphere today with nice crowds; always an added bonus at our races.
A short neutral section took the peloton out of town and then it was on. The racing was fast in the beginning with a number of attacks going off the front, particularly by the Italian teams, but the pace was too high for any moves to get established.
The opening two laps saw us have a 44km/h average speed as the teams battled it out for the one and only intermediate sprint of the day on lap two at kilometre 42. The speed remained high in the peloton for the following couple of laps but the action was pretty quiet.
The only major move of the day came from Russian Alexandra Burchenkova (RusVelo). Halfway around lap four she attacked with no reaction from the bunch and built up a steady lead solo at the front of the race, gaining a maximum advantage of 1:45.
Rabobank-Liv were playing very quietly today, happy to let a non-GC threat go up the road and not interested in controlling the peloton, unless of course their lead came under threat. Instead it was up to the sprinters' teams to do the work if they wanted a chance of glory on the few chances they have throughout the tour.
With two laps to go and with the lead continually growing, it became a game of Russian roulette between the sprinters' teams in the peloton. Who was going to crack and fire first, come to the front and take responsibility? Would they be able to play their cards early and still have a chance at victory?
Finally Hitec Products cracked and were the first to send riders to the front, having Australian Chloe Hosking as their fast finisher, and set the pace in pursuit of the Russian. Ale-Cipollini eventually sent some riders up there too to help out along with one or two Wiggle-Honda riders.
Within one lap the lead was reduced significantly and Burchenkova only had a 10-second advantage as we came in with one lap to go. She was caught soon after.
A big crash in the middle of the field disrupted things slightly — it was right around me but somehow I avoided touching the tarmac. Girls crashed in front and to the side of me; I had managed to wash off enough speed and was able to get my foot out to step over the girl who had fallen in front of me and keep my balance. My bike was slightly wedged in the mess but I wrangled it out and off I went, back to the peloton whilst the other girls lying on the ground sorted themselves out.
In the meantime Valentina Bastianelli (Michaela Fanini) attacked out of the bunch. Bless her — you have to give her credit for trying. She forever attacks, sometimes not at the smartest times, but she always tries and everyone knows her for attacking and lets her go, confident we'll reel her back in.
She put in a gallant effort but with the pace behind increasing and the sprint trains starting to form she was swallowed back up a few kilometres later. From here on out with 15km to go it was time to switch on the sprinting head, sharpen the elbows, find your teammates and get ready to fight. It was coming down to a big bunch sprint.
With a few teams trying to take control at the front Orica-AIS was the first to really stamp their authority. They took the reins at the front at 9km to go with their full squad holding the speed high to set it up for Mel Hoskins.
It's always nice when the pace is high at the front as it keeps the peloton stretched out and it is a little bit less of a fight holding your ground. I was in charge of being first in our lead-out train; responsible for holding our train on track and finding the best way through the peloton. A lot of responsibility is in your hands, as you have to remember you have an entire team behind you and you can't dart into small gaps that you may find, as I have a tendency to do.
We had worked out that at 3km to go we wanted to be in position together towards the front but not quite at the front. Us and every other team had the same idea. As always it was crazy; Orica-AIS were still holding strong with Ale-Cipollini in the mix too. It was a technical finish with a few corners and a small uphill before a downhill and left-hander into the final 500m.
With 2km to go Trixi, who was on my wheel, told me we had lost Carmen. I was sitting around 10th at this point. Suddenly we had to think about plan B but stay calm — next thing I was told she was back again. Perfect, back to plan A.
As we hit the final little rise with just over 1km to go, I took our train and went as hard as I could. Passing the Orica-AIS train and taking control at the front, I had to do a long pull and hope that we wouldn't get swamped only having Trixi and Carmen on my wheel.
I took them into the final corner, although I had to deal with the television moto going too slow through there, having to lose some of my speed. Trixi had to take over from there. It was a fast sprint, slightly downhill, but it felt like a long way from that final corner.
Carmen opened up early but couldn't quite hold on, finishing fourth as Bronzini powered to the line to take her first stage victory of the 2014 Giro Rosa. Vos continues to hold on to the pink leaders jersey as we head into another big GC day tomorrow with a 5km climb to the finish.
It's sure to be another interesting day of racing.
Until then,
Tiff
Giro d'Italia Internazionale Femminile (2.1) Frattamaggiore → Frattamaggiore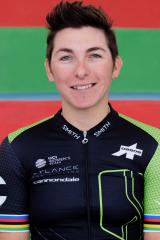 Previous stage reports