Cam Wurf's USA Pro Challenge Diary: stage 4
Don't miss out on the latest CyclingTips updates.
Little beauty!!! Finally some delight for the green machine here in the rarefied air of the Rockies with Elia "The Green Missile" Viviani demolishing the field in today's very selective bunch sprint in Colorado Springs.
Yesterday was perhaps the lowest of low days for the team in all my years with the team with none of us making the front group. But 24 hours can be a very long time in cycling and the Cannondale clan stepped on to the startline today ready to rally around Elia and give him a shot at stage glory.
In the team meeting our director gave us one simple message: "Don't make a mistake and regardless of the outcome ride with intelligence". It was just what we needed to hear — we have made bucketloads of errors in the past couple races and they have been amplified with the suffering at altitude. Today, however, we had to show why we are one of the biggest teams in the world and ride the race accordingly. "Important" Alberto Volpi emphasised, "no mistakes".
As far as race strategy goes our plan was very simple. Before the start Elia wasn't convinced he would survive in the front group on such a demanding circuit. With this in mind we decided we would see how Elia felt halfway through the race and if he was confident we would start working to ensure a sprint finish. I had a hunch Elia would be tickedy-boo today and sure enough he said "game on" with around 40km to go and we began deploying the troops accordingly.
The only little concern we had was the fact Jensie [Jens Voigt] was up the road and had a very big lead! In his final season he seems to have more enthusiasm than any new professional in the peloton and is still the hardest rider in the world to chase down.
Fortunately the pace had been on for the majority of the day which proved to be crucial for a couple of reasons. Firstly it meant we didn't have to do any work for the first two-third of the race and secondly the guys up in the breakaway, including Jensie, had to ride extremely hard to gain and maintain their advantage.
First we set our big diesel Ted King and Cristiano "Mr Versatile" Salerno up to the front to help ramp up the chase a bit. At this stage they were still chasing a group of 10 riders but as the gap started to fall, surprise surprise: Jensie attacked and went solo. The most impressive part about this is the fact that all 10 guys in the group knew what Jensie was going to do and when he decided it was time to fly none of them could do a thing about it. That's just another clear illustration of what an absolute legend Jensie is.
With Ted and Cristiano up the front the gaps started falling and soon Jens' fellow escapees had been re-absorbed into the peleton. With the boys rolling over on the front the rest of us rallied around Elia at the front and kept him as well-positioned and fresh as possible. We knew the final 25km lap would be full gas and Elia was going to need all his bullets to get through it and pull out one of his blistering bursts of speed.
Into the final lap we rolled and we sat patiently waiting for stage 2 of our plan. After absolutely turning himself and everybody else inside out, Cristiano tapped me into the paceline and chase train — it was my turn to step up to the plate!
Jens had actually just dangerously increased his lead to over 2:30 with 20km to go so I knew the pulls on the front had to be all out, to try and let Jens know — psychologically at least — that we were still coming at him. I love hitting the front of the peloton — there is a strange adrenaline rush that hits your lactate-filled legs and all of a sudden you seem to have a few more gears in your cluster.
Luckily everyone else knew it was now or never and everyone went all in and finally the gap started to come down. You know that the peloton is chasing hard when you do your turn and then basically have to do another all-out effort to get yourself back in the pace line! That's exactly what it was like today in those final 20km — Jensie was giving everyone one final reminder what an absolute legend he is and just how much horsepower that big V12 German engine has.
Today's circuits around Colorado Springs took place within the Garden of the Gods. I am told it's extremely beautiful there but sadly I had lactate acid up to my eyeballs all day so I didn't get much of a chance to enjoy it. I must go back some time.
The circuits were made hard by a 20% wall of around 500m as we entered the park. This was just to soften us up as from there the next few kilometres were false flat and rolling up, basically giving you no respite until you finally plunged back down to downtown at around 10km to go.
This climb on the final lap was always going to be full gas for a number of reasons. Firstly those up front wanted to go as hard as possible to make it hard for those down the back. The sprinters whom can climb want it fast to try and dislodge their fellow fastmen who are more challenged by gravity. And thirdly it's the last lap and 15km or so from the finish so nobody is holding anything back. Basically you simply shut your eyes and grit your teeth and go as hard as you possibly can and hope when you get to the top you are still in the front group.
On the final lap I finally reminded myself how to really hurt myself again. I hadn't really dug deep since a bingle in training six weeks ago but today I finally had that spark and urge back to see what it feels like when you have gone way beyond your comfort zone. Normally the climb wouldn't have been so bad but as I had been pulling full gas on the flat run-in to the climb it was absolute torture.
We hit the climb and sure enough it was full biscuit! I sat behind Elia and just gritted my teeth knowing that if he got over it I needed to get over it as well as he still needed troops for the run into the finish line. As we charged up the climb I also spotted Alan "Motorbike" Marangoni who absolutely turns himself inside out for Elia race after race after race. After suffering so badly this week in Colorado he was now showing his all-round class as a rider and teammate and right in the middle of the selection being made on the Garden of the Gods wall.
Once we were over the top, not surprisingly, lots of riders were dropped. This obviously meant the workhorse stocks of teams were seriously depleted and it was all down to us. Elia noticed immediately and put up his hand and in a blink of an eye Motorbike Marangoni was on the front and in hot pursuit of Jensie. I dragged my lactate-filled backside to the front but, to be honest, it took all my power simply to get to Marunga's rear wheel.
Once there I was in big danger of completely exploding — I couldn't pull the skin off a rice custard compared to what the Motorbike was doing so I retreated to the group to recover a little. Motorbike Marangoni put out an absolutely phenomenal turn of 5km or so and carved out a huge chunk of Jensie's lead. With 10km to go he was down to below 1:30 — we now had a chance.
Elia saw me struggling and simply said "Cam, if you have anything left try and help Marunga when you can". It's amazing how inspiring calm words like this are from your team captain in these moments and I instantaneously felt as strong as ten men. My plan was to recover on the plunge down into the city and then go and give it my all on the 6km run into the finish. I sucked in some big ones and finally with 6km to go I was back on the front with Marunga for one final haul.
Jensie could sniff the big victory and we could sniff a bunch sprint. To paint a picture there were four of us guys all over six-foot tall on the front of the peloton going absolutely full blast and Jensie was still holding us at bay! The only saving grace we had was the long straight roads so we could see our prey. That always gives you that extra little bit of inspiration.
Marunga was still absolutely powering along like a locomotive on the front, as he had done for almost 15km now. After Elia's pep talk I had an extra kick in my pedal stroke back and as we hit a few kilometres to go I knew Jensie wasn't going to survive. Remembering you're chasing Jensie always adds to the motivation — you really have to work hard to catch him and it's a memorable feeling when you do. It's funny as you're in two minds — you want to catch him so badly, but you also want to see him win. It's just a special race anytime Jens is involved.
With the line in sight and no more than 2km to go there were plenty of dudes willing to chip in with a pull on the front. Many of those guys were stronger than me so I went back into the group to ensure Elia was all ok. I had enough juice in the tank to get him out of trouble and up front if need be but I had certainly used up all my turbo-boosting effort so any type of lead out was out of the question.
Elia simply asks that with 1km to go he is in the right wheels to contest the sprint. He doesn't expect a big lead out train when the whole team is not built around him but he makes very good use of the resources he has available to him. So with 1km to go the Jens show was over and Elia was on the wheel he wanted so all I could do now was sit back and watch the show.
It was a headwind sprint so the final 500m seemed to happen in slow motion. The group even swarmed for a second before Ty Magner of the Hincapie team finally hit out first and guess who was on his wheel? Yep the Green Missile himself. At this point I knew the win would be Elia's. He allowed Ty to drag them away from the rest of the field before kicking like a mule with 200m to go on his way to yet another emphatic victory.
I call him the missile as from watching from behind that's what he looks like. He picks his moment to come out of the slipstream and fly by his opposition so fast that he sucks their helmet off in the process. It's jolly awesome to see!
So that was an absolutely brilliant day for the green machine. After our performances here in America it was one we so desperately needed and one that has now got our swagger and confidence back. Fortunately for us we still have three more stages left here in Colorado so bet your bottom dollar we will keep trying to replicate the enjoyment of today all the way to Denver!
USA Pro Challenge (2.HC) Colorado Springs → Colorado Springs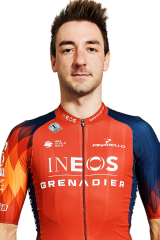 Race data
Distance: 115km
Duration: 2:35
Average power: 275 watts
Kcal burnt: 2,800
Average elevation: 2,000m
Peak power: 1,337 watts
1-minute power: 619 watts
30-second power: 685 watts (the length and effort required to pull Jens back!)
5-minute peak power: 436 watts
Previous reports
Follow the links below for Cam's reports from the previous stages: