Inside Line: Amanda Spratt's Vargarda TTT and road race World Cups
Don't miss out on the latest CyclingTips updates.
The nine-round Women's World Cup series is nearly over for season 2014 after a team time trial and one-day road race were contested in Vargarda, Sweden over the weekend. Former Australian national champion Amanda Spratt took part in both races for the Australian Orica-AIS team and wrote this report about the weekend for CyclingTips.
Team time trial
The TTT is a discipline that has become more important in recent years with the re-introduction of the event at the World Championships, and so every time there is a chance to race a TTT all the teams take it very seriously.
My team, Orica-AIS, pinpointed the team time trial as a target when we sat down in January and set our goals as a team. After two training camps in Italy, and a week in Norway we arrived in Sweden ready to put the finishing touches on a good preparation block ready to race on Friday.
It's been a real headache for our DS and sports scientist to pick a team for this event and one off day can mean the difference between being included or taken out of the team.
.@ORICA_GreenEDGE has hit the velodrome!! Technique and style are go at our #TeamTimeTrial training camp in Italy ???? pic.twitter.com/yPtlBWT5Tp

— Annette Edmondson (@NettieEdmo) May 24, 2014
They finalised selection for the event the day before and then we had a team meeting where we looked over film from the course and the most technical areas, discussed wind directions, and different strategies. Who should ride on the front up the hill? Who should lead us through the turnaround? What should we do if we suffered punctures or riders got dropped?
Probably the most trivial topic was who got to sit behind Vale Scandolara and I. We are the two token smurfs of the team — although it must be noted that I am in fact 2.2cms taller than Vale — so being put behind us in the rotation is like drawing the short straw.
The meeting took 75 minutes, and whilst long, we high-fived at the end of it for productively reducing the time to be left starving in our rooms before dinner. Yes, it's true; our days revolve around meal times … and training of course.
Now a game for you: spot the differences between me and @AmandaSpratt ! #Difficult #SCRATTtwins @ORICA_GreenEDGE pic.twitter.com/7llFguXrES

— Valentina Scandolara (@ValeScandolara) June 15, 2014
The TTT was raced over a 42km course. The first 30kms was relatively straightforward, with a long undulating 15km sector of road each way, with a few technical corners at the turnaround. Once back in Vargarda there was a 12km finishing circuit with many corners and a small climb.
We were due to race on Friday evening, and after a couple of coffees (and double that for our Italian Valentina) we were loaded into the campervan and off to the start town.
It's hard to describe the feeling before a team time trial. In some ways the nerves feel more than a road race, because you know that you need to be good for the team, and a bad day or a missed turn could completely disrupt the rhythm.
Arriving at the start town I couldn't help but think there are two things I always remember about Sweden. The pick-and-mix lollies, and the rain – in that order. Whilst the first of those is on the banned list at the moment, the second is one that seems to show its face on this day, every year. This year didn't disappoint, and just as we were lined up and ready to roll out to begin our 42km of pain it started to rain.
You know those bad days I was talking about earlier? Unfortunately it hit a couple of us on race day. Gracie Elvin and I both had days we would rather forget and as a result we left our team with only the required four riders to complete the final 20kms. They embraced the challenge, and still managed to place fourth, but it's always the 'what ifs' that run through your mind after a performance like that.
Specialized-Lululemon were nothing short of superior on the day, bettering second-placed Rabo-Liv by 1:20. Many people thought that it would be a lot closer between teams this year, but Specialized-Lululemon has shown that all the other teams have a lot more work to do to catch them. To think that this is a team that may not continue next year because of sponsorship problems is truly mind-boggling.
Click through for results from the 2014 Open de Suede Vargarda TTT World Cup.
Road race
On the morning of the road race our DS Gene Bates sent us a message saying what a lovely day it was for a bike race. It almost felt strange to imagine getting in a whole race in Sweden with no rain so we were sceptical at best. Add to that the fact that Gene has most definitely proved his inability to pursue a weatherman job in his future life and we weren't ready to believe him.
As if expecting our arrival, right on cue at 9.15am, it started pouring rain, and apart from a small break here and there it continued for the rest of the day.
The race itself was 12 laps of an 11km circuit. It was fairly technical, with a climb, narrow sections and plenty of wind. It's a real leg-zapping course, and whilst the climb may not seem like much, it feels like a wall by the final laps.
Rabo-Liv has been dominating recent road races and so we (and I think the other teams too) had the idea of getting groups up the road to put pressure on Rabo-Liv. As a result there were attacks from the first lap.
I managed to get across to a group on the second lap and we stayed away for a lap before being reeled back in. The next lap a dangerous group of seven got up the road, and with most of the big teams represented we had missed out big time. I had a quick word with my Swedish team mate Emma Johansson and immediately jumped from the bunch to bridge across leading into the climb and over it.
"Keep pushing, keep pushing, you have to get there. Ignore the pain. Go. Get there!"
The pain-inducing mission of bridging across to a strong group of seven riders who want to get away is not easy and requires full commitment and a do-or-die effort. I almost did it — I got within eight seconds as we crested the climb, and just when I thought I could make the final bit they started to work together down the hill and through the forest.
My team needed me to get to that group … but I was paying for the effort, and despite still dangling out in no-man's-land for another 12km I just couldn't make the gap.
I sat up to wait for my team who, by that point, were chasing hard on the front. Kat Garfoot, Shara Gillow, Vale and Mel Hoskins epitomised what it means to be a team and stayed there for the good part of the next five laps chasing it back and still making sure Emma was in a good position and ready for the finale. It was a gamble to use up everyone in this way, but that's bike racing, and it was our only option if we still wanted to play for the win.
The rain was still bucketing down and in the last laps there were moments where you thought you still had food in your mouth only to realise you were chewing on bits of dirt. I'm pretty sure I still have dirt in my ears as I write this and am waiting for the moment when one of my teammates will turn sideways and start laughing at me during dinner.
In the last two laps things were back together and despite some break attempts it looked like it was going to come back to a reduced bunch sprint. In the final two kilometres, Chantal Blaak (Specialized-Lululemon) attacked for what seemed like the hundredth time and took Amy Pieters (Giant-Shimano) and Roxanne Knetemann (Rabo-Liv) with her. Blaak took a convincing and deserved win ahead of Pieters and Knetemann, with Vos taking the bunch sprint behind, and Emma 10th.
It's a quick turnaround now between World Cups, and many of us will be on the road again by Thursday, travelling to the west of France for the final round in Plouay. In the meantime, it might take me that many days to clean my kit after today … and my ears.
Open de Suède Vårgårda (CDM) Vårgårda → Vårgårda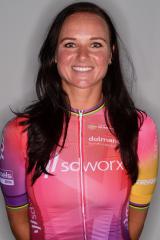 After seven rounds of the UCI Women's World Cup Lizzie Armitstead (Boels Dolmans) still leads the individual rankings ahead of Emma Johansson and Kirsten Wild (Giant-Shimano). With a lead of 140 points and only 120 available for the winner of the final round, Armitstead will take the World Cup title overall. Vera Koedooder (Bigla Cycling Team) leads the mountains classification, Rabo-Liv's Iris Slappendel leads the points classiciation and Elena Cecchini (Estado de México-Faren Kuota) has secured the best young rider classification.

Follow the links below to read first-hand accounts of each of the World Cup rounds so far this season:

– Round 1: Ronde van Drenthe
– Round 2: Trofeo Alfredo Binda
– Round 3: Ronde van Vlaanderen
– Round 4: Fleche Wallonne
– Round 5: Chongming Island World Cup
– Round 6: Sparkassen Giro

Click here to read more of our coverage of women's cycling. Click through to follow Amanda Spratt on Twitter.