Strade Bianche in photos
Three-time cyclocross world champion Zdenek Stybar (Etixx-Quick-Step) took the biggest classics win of his career after proving strongest from a three-man battle that emerged at the front of the race with 12 kilometers remaining over the white roads of Tuscany. Stybar powered away from Greg Van Avermaet (BMC) and Alejandro Valverde (Movistar) with a superb show of strength over Strade Bianche's short and windswept climbs with 45km of gravel roads. Stybar's win puts him down as one of the favourites for next month's Paris-Roubaix, where he finished fifth in 2014 and sixth in 2013.
Enjoy this photo gallery courtesy of Jered & Ashley Gruber and Cor Vos.
Also see the inaugural 2015 Women's Strada Bianche photo gallery here.
Strade Bianche (1.HC) San Gimignano → Siena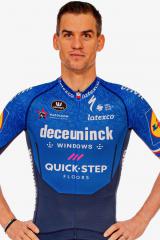 Simon Gerrans' first race back was Strade Bianche after recovering form a broken collarbone during the off-season. He suffered a small fracture in the radial head of his elbow during the race. He posted a photo of his X-ray on Instagram with the caption: "That would be why my elbow hurts! Little fracture of the radial head. Couple weeks on the ergo ahead of me now. What doesn't kill makes you stronger." "Basically, the doctor at the hospital said we should put it in a cast for about three weeks and that I need to keep the elbow immobile while it heals," Gerrans wrote on his website. He also said his next race will likely be Volta a Catalunya starting on March 23.







Jered Gruber: "How does that even happen? Funny story. Elia Viviani flatted. He held his wheel up high and waited for a spare. And waited. And waited. 200m down the road, there was carnage – bikes and bodies everywhere – so he waited some more. Eventually, frustration got the better of him, and he tossed his wheel down. Nothing violent, just the normal ughhhh moment of a race lost to bad luck. Unfortunately for Viviani and his wheel "




The wind. It slammed the riders into the dirt, and when they got up again, it tried to steal their bikes.









Jered Gruber: "It was windy at yesterday's Strade Bianche. As far as understatements go, that's a pretty extreme one. This Tinkoff rider's crash set off the bomb in the group – about a dozen other riders hit the dirt a second after this shot. Keep in mind – three members of the day's early break had crashed in this spot only a minute or so before."