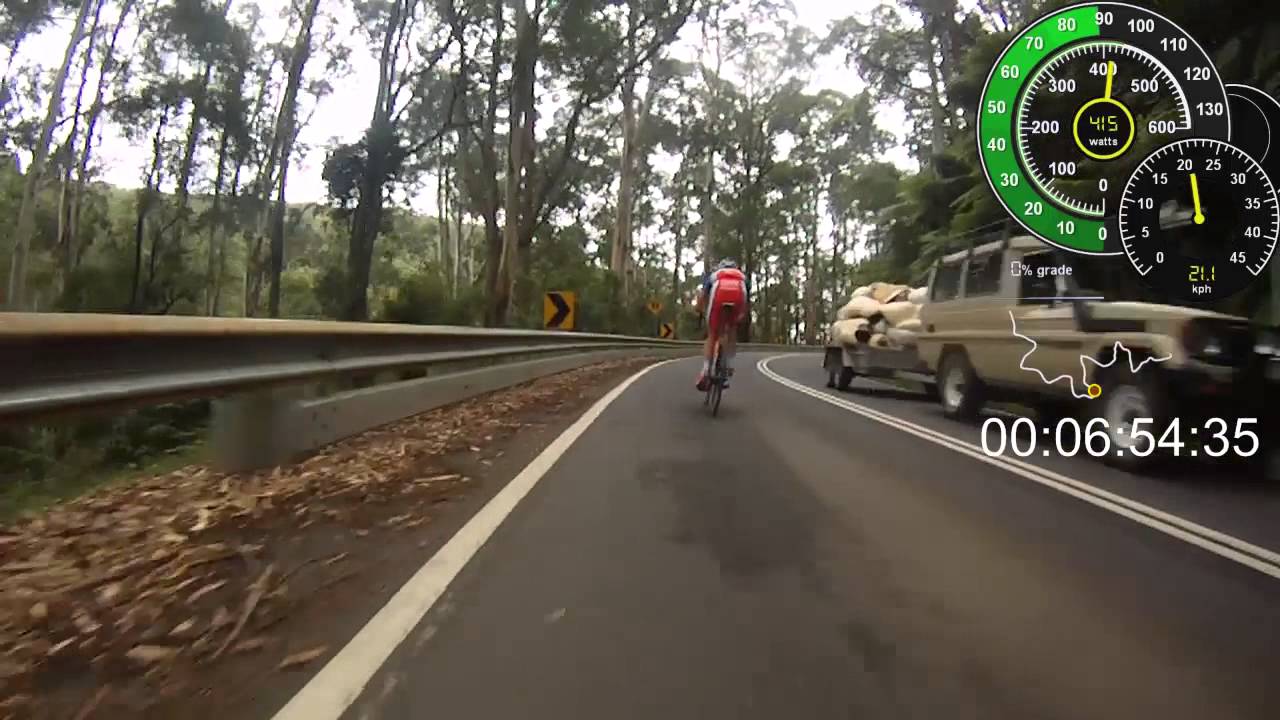 Watch Keagan Girdlestone attempt a new record on the 1 in 20
Don't miss out on the latest CyclingTips updates.
Almost every self-respecting cycling city in the world has a climb that people use as a benchmark to see how their form is. We hear about the local legends who came up through the ranks and the times they set on these climbs in their younger days.
The most popular test climb in Melbourne is known as the 1 in 20 — a gentle, 6.8km climb from The Basin to Sassafras in the beautiful Dandenong Ranges, roughly 40km east of the CBD. The climb gets its name from an approximation of its gradient — for every 20 metres ridden you supposedly gain one metre of elevation, for an average gradient of 5% — but in reality the gradient is actually closer to 4%, thanks to a nice false-flat section in the middle.
It's a gentle climb that's perfect for strength-endurance intervals and is gradual enough to allow both pure climbers and powerhouse riders to have a crack and put in a good time.
Introducing Keagan
In the video above, put together by CharterMason Giant's Tom Reynolds, you'll see 17-year-old Keagan Girdlestone have a red-hot crack at the 1 in 20. His goal? To see if he can beat the current Strava record of 13:05, held by Budget Forklifts climber Brendan Canty.
So who is Keagan Girdlestone? He was born in South Africa but now lives in Christchurch and is racing for the CharterMason Giant Continental squad in 2015. He's currently too young to race many of the big races that his teammates compete in (Cadel's Race, for example). He's won a bunch of noteworthy amateur races in his time, including the hilly Le Race from Christchurch to Akaroa, and he was third overall at last year's Adelaide Tour in the National Road Series race.
You can read more about Keagan here. He looks to have a very bright future ahead of him.
Keagan's effort
Spoiler alert: watch the video above before reading on!
In the video above you can see Keagan's real-time speed and power data — local riders will note how remarkable these numbers are. He averages 432W for the 13:08 effort which, at his current weight of 66kg, gives him a power-to-weight ratio of 6.5W/kg. His average speed is a staggering 31km/h, peaking at 44.2km/h on the false-flat.
Contrast this with Brendan Canty's effort that currently tops the Strava leaderboard. At roughly 60kg Brendan is lighter than Keagan and therefore doesn't need to put out as much power for a comparable time. He still averaged 386W though (roughly 6.5W/kg), motoring along at 31.1km en route to the best time on Strava.
Local legends
As impressive as Brendan Canty's time up the 1 in 20 is — and anyone that's ridden the climb can attest to this — we do know of one documented effort that was faster.
In 2002 a young Trent Lowe completed the climb in 13:02 in an effort that was captured on video (see below). Lowe went on to win the Junior World Mountain Bike XC Championship and later race at the highest level on the road with Discovery and Garmin.
There are of course unsubstantiated rumours and legends of riders that have gone even faster up the 1 in 20. Local folklore suggests Nathan O'Neill put in a time of 12:35 up there in the days before the smooth hot-mix was laid down. A quick look at Cycle2Max (the big thing before Strava) and other rumours suggest times of less than 12 minutes, but such rumours are hard to believe.
According to our rough calculations, a time of 12 minutes would require a 60kg rider to average somewhere in the vicinity of 470W and 34km/h, assuming there's no wind and the attempt was done on the hoods of a 7kg bike. According to this chart, that sort of power-to-weight ratio (7.8W/kg) is a little more than what the best riders in the world can hold for five minutes, let alone 12 minutes.
So how fast could the best climbers in the world go up there? Certainly faster than 13 minutes, but we'd be very surprised if anyone was able to do it in less than 12:30. Where the top climbers really leave domestic pros and top amateurs for dead is their ability to climb hard and fast after 200km of racing. The differences over a short, single effort like the 1 in 20 aren't likely to be as big as you might think.
As for Keagan Girdlestone, the guys at CharterMason Giant tell us that the 17-year-old is confident he's got a sub-13 minute effort in him. We can see a few obvious ways for him to save time including picking a day where there isn't a slight headwind and ensuring he doesn't start out too hard, like he did in the attempt above. Of course taking the cameras and microphones off his bike might help as well …
Do you know of a faster, verified effort up the 1 in 20 than Trent Lowe's 13:02? Let us know in the comments below.