All Dutch podium at Giro Rosa prologue as Annemiek van Vleuten time trials into pink
Don't miss out on the latest CyclingTips updates.
Annemiek van Vleuten (Bigla) time trialled to victory on the opening stage prologue of the 26th edition of the Giro Rosa. Having won the Giro Rosa prologue last year and the Euskal Emakumeen Bira prologue last month, van Vleuten, known for her prowess in the short individual efforts, started the stage as the outright favourite.
Covering the two-kilometre course in Ljubljana, Slovenia on Friday in a time of 2:49.64, van Vleuten beat out Rabo Liv pair Lucinda Brand and Roxanne Knetemann. With van Vleuten's prologue win comes the maglia rosa, the coveted pink jersey awarded the overall race leader.
"I'm very happy I was able to win this for my team," van Vleuten told Ella afterward. "Everything went well today."
Going into it [as a race favourite], van Vleuten said she did feel the pressure.
"You know that you're in good form and you know you can win so you feel this pressure to perform and actually do it. You don't get many chances to take the pink jersey, and so you cannot make any mistakes. You have to ride cleanly, take every corner perfectly and not lose a single second," she said, adding that she practiced the U-turn at least 50 times beforehand.
Tomorrow, van Vleuten will ride in pink, something she will savour.
"I'm just going to enjoy having the jersey today and tomorrow," she said. "I know I probably won't have it till the end so I'm just going to take day by day."
Further down the results, most of the overall contenders finished within a handful of seconds of each other. Anna van der Breggen (Rabo Liv) was best of the rest, stopping the clock at 2:50 in fourth place. Ashleigh Moolman (Bigla) slotted into sixth place with 2:51. Megan Guarnier (Boels-Dolmans) posted a time of 2:52, which proved good enough for eighth place.
Just outside the top ten, Pauline Ferrand Prevot came in at 2:54 in 12th place, which earned her the white best young rider's jersey. Elisa Longo Borghini (Wiggle Honda) was less than one second behind Ferrand Prevot in 13th place. Evie Stevens (Boels-Dolmans) managed 2:55 for 16th place. Kasia Niewadoma (Rabo-Liv) is further down the results, in 28th place, but didn't lost substantial time with 2:57.
Two-time Giro Rosa winner Mara Abbott (Wiggle Honda) has the most work ahead of her among the general classification hopefuls with a time of 3:13.
Giro d'Italia Internazionale Femminile (2.1) Ljubljana → Ljubljana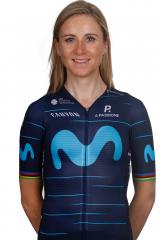 Additional Giro Rosa reading
The race may have just begun, but we've got all sorts of Giro Rosa reading for you on Ella.
***
Expect in-depth, varied coverage of each and every Giro Rosa stage on Ella CyclingTips. We will have daily race reports within an hour of each stage finish, full results and daily diaries from Australians Tiffany Cromwell (Velocio-SRAM) and Lizzie Williams (Orica-AIS). Also check out Ella on Instagram for our #TiffTakeover.

Like what you see here? Wish we were doing more Giro Rosa coverage? Less Giro Rosa coverage? Doing something different altogether? We want to hear from you. Consider taking our Ella survey to let us know what we're getting right, where we could improve and who you are. All survey participants who share their email address are entered into our random draw for a Velocio kit.