Barbara Guarischi makes the most of 'perfect' Velocio-SRAM lead-out to win Giro Rosa stage one
Don't miss out on the latest CyclingTips updates.
Barbara Guarischi (Velocio-SRAM) won the first road stage of the 26th edition of the Giro Rosa on Saturday. The Italian sprinted to victory in Kamnik, Slovenia ahead of Lucinda Brand (Rabo Liv) and teammate Tiffany Cromwell (Velocio-SRAM)
Win for @BabyG_90, second Lucinda Brand…..And in more good news @tiffanycromwell third! #GiroRosa2015 pic.twitter.com/3g5hrQX1A9

— VelocioSRAM (@velociosports) July 4, 2015
"It was awesome," Guarischi said. "The team did one of the best lead-outs of the year. My celebration afterwards was not that big because the stage win at the Giro Rosa -it's all too much!"
With the bonus seconds Brand snagged at the stage one finish, coupled with her performance in Friday's prologue, the Dutchwoman moves into the overall race lead, taking the maglia rosa from overnight leader and compatriot Annemiek van Vleuten (Bigla). Guarischi, who scooped up ten seconds on the line, jumps up to second overall at four seconds while van Vleuten falls to third on the general classification at five seconds.
"It wasn't a hard sprint, so it wasn't suited to me," said van Vleuten in a team statement. "It would be hard to get in the top three. I'm a better sprinter when it's a hard race. I'm sad to lose the jersey but I am so proud of the team. They worked so hard to defend the jersey and it was amazing."
The majority of the stage was dominated by an early breakaway. Ana Covrig (BePink), Malgorzta Jasinska (Alé Cipollini) and Chantal Hoffman (Lotto Soudal Ladies) slipped away from the peloton before the first intermediate sprint. Hoffman fell off the pace up the day's only categorised climb, and Malgorzta and Covrig were swept up just before the 10-kilometre mark.
"The early break slipped away, but our team just monitored it without needing to be worried about working to bring it back," said Cromwell. "Then it came back and the pace was on for the last part."
"We really stuck to our plan from the meeting," Guarischi added. "It was not our responsibility to close the gaps to the break. We were always together and near the front."
With the breakaway returned to the bunch, the sprint trains readied for the mass finish. Guarischi was surrounded by her teammates in the final 10 kilometres.
"From 10 kilometres to six kilometres, we were always together," Guarischi explained. "In the last kilometre Rabobank acme to the front. They had two -de Jong and Brand -and behind them was Alena [Amialiusik], me and Tiff."
"The first sprint is always hectic," Cromwell noted. "Everyone is fresh, and everyone wants to win. We worked together great as a team even from 10 kilometres to go."
"The lead-out from the team was a perfect finale," Cromwell added.
Brand opened the sprint. Guarischi patiently bided her time on Brand's wheel.
"I waited until 100 metres because it was a headwind," Guarischi explained. "And then yeah -what can I say? I won!"
The Giro Rosa returns to Italy on Sunday for stage two. The third day of racing includes three categorised climbs in the second half of the stage. This Velofocus stage preview includes a stage profile, map and key details.
Giro d'Italia Internazionale Femminile (2.1) Kamnik → Ljubljana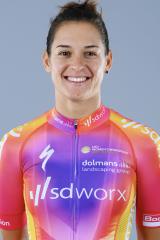 Additional Giro Rosa Reading
Two days into the Giro Rosa, and we've got tons of Giro Rosa reading for you on Ella. Check out:
***
Expect in-depth, varied coverage of each and every Giro Rosa stage on Ella CyclingTips. We will have daily race reports within an hour of each stage finish, full results and daily diaries from Australians Tiffany Cromwell (Velocio-SRAM) and Lizzie Williams (Orica-AIS). Also check out Ella on Instagram for our #TiffTakeover.
Like what you see here? Wish we were doing more Giro Rosa coverage? Less Giro Rosa coverage? Doing something different altogether? We want to hear from you. Consider taking our Ella survey to let us know what we're getting right, where we could improve and who you are. All survey participants who share their email address are entered into our random draw for a Velocio kit.