Lucinda Brand solos to Giro Rosa stage seven victory as Megan Guarnier extends overall lead
Don't miss out on the latest CyclingTips updates.
Lucinda Brand (Rabo Liv) added a second stage win to her name in the 26th edition of the Giro Rosa, soloing to victory in Loano. Sixty kilometres from the stage seven finish, Brand attacked out of the select maglia rosa group that formed on the day's first climb. The Dutchwoman built up her advantage to nearly three minutes, ultimately crossing the finish line 2:41 before second place.
Maglia rosa wearer Megan Guarnier won the sprint for second from a group of six that included Rabo Liv teammates Anna van der Breggen and Kasia Niewiadoma, Wiggle Honda teammates Mara Abbott and Elisa Longo Borghini, and Ashleigh Moolman (Bigla). Finishing second for the third straight stage, Guarnier again extends her overall lead before the all-important individual time trial on Saturday.
"Third time second. Third time taking the 'sprint'. I am happy with the results over the past few days, but it's just me out there doing my job," Guarnier told Ella CyclingTips following stage seven. "I am not getting too wrapped up in the results because, before you know it, you are into the next day."
The American will start stage eight with a 16-second lead over Moolman, who jumped up to second overall thanks to bonus seconds earned with her third-place finish on Friday. Van der Breggen sits third overall at 17 seconds heading into the weekend.
The shortest stage of the Giro Rosa, covering just 89.7km, took riders from Arenzano to Loano. Travelling from one Ligurian coastal town to the other, the race went inland to take in two steep mountains, including the ascent to Nasso di Gatto, and a long technical descent to the finish.
The peloton had little time to ease into the race with roads rising after only 15 kilometres of racing. On the lower slopes of the climb to Nasso di Gatto, the peloton splintered. A select group of 13, including Guarnier, took shape in the final two kilometres of the climb.
Brand and Jessie Daams (Lotto Soudal Ladies) attacked over the top of the mountain, and the duo plummeted down the winding roads with a slim advantage over the maglia rosa. Daams was unable to match Brand's pace on the descent and lost contact.
The maglia rosa group swelled on the descent with the second chase group catching the first. Brand hit the intermediate sprint point just before the 50-kilometre mark with a 3:06 advantage on a group of around 35 riders.
"After the first climb, the selection was not rolling or working together," Guarnier explained. "Then a big group came back and Evie and I had Lizzie [Armitstead] and Ellen [van Dijk] with us again. It always makes me more comfortable to have my teammates surround me."
Starting the stage nine minutes down on the overall classification, Brand was not seen as a threat to the general contenders, which clearly worked to her advantage. The overall contenders were more mindful of one another than of the lone leader. Brand's other advantage was the downhills.
"She goes so fast downhill that no one can follow her," said Rabo Liv sport director Koos Moerenhout, referencing Brand in a team statement. "She has outstanding cornering skills and absolutely no fear."
"It's seemed useful to me to get as much of a lead as I could before the last climb, so I could help our [GC] leaders," Brand added.
Up the second categorised climb, the maglia rosa group split yet again. An attack by Moolman further fractured the group. Guarnier lost Stevens. Abbott lost Longo Borghini. Pauline Ferrand Prevot (Rabo Liv) was distanced. Over the top of the second QOM, Brand led Guarnier, Moolman, Niewadoma, van der Breggan and Guarnier by 45 seconds.
Longo Borghini's descending skills allowed her to regain contact with the maglia rosa group. Contact made, the Italian immediately attacked. Guarnier chased down the move, and so it would continue all the way to the line. Without teammates, Guarnier was forced to cover attempts to put her on the back foot. Under threat, she never faltered.
"Once we got down the descent there were not a lot of kilometres left in the race. I was a bit outnumbered but just tried to stay focused," Guarnier said. "There were a lot of attacks from everyone in that selection in that final kilometre. I stayed alert and reacted directly."
Saturday's time trial will prove an important test for the general classification with only 36 seconds separating the top five overall. And of the top five, four are time trial champions of their respective nations – Moolman of South Africa, van der Breggen of The Netherlands, Longo Borghini of Italy and Niewiadoma of Poland.
While the race against the clock may not necessarily be seen as Guarnier's strength, this particular time trial is no ordinary Giro Rosa test. Longer than most, at 21 kilometres, this course is demanding with hairpin turns, a technical descent and long drag of climb before lumps and bumps all the way to the finish. Guarnier's defence of pink has been nearly flawless and should give her confidence heading into the weekend. Read more about the stage eight time trial over on Velofocus.
Note: This early report out of the Giro Rosa will be updated with additional images from stage seven. Stay tuned.

Giro d'Italia Internazionale Femminile (2.1) Arenzano → Loano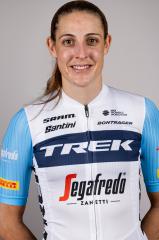 Additional Giro Rosa Reading
Giro Rosa stories and reports you don't want to miss:
***
Expect in-depth, varied coverage of each and every Giro Rosa stage on Ella CyclingTips. We will have daily race reports within an hour of each stage finish, full results and daily diaries from Australians Tiffany Cromwell (Velocio-SRAM) and Lizzie Williams (Orica-AIS). Also check out Ella on Instagram for our #TiffTakeover.
Like what you see here? Wish we were doing more Giro Rosa coverage? Less Giro Rosa coverage? Doing something different altogether? We want to hear from you. Consider taking our Ella survey to let us know what we're getting right, where we could improve and who you are. All survey participants who share their email address are entered into our random draw for a Velocio kit.