Mayuko Hagiwara wins Giro Rosa stage six to become first Japanese rider to win at Italian Grand Tour
Don't miss out on the latest CyclingTips updates.
Mayuko Hagiwara (Wiggle Honda) became the first Japanese rider to win a stage of the Giro Rosa on Thursday with a stunning solo victory into Morbegno. The five-time Japanese national road champion launched a bold attack on the last of three climbs, riding alone for nearly 30 kilometres before crossing the stage six finish line alone.
"I am so happy," Hagiwara told Ella CyclingTips during her post-stage transfer. "It's amazing. I can't believe it. I cannot believe I won. It's a very special moment, and I have to say thank you to my team."
"We always knew she was capable of this," said Wiggle Honda team owner Rochelle Gilmore, speaking to Ella CyclingTips from her home in Italy following Hagiwara's win. "It doesn't get any bigger than a win at the Giro Rosa for women's cycling. To win a stage at the Giro is not easy. Not many people can achieve it. There are only 10 stages each year, and Mayuko Hagiwara just won one. No one can take that away from her. It wasn't a lucky win. She's one of the strongest bike racers in that race, that's for sure."
Twenty-four seconds following Hagiwara's historic accomplishment, maglia rosa Megan Guarnier (Boels-Dolmans) brought home an elite chase group of 10 riders. Pocketing six bonus seconds for second place on the stage, Guarnier has again increased her lead in the overall. The American will start stage seven–her fifth day in pink–with 11 seconds over Anna van der Breggen (Rabo Liv), who sits in second overall. Ashleigh Moolman (Bigla), who finished third in today's stage, maintains her hold on third overall at 14 seconds down.
"Yes, more seconds today and another day in pink," said Guarnier. "It is really amazing being in the maglia rosa. I feel proud to wear it, and my teammates have been so incredible defending the jersey. It truly is a team effort. Each one of my teammates have earned the maglia rosa."
With three categorised climbs, numerous uncategorised ramps and technical descents, stage six of the Giro Rosa promised to be a tough test for Guarnier and the other general classification riders. The race was fast from the start with a break of five going clear on the climb to Teglio, the first of the three climbs on Wednesday.
Hagiwara was joined up the road by Lizzie Armitstead (Boels-Dolmans), Shara Gillow (Rabo-Liv), Elena Berlato (Alé Cipollini) and Alice Arzuffi (Inpa Sottoli Giusfredi). Sharon Laws (Bigla) successfully bridged across before the top of the first climb, and the escape group of six headed down the first descent with a 47 second advantage. Only 20 kilometres in to the stage, the maglia rosa group had already been reduced to 30 riders.
"We talked about Mayuko today," said Hagiwara's teammate Giorgio Bronizi. "She is in shape, and we knew she had the possibility to win. No one has eyes on her, and people think she is working for Elisa [Longo Borghini] and Mara [Abbott] when she goes into the break."
"Having Lizzie up the road was a good situation for our team," noted Guarnier, explaining that Boels-Dolmans like Wiggle Honda was pleased with the composition of the move. "The break went very early in the race, and with the amount of climbing on the day, it was nice to have a teammate up the road."
Roxanne Knetemann (Rabo Liv) jumped out of the peloton over the uncategorised hills, making contact with the leaders on the second climb. The now seven-rider breakaway maintained a slim advantage on a greatly reduced chase group over the top of the second queen of the mountain climb. Moolman, who had attacked up the climb, continued to attack on the descent.
"Moolman was very active today," noted Guarnier. "The group split on the descent with an attack of Borghini. I was two too many wheels back when the attack went."
"I managed to jump into the breakaway after the second climb," explained Elisa Longo Borghini (Wiggle Honda). Currently fourth overall, Longo Borghini leads the best Italian rider competition. "I attacked on the downhill and went up to Mayuko right away. We were talking about what she would do."
The front of the race regrouped at the base of the last climb of the day – the Caspano de Masnio. It was an elite group of 16 riders that included the members of the early breakaway and all the overall contenders. Guarnier had Armitstead and Evie Stevens for support.
"We caught Lizzie's group on the final climb," said Guarnier. "It was really great to have her there. She was able to set tempo on the climb and on the descent –and into the finish, too. She was so strong today. It was really incredible. It gives me motivation to have a teammate take pulls like that."
Hagiwara jumped on the lower slopes of the climb, and she immediately opened up a gap – a gap that swelled to nearly two minutes before she reached Civo.
"She didn't speak to me when she attacked on the third climb, but she realized it was a good moment," Longo Borghini said. "Everyone was looking to me and Mara. She knew she could catch the right moment."
"We have Elisa and Mara on the general classification, so I can move freely," Hagiwara explained. "That's why I attacked. I went full gas, and I tried to do my best. I didn't care about the group behind me because Mara and Elisa were behind. It was good for me to attack. If the bunch caught me, it was also good for me because I could work for my teammates."
"They watched Mayuko go but no one reacted," Longo Borghini added. "When she had two minutes, I knew she would make it. She is such a strong rider. The rest sometimes underestimate her, but she is really, really strong. Now they know they should look at her more and that they should be scared."
Ten kilometres from the finish, with the final descent completed, Hagiwara had 51 seconds and a relatively flat run-in the finish.
"Having a rider up the road was fine for us," said Guarnier. "She wasn't a threat for the overall, and although we would have loved to have gone for the stage win, sometimes you have to pick your battles. If it got threatening, I was confident that we would be able to contain the gap – especially with Lizzie there."
Although the chasers reduced Hagiwara's gap on the run-in to the finish, they ran out of road to shut her down. In the 26th edition of the Giro Rosa, Hagiwara soloed across the line and into the history books.
"It is super," said Bronzini. "It is the first time a Japanese rider has reached this big goal. This will give her big belief. Mayuko has won in the Giro."
The Giro Rosa continues on Friday with the shortest stage of the race. The four-hour transfer between stages six and seven brings the race to the Ligurian coast. The stage starts and finishes in coastal towns and takes in the mountains between – two steep categorised climbs before a long technical descent to the finish. As always, Velofocus is your best source for stage specifics – including an in-depth look at each of the climbs included in Thursday's route.
Giro d'Italia Internazionale Femminile (2.1) Tresivio → Morbegno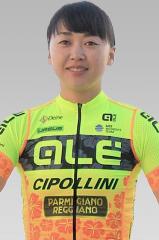 Additional Giro Rosa Reading
Giro Rosa stories and reports you don't want to miss:
***
Expect in-depth, varied coverage of each and every Giro Rosa stage on Ella CyclingTips. We will have daily race reports within an hour of each stage finish, full results and daily diaries from Australians Tiffany Cromwell (Velocio-SRAM) and Lizzie Williams (Orica-AIS). Also check out Ella on Instagram for our #TiffTakeover.
Like what you see here? Wish we were doing more Giro Rosa coverage? Less Giro Rosa coverage? Doing something different altogether? We want to hear from you. Consider taking our Ella survey to let us know what we're getting right, where we could improve and who you are. All survey participants who share their email address are entered into our random draw for a Velocio kit.