World champion Pauline Ferrand-Prevot solos to victory in first Giro Rosa summit finish
Don't miss out on the latest CyclingTips updates.
World champion Pauline Ferrand-Prevot (Rabo Liv) soloed to victory atop Aprica on stage five of the Giro Rosa. Three kilometres from the top of the first summit finish of the 26th edition of the Italian Grand Tour, Ferrand-Prevot made her race winning move, following an attack from Francesa Cauz (Alé Cipollini. Cruz was unable to match Ferrand-Prevot's pace and was swallowed up by the reduced peloton before the line. Ferrand-Prevot narrowly managed to hold off the chasers.

One second later, race leader Megan Guarnier (Boels-Dolmans) beat out Anna van der Breggen (Rabo-Liv) in a rare mountaintop field sprint. Pocketing an extra six seconds for second place, Guarnier gains a few precious seconds for the overall classification. The American now has five seconds on Anna van der Breggen and 12 seconds on Ashleigh Moolman-Pasio (Bigla). Tomorrow, Guarnier will wear the maglia rosa for the fourth straight stage.
"With Pauline two minutes down [on general classification], I wasn't worried when she went up the road in the final kilometres," said Guarnier. "The bunch was still rolling. When we got close to the line, I just went for it. It was a nice finish, and, of course, gaining a few seconds always helps."
The peloton set off from Trezzo sull'Adda in slightly cooler temperatures than previous days – a welcome relief from the heat that served as a real obstacle during earlier stages. A crash disrupted proceedings during the neutral parade, and the official race start was delayed as a result. Italian national road champion and yesterday's podium finisher, Elena Cecchini, was amongst the reported injured.

Souvenir from stage 5 of @GiroRosaCycling.. These babies hurt! #crash pic.twitter.com/d4eo3XJEJh

— Elena Cecchini (@ElenaCecchini92) July 8, 2015
The attacks began from as soon as the proper start was give, yet it took nearly an hour for the first successful breakaway to take shape. Orica-AIS was on the attack again today and it was the Australian-registered squad's Sarah Roy who managed to slip away at kilometre 40. The move, however, was short-lived.
The peloton was together when they hit the only intermediate sprint of the day. Claudia Cretti (Inpa Sottoli Giusfredi) edged out Silvia Valsecchi (BePink Laclassica) to the line. Guarnier sprinted across for third – and scored one additional bonus second.
"The racing was much more aggressive for the first 70 kilometre than I personally had anticipated," said Guarnier. "It was constant attacks. I could see that Boels-Dolmans was well represented at the front and in the breakaways. My role was to wait for the final climb and see what would happen from there."
With the lower slopes of the climb fast approaching, a group of 10 riders went clear. The breakaway swelled to nearly 20 riders as the road rose toward the Aprica ski resort. Twenty-five kilometres from the finish, the leaders were 1:44 in advance of the peloton.
"My team was well represented with [Kasia Pawlowska] and Chantal [Blaak], in that 17-rider breakaway," noted Guarnier. "We did not worry about the move at all; however, Lizzie [Armitstead] and Romy [Kasper] did a great job setting a high tempo to keep the bunch rolling."
With the peloton closing in on the leaders, Tetyana Riabchenko (Inpa Sottoli Giusfredi) attacked the escape group and immediately gained a gap. Armitstead and Kasper's efforts steadily saw the peloton make gains, first on the large group and then on Riabchenko.
Eight kilometres from the finish, Riacbchenko had returned to the bunch. Claudia Lichtenberg (Liv Plantur) countered the catch. The reduced peloton immediately responded.
"When we reached the breakaway, Lizzie [Armitstead] continued to drive the pace," noted Guarnier. "My team rode a super strong race. I'm proud of each and every one of them."
A number of riders – including Australia's Kat Garfoot (Orica-AIS) – would attempt to escape on the upper slopes of the summit finish, but only Ferrand-Prevot would prove successful in opening an advantage with staying power.
The Giro Rosa continues on Thursday with a short, sharp stage between Tresivio and Morbegno. Three categorised climbs and several additional uncategorized ramps over the 102km day will provide a real test for the overall contenders. As always, Velofocus is your best source for stage specifics – including an in-depth look at each of the climbs included in Thursday's route.
Giro d'Italia Internazionale Femminile (2.1) Trezzo sull'Adda → Aprica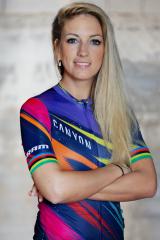 Additional Giro Rosa Reading
Giro Rosa stories and reports you don't want to miss:
***
Expect in-depth, varied coverage of each and every Giro Rosa stage on Ella CyclingTips. We will have daily race reports within an hour of each stage finish, full results and daily diaries from Australians Tiffany Cromwell (Velocio-SRAM) and Lizzie Williams (Orica-AIS). Also check out Ella on Instagram for our #TiffTakeover.
Like what you see here? Wish we were doing more Giro Rosa coverage? Less Giro Rosa coverage? Doing something different altogether? We want to hear from you. Consider taking our Ella survey to let us know what we're getting right, where we could improve and who you are. All survey participants who share their email address are entered into our random draw for a Velocio kit.