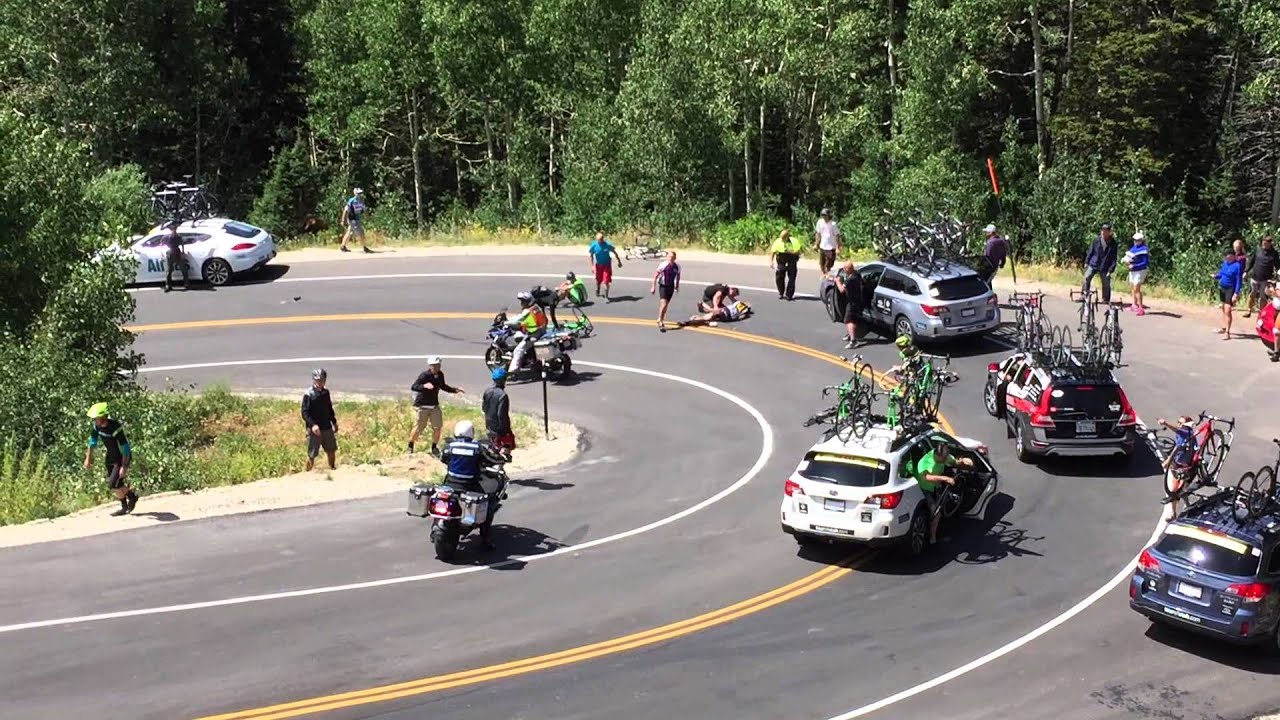 Brammeier on recovery path after dramatic Utah impact: "I'm just happy to be in one piece"
Don't miss out on the latest CyclingTips updates.
Recovering from one of the most spectacular – and frightening looking – crashes of the year, Matt Brammeier is likely to be out of action for up to two months. However the Irish pro is remaining upbeat and said that he is determined to get back on his bike and to continue his career with MTN Qhubeka.
Brammeier cannoned into a team car while descending Guardsman's Pass on stage six of the Tour of Utah. He carried a lot of speed into a tight left hand switchback and hit the car's left side, being thrown to the ground. The impact looked extremely serious but, thankfully, his injuries were not as bad as they might have been.
He fractured ribs on both sides of his chest and also suffered a small puncture to one lung. In addition to that he sustained fractures to sacral and pelvic bones, as well as bruising his liver and cracking a tooth.
One week later, he is back at his base and recovering.
Possibly one of my favourite ever photos pic.twitter.com/e88tR6aWMG

— Matt Brammeier (@Mattbrammeier85) August 11, 2015
"It was a pretty grim few days, as you can imagine, but I'm starting to feel better already," he said on Friday. "I had some extraordinary care over in Salt Lake City and can't thank all of the staff at the University of Utah Trauma centre enough.
"I'm still in a fair bit of pain, but overall, considering what I just hobbled away from, I can't grumble for one second. I'm just happy to be in one piece and to be back home with my family and fiancée and looking forward to starting my recovery process already."
MTN-Qhubeka team doctor Jarrad van Zuydam said that he considers the rider to be recovering well. However he said that he will need time before he will be able to recommence training.
"He will be getting about on crutches for the next few weeks to allow his pelvic fractures to heal," he said. "His chest injuries are not as severe as was first feared and his pain is already far better.
"We don't expect him back on a bike for at least the next six to eight weeks but we are confident that he will make a full recovery and a return to racing at the top level."
Out of contract at the end of last year, Brammeier signed a two year deal with MTN-Qhubeka at the start of the season and repaid that faith when he won the final stage of the ZLM Toer. He has seen the team thrive and is clearly settling in well.
"I've had one of my most enjoyable years of my life this year with this team," he said. "I can't thank them enough for all they have done for me so far."
Accepting that he doesn't have time to come back before the end of the year, he's motivated nonetheless.
"It's looking like my season is well and truly over, so I'm looking forward to return hungry in 2016."