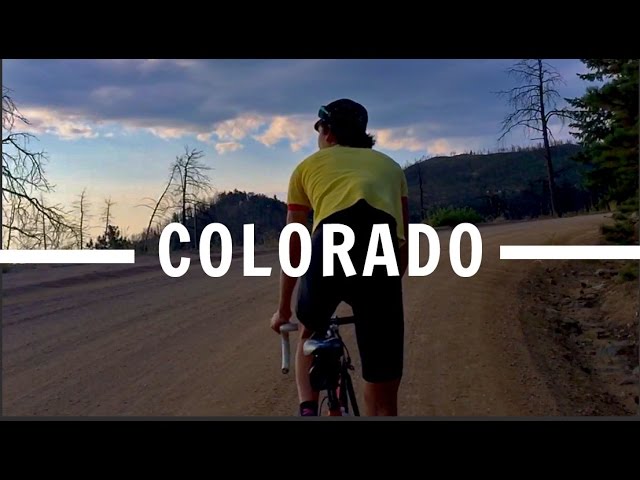 Adam Phelan's Video Diary: Colorado
Don't miss out on the latest CyclingTips updates.
Life as a professional cyclist might appear glamorous from the outside – travelling the world, getting paid to ride a bike – but the reality is often far less appealing. Dirty hotel rooms, time spent away from loved ones, constant fatigue, not to mention the pressure to perform — it can be a challenging existence.
For the past few months, Drapac Professional Cycling's Adam Phelan has been putting together great little videos from his time spent travelling and racing around the world. In his latest video, Adam shares his experience of training and racing in Colorado in recent weeks.
---
A long tunnel of spectators narrowed in around us as we neared the peak of the climb. Their cheers were incoherent, deafening and oddly motivating. It was the fourth stage of the USA Pro Challenge, and we were nearing the finish line. If it were not for the mixture of sunscreen and sweat that leaked down into my eyes, and the exhausting ache pulsating through my legs, I might have enjoyed the experience a little more, but I just really wanted to make it to the top of the KOM.
It was a circus. A man who wore a costume of a multicoloured creature – one that could never be aptly characterised in words – blew a horn so furiously and frequently that you could not help but be alarmed and ride slightly quicker. Others held out cans of beer which, in any circumstance other than the one I was currently in, would have seemed like an enjoyable prospect. At the time however, I couldn't think of anyone worse.
The energy of the crowd was electric. Speakers blasted out music as spectators ran and danced. We rode in slow motion by them – the hill sapping all the speed out of the group. We were a few minutes behind the leaders, so the pace was sedate compared to what it would have been if we were fighting for a result. The reduced speed meant that the line between our worlds, the spectators and the racers, converged more than usual.
Hands waved and clapped in front us. Someone held out a dollar bill and screamed, "TAKE IT! TAKE IT!" There were face masks and face paint, top hats and mankinis. Screams, laughter and singing. It felt as though we were going to be engulfed by it all. I wondered how they had sustained such a high level of enthusiasm for the several minutes that had passed since the leaders went by. I was not sure, but I appreciated it. There are few other jobs where you could experience this, I thought.
Unfortunately not even their enthusiasm could mask the fact that the road was agonisingly steep – the kind of steep where it feels as though concrete is sloshing in your bottom bracket and your tyres are flat to the rim. My body screamed at me to just bloody hurry up. In truth, all I wanted was a nice warm shower, some food and a comfortable bed.
***
It was another six kilometres further up the mountain until the finish line. I had done my job for the day. The climbers were up the road, battling for stage glory. I was now alone thinking about how nice some oxygen would be.
As the climb began to steepen the crowds continued to build in number. Early on I passed a man that seemed to be stuck on repeat as if he were a real life Vine post. "Keep it going! Keep it going! Keep it going! Keep it going! Keep it going…" The sheer speed of his cheers could not go unnoticed. "Thanks mate," I said in a state of awe. "I appreciate it."
A few hundred metres later a group of spectators yelled out to me: "You got this man! Not far till the top!" In reality we had another 15 minutes (at least) till the top. Neither of his statements were true, but they were overwhelmingly positive. Normally you are met with light claps and a few well done's. American fans seem to have a different kind of optimism and positivity.
It does not matter if you are leading or 20 minutes down, it doesn't matter who you race for or what country you come from, they cheer with an overpowering level of encouragement. It is the American character and it is a large part of what makes the USA Pro Challenge such an enjoyable race for cyclists and spectators alike.
It is the fans: the kids and their parents that ask for an autograph even though they likely do not know who you are, and the thousands of people that wait on the side of the road just to cheer the peloton on. The loud and crazy crowds on the summits of mountains. The commentators and their over-the-top but brilliant race-start crowd warmers ("let's launch this peloton into orbit!"). It is the beauty of Colorado and the challenges of its mountains. It all makes for a race unlike anything else.
Although there may not be much oxygen for us in Colorado, the USA Pro Challenge is one hell of a race. Next time I might just take that dollar on top of the climb as a memento.
Previous instalments
– Episode 1: Alanya, Turkey
– Episode 2: Tour of Turkey
– Episode 3: French Riviera
– Episode 4: More French Riviera
– Episode 5: Japan
– Episode 6: Korea
– Episode 7: Salt Lake City
– Episode 8: Life Elevated