Chloe Hosking's stage four diary of Qatar: 'This race was a great showcase of women's cycling'
Don't miss out on the latest CyclingTips updates.
What a week it has been! With eight of the top 10 UCI teams having battled it out in the Qatari deserts, the 2016 road season is now well and truly underway. After Kirsten Wild (Team Hitec) won the first stage in a bunch sprint with ease, for a moment it looked like a fifth victory for her in the Ladies Tour of Qatar was a certainty and we would be looking at multiple stage wins for her as well. But things went very different, when in stage 2 and 3 the wind wreaked havoc in the peloton and the bunch was split into several groups each day, the golder leader's jersey changing shoulders twice. 
With a length of only 73km in the final stage today, we could expect aggressive racing by teams that didn't yet have a stage win to their name, trying to set their Ladies Tour of Qatar right. An aggressive race it was, although the stage did end in a bunch sprint eventually. We expect Chloe's thoughts on the desert are much different today than they were yesterday, when she said it was her worst day in the desert ever. I have huge respect for Chloe, not only coming back from an injury which had her sidelined for six months, but providing us with a rider diary each day – even after a stage like yesterday, when the only thing she really wanted to do was not think about the stage éver again. It's hard to gather courage to write something up about a disappointing race, but she was even able to make it funny and interesting. Fortunately, Chloe had her revenge today and saved both her's and her team's Ladies Tour of Qatar. Today, it was time for celebration!   
– Jeanine Laudy
---
A tiny white and maroon sticker
'I feel like I redeemed myself, sort of. Today's 73km fourth stage of the Ladies Tour of Qatar from the Aspire Zone to Doha Corniche wasn't going to have an impact on the general classification unless a miracle happened.
Trixi Worrack went into the stage with a 17 second buffer on Romy Kasper and even more on Ellen van Dijk. But there was still a stage win to race for, and a tiny white and maroon sticker. For every stage you have won in Qatar throughout the eight editions the organisation places a tiny sticker on your frame number; Wild must almost need two frame numbers these days. Clearly, the sticker is the most lusted after thing.
The stage started about 10km from the city before it zig-zagged onto Doha's water front for 11, five kilometre finishing circuits.
Our team plan was simple: follow any attacks but prepare and practice our lead out train. It was hard not to focus on the disaster that was yesterday, but we put it out of our minds and went into the stage relaxed and ready to race.
As the race started I could still feel my legs aching from yesterday, every pedal stroke felt like someone was trying to trigger point my glutes. Spinning at the back of the peloton I could think of about 15 places I would rather be, on a long haul flight, stuck in a room with my Mum when I haven't done any of the things on her 'list' for me, anywhere else.
A bit of a blur
Somehow my legs did come good and with six laps to go I started to think I might have a chance to get up for the win.
Four girls had attacked the peloton including my teammate Dani but they hadn't been able to coordinate their attacks and were all strung out individually with about 100m gaps between them. With the fast rolling peloton behind them it was always inevitable they would be caught.
As we flew past the finishing line for the last time my team and I were all together. Dani and her breakaway compatriots had been caught and all signs pointed towards a bunch sprint.
Elisa lead Emma, Amy and I into the second last corner. Our train was fighting with Canyon-SRAM and a scattering of others. The next one and a bit kilometres are a bit of a blur for me. Losing a game of chicken I had been muscled off Amy's wheel and found myself in the middle of the peloton being bumped around. It felt a bit like when I was kid and attempted to surf a wave and just ended up getting dumped and pulling seaweed out of my swimmers.
Looking ahead of me I saw the girls still driving the pace. I had to make the decision, do I stay back here protected from the wind or do I use the energy and get back up to my team and to the back of my train? This may seem like a stupid question, surely if you have a train you should be on it? Usually, but sometimes you run the risk of being left in the wind too early if your train runs a little short.
While I was having my internal debate, travelling about 60km/hr with my wheel a finger width away from the person in front of me and my elbows bumping with the girls next to me, I saw Kirsten Wild moving past me on my right. I knew if I wasn't going to be on my train, I needed to be on her wheel.
A great showcase of women's cycling
As we took the final 180° corner with just over 1km to go, Amy was driving the pace. The peloton was totally strung out. With a little more than 500m to go Amy swung to the left leaving one or two riders in front of her and then Wild and me tucked onto her wheel.
The next 500m was like in slow motion. Slowly the 300m crept up and I was getting myself ready: "You can go early and sprint long Chloe. It's a tail wind. You will be able to hold them off. You need to jump first."
I'm not kidding, I literally said these things to myself between the 300m and 200m to go markers. And then I went.
Launching on the left I shot past Wild and the one rider in front of her and then moved straight to the right hand side. I knew the wind was coming from the left and didn't want to give Wild any advantage if she could come back over me. As it turns out she couldn't. I crossed the line with my hands in the air.
It was a bittersweet way to end this years Ladies Tour of Qatar. I obviously came in with higher expectations but I'm so proud of how my team and I bounced back after such a beating yesterday. We weren't just physically tired from doing a 50km team time trial, we were mentally drained. To switch our mindset so quickly and win the next day I think is something quite special.
It was, apart from my personal disappointment, a fantastic edition of the Ladies Tour of Qatar. I might even go so far as to say it was the best yet. The lead changed three times, there were four different stage winners and I think Australia unearthed a new talent in Lauretta Hanson who narrowly missed out on the young rider jersey.
It was, I believe, a great showcase of women's cycling.
See you in October Qatar.'
(Photo of Chloe's victory by QCF/Paumer/Kåre Dehlie Thorstad.)
What happened during the stage
Boels-Dolmans wasn't happy with just one stage win or number 2 and 3 in the GC, so it was one of the teams making the race today. Together with riders from Orica-AIS, Canyon-SRAM and United Healthcare, they unsuccessfully tried to force a breakaway. In the end, it was once again a bunch sprint, just like in the first stage of this year's Ladies Tour of Qatar.
There was quite some action during the race though, with Anouska Koster (Rabo-Liv) trying to reclaim the white youngsters jersey she lost to Lauretta Hanson (Australia) yesterday. At the first intermediate sprint, she was able to grab 2 bonification seconds, coming in second in between two Boels-Dolmans riders, Ellen van Dijk and Chantal Blaak. With those seconds, she was again (virtual) leader in the classification, although she had to make sure Hanson didn't get any seconds in the second intermediate sprint or at the finish line.
United Healthcare rider Coryn Rivera launched the first and only real successful attack of the day, leaving the peloton behind at 40 kilometers to go.
She got a maximum advantage of around 1'15". Anna Trevisi (Ale Cipollini) launched a counterattack and was later joined by Yixian Pu (China Chongming-Liv-Champion System), but they had difficulty getting to Rivera, who had switched to time trial mode at the front. Since these three were in front of the peloton at the second intermediate sprint, no bonification seconds or points were left for Koster, Wild or any of their rivals.
Pu and Trevisi got reeled back in by the peloton at 8,5km to go. Not much later, Rivera too was picked up by the peloton and it was clear the stage would end in a bunch sprint, the second one in this Ladies Tour of Qatar. It was once again Boels-Dolmans, Canyon-SRAM and Wiggle High5 trying to control the race and setting up their sprinters, with Wild somewhere in between them without her teammates.
Chloe opened up the sprint and magnificently finished off what her teammates worked so hard for in the final kilometers of the race. She won the sprint ahead of Wild and Monique van de Ree, the Dutch Lares-Waowdeals rider who has done really well this race.
Classifications
Golden jersey wearer Trixi Worrack (Canyon-SRAM) was never challenged today, although Boels-Dolmans did try. She secured the win by crossing the finish line in 15th place. Worrack had the support of a very strong team and not surprisingly, Canyon-SRAM won the team classification, with Lisa Brennauer, Elena Cecchini, Barbara Guarischi, Mieke Kröger and Tiffany Cromwell helping their teammate win this Ladies Tour of Qatar.
Anouska Koster came in fourth today, only just missing out on the final bonification seconds being given away at the finish line. She didn't need them anymore though; the 2 boni's at the first intermediate sprint were enough for her to win the white jersey for best youngster in the GC. She finished in eighth place, with Hanson in 10th.
The silver points jersey was already secure in Wild's hands yesterday, but by coming in second today, she added some more points to her name, winning the silver jersey with a wopping 43 points, 16 points ahead of Hosking in second place.
Results
Ladies Tour of Qatar (2.1) Doha → Doha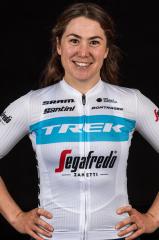 Now that the race is done, Chloe Hosking has provided her final rider diary, and Cylance Pro Cycling teammates
Valentina Scandolara and Alison Tetrick are handing back the keys to our Instagram account, follow them
and their teams on their official accounts:
For more information about this race and to review all stages, visit the official Ladies Tour of Qatar website.