Chloe Hosking's stage two diary of Qatar: 'Suddenly there were 26 riders at the front. But still no Wild'
Don't miss out on the latest CyclingTips updates.
Slightly disappointed, yet determined, Chloe got to the start of the second stage of the Ladies Tour of Qatar today. It wasn't the dream start she'd hoped for yesterday, taking a second place twice in the two intermediate sprints and messing up her sprint for the stage win, crossing the finish line in 17th place. In her stage 1 rider diary for Ella, she wrote that she doesn't despair, but something does need to happen. With only 9 seconds to leader Kirsten Wild (Team Hitec) in the GC, there's nothing lost yet for the Aussie sprinter. And a stage like today shows that indeed anything can happen!
– Jeanine Laudy
---
Carnage
'So I got my nine seconds. The only thing is I lost about a minute (I'm writing this in the car home, so I can't give you exact figures but I'm sure the kind people at Ella will fill you in).  It's 58 seconds, so pretty much a minute.
Today's second stage was exactly what I love about racing in Qatar; crosswinds, fighting for position, squeezing into gaps that aren't really there, sprinting for corners that aren't even close to the finish and serious gutter action.
120km from Sheikh Faisal Museum to Al Khor Corniche the stage was always going to be carnage with winds reaching up to 25km/hr.
While yesterday, my Wiggle High5 team didn't want to show all our cards, today was a different matter. Our director, Egon (van Kessel), told us in the team meeting: 'Today we go. We are no longer followers. Today we go.'
The Plan:
Our race plan was simple; the first 45 kilometers of the race, the peloton would be riding into a headwind. Then at kilometer 46 we turned right. In case I need to so spell it out for you, if you're riding into a headwind and then you turn, you will then be riding into a crosswind. And crosswinds mean business.
We wanted to wait until 500 meters before the corner and then all together — as a unit — hit it.
That's it. That was the plan. But what about the other 75km? Then we keep riding.
The Execution:
The girls did a fantastic job, but it was as if we were lined up ready to start a 100m sprint. The tension, a nervous energy in the peloton, forced them to a false start and they were driving it a little too early. With two new riders to Qatar, the girls did a great job, but used a lot of energy and when we hit the right hand corner at 46km, only Elisa and I made the front echelon which formed as quickly as Kelly Clarkson's career ended.
All of a sudden the race was shot to pieces. Elisa and I had made a front group of 11 which was dominated by Canyon-SRAM riders and our gap quickly grew to over 30 seconds. Egon was straight in Elisa and I's ear (if you didn't know, we have radios in this race, the first time since 2009) saying this was a good situation, none of the jersey winners from yesterday's stage had made the front group of 11.
We rolled but about 10km later a larger group of 15 caught us and all of a sudden there were 26 riders at the front of the bike race. But still no Wild.
We hit a 25km stretch of tailwind and it was a matter of conserving the gap we had on the groups chasing behind.
With a little more than 20km to go we made another right hand turn and it was on again. Katrin Garfoot and Elisa had snuck away from the group about 4km earlier and Rabobank and Canyon decided it was time to shut it down. It wasn't so much a case of an echelon forming so much as it was a case of who could hang on in single file in the gutter as we got pummelled by the crosswinds.
By the time we hit 15km to go there were only 10 riders left at the front of the bike race; three Canyon, three Wiggle High5, two Orica-AIS, and two Boels-Dolmans. Soon we had over a minute gap on the 16 we had left behind.
GC turned on its head
With three kilometres to go, Garfoot, Romy Kasper (Boels-Dolmans), Trixi Worrack (Canyon-SRAM) and my teammate Amy Pieters rolled off the front. I say rolled because that's exactly what happened. No one launched a leg destroying attack, just all of a sudden when everyone was watching everyone else, they had a five metre gap and then they had a 15 second gap and then it was over for the six of us behind.
I didn't mind much because as much as I want to win this tour overall, Amy is a pretty classy bike rider — she beat me in 2014 finishing second overall behind her then teammate Wild — and I was confident that she could hold her own in that group of four.
What I didn't expect was for Garfoot to launch the leg destroying attack that I had mentioned was missing earlier with just over a kilometre to go and for no one to follow. But that is exactly what happened.
Kat ended up winning the race solo with Trixi taking second and Amy finishing third. The general classification was totally turned on its head. Kat now leads with a comfortable margin with Trixi, Amy and Romy filling the next three places. I'm sitting in fifth, one minute and two (?) (yes, that's correct!) seconds down.
My Wiggle High5 team and I definitely have our work cut out for us as we go into the third and fourth stage. But as Emma said in yesterday's debrief, 'never give up'.'
What happened during the stage
Beforehand, the organisation mentioned the risk of echelons on the open roads of this 120km stage, but with the strong headwind in the opening kilometers, Swedish rider Alexandra Nessmar of the new Belgian UCI team Lares-Waowdeals decided to make a go for it. She got the company from Yue Bai (China Chongming-Liv-Champion System) and together were able to increase the gap to over two minutes.
But it didn't last when after the first intermediate sprint (which was easily won by Bai over Nessmar, with Kirsten Wild (Team Hitec) winning the sprint of the peloton), the echelons did come and the race blew up.
Not only did the group of favourites manage to drop race leader Wild, who had the misfortune of a mechanical right when the echelons were formed, lots of crashes determined the outcome of the stage as well.
When the 26 rider lead group Chloe mentioned was heading south towards Al Sheehaniya, the second intermediate sprint was there. Shelley Olds (Cylance Pro Cycling) confirmed she brought her fast legs to Qatar and took the 3 bonification seconds. Chloe managed to get second and Gracie Elvin (Orica-AIS) got third.
We know what happened at 3km from the finish line. Behind the four women that had snuck away, Chloe won the sprint of the chasing group, that included amongst others Ellen van Dijk (Boels-Dolmans) and Barbara Guarischi (Canyon-SRAM).
The main peloton, or what was left of it, crossed the finish line almost four minutes behind Garfoot. Wild was among them and will have no chance now of winning Qatar for a fifth time.
Classifications
With the immense time differences in today's stage, the four women in the lead group are also the top 4 of the GC: Katrin Garfoot will be wearing the golden leader's jersey tomorrow, with Worrack and Pieters in second and third place. Super domestique Romy Kasper (Boels-Dolmans) sits fourth and with the bonification seconds of the intermediate sprint and her fifth place in today's stage, Chloe is fifth overall now. 
Wild was able to hold on to the silver points jersey with only one point over Garfoot.
Arianna Fidanza (Italy), who wore the white jersey of the youth classification today, crashed during the stage and lost the jersey to Anouska Koster (Rabo-Liv). Koster is in 15th place, with 1 minute 54 seconds to the GC leader. Floortje Mackaij (Team Liv-Plantur) is the second youngster in the GC, with an equal time difference as Koster. Lauretta Hanson (Australia) has only four second to the two riders. 
Orica-AIS dropped to third in the teams ranking, with Wiggle High5 taking over pole position and Canyon-SRAM in second place with the exact same time.
Results
Ladies Tour of Qatar (2.1) Sheikh Faisal Museum → Al Khor Corniche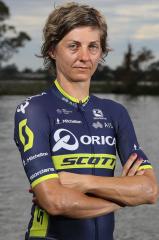 Follow Chloe Hosking,
new team mates Valentina Scandolara and Alison Tetrick taking over our Instagram,
and their teams on their official accounts:
Want to know what's still to come in this year's Ladies Tour of Qatar? Read our race preview or visit the official Ladies Tour of Qatar website.