Cycling therapy in Gent-Wevelgem, where Chantal Blaak claims her second Women's WorldTour win
Don't miss out on the latest CyclingTips updates.
It's been a strange couple of days following the terrorist attacks around Brussels on Tuesday morning. While it was Belgium that was hit right in the heart, it's scary for all of Europe, with earlier attacks in Paris, London and Madrid. We all empathise with Belgium, either because our country has experienced something similar before, or we are well aware that it can happen to us at any point.
Earlier in the week, it was uncertain whether Dwars door Vlaanderen, planned only one day after the bombings, would go ahead, but both the men's and the women's races were held, despite much debate about safety concerns, respect for the victims and their families, and not letting terrorism dictate our lives. A minute's silence was held before the start to commemorate the victims of the attacks.
A hint of uncertainty about the continuation of all Flemish races has been there throughout the week, with at any point the possibility of cancellation around the corner. Fortunately, the men's E3-Harelbeke last Friday saw Team Sky's Michal Kwiatkowski take the win and today's seven races at Gent-Wevelgem got the go ahead as well.
Cycling therapy
As cycling is almost a holy sport in Belgium, cycling is used to process what has happened, to get over the horrific events by joining up together and to connect with each other instead of keeping to themselves.
For me personally, I wasn't considering not going to Gent-Wevelgem to report on the race, but I was a little apprehensive of going to the start and finish locations. The thing that makes cycling races so fantastic, is that it happens right there on the roads that commuters and recreational cyclists use every day, but this also makes it really vulnerable though, as the race is happening in front of hundreds, thousands of spectators and it's not possible to secure the entire route of a cycling race. You obviously can't safeguard anything against terrorism, but with a cycle race attracting big crowds at the finish line, I was just a little uneasy getting out there and collecting rider quotes after the finish.
This was also partly due to my transfer to Ieper, when I saw border control between Belgium and the Netherlands – not common in most of Europe. It made me realise once more there is still a threat that people wanting to make a statement by force will act on it (and border controls along the four highways from the Netherlands to Belgium are obviously not going to stop any terrorist from entering or leaving the country…).
Fortunately, nothing happened and this article, although it starts with a little reflection on the events of last week, is mostly about the wonderful race we have seen in Gent-Wevelgem today. So let's get on with it!
Recap of the Women's WorldTour so far
There have been three Women's WorldTour races so far, with Boels-Dolmans dominating every race. Lizzie Armitstead won the opening event, the Strade Bianche, and received the first UCIWWT leader's jersey, with Kasia Niewiadoma (Rabo-Liv) leading the young rider classification.
Armitstead tried to defend her Women's WorldTour lead in the Ronde van Drenthe, but had to give up during the race because of migraines. Teammate Chantal Blaak stepped up to take on the role of race favourite and sprinted to victory out of a breakaway of four. Anna van der Breggen (Rabo-Liv), who also made this group of four, took over the UCIWWT leader's jersey, while Floortje Mackaij (Liv-Plantur) got put on the young rider's jersey after her third place in the peloton sprint.
For the third round of the Women's WorldTour, the peloton returned to Italy for the Trofeo Alfredo Binda. Armitstead was recovered and back on the start line, although the team would race for Megan Guarnier. However, after both Armitstead and Guarnier made the final lead group and Armitstead attacked in order to set up Guarnier for the win, no-one was able to get her back and Armitstead won her second WorldTour race, Boels-Dolmans taking the UCIWWT hattrick. Guarnier sprinted to a second place and Armitstead was back in the overall lead. With Niewiadoma once again leading the young rider classification, both Italian races led to the same jersey wearers in the Women's WorldTour.
2016 Gent-Wevelgem
Round four of the Women's WorldTour then. Rabo-Liv sent out a complete Dutch squad to Gent-Wevelgem, meaning Niewiadoma would not defend her young rider jersey. But it was not just that; Van der Breggen also wasn't one of the six riders in the Rabo-Liv line up. As Armitstead did start the race, it would only be possible for Van der Breggen to get further away from the lead, with Armitstead holding 240 points to Van der Breggen's 180 points.
Of the final start list, one rider did not start today; Aussie's Kimberly Wells riding for the High5 Australian Development team had to call in sick. She won the Belgian kermesse Dottignies last Thursday, but is probably still getting used to the windy, cold classics weather and caught a little cold. With her DNS, 141 riders set off from Ieper for the women's Gent-Wevelgem after again a minute's silence in honour of the victims of the Brussels attacks.
Within the first hour, 39.5 kilometers were covered and it already reduced the bunch quite extensively. The strong head- and crosswinds caused the bunch to break into two parts, with a maximum gap of 30 seconds between them. It was reduced to around 20 seconds when the peloton climbed the Kemmelberg for the first time.
With the closing in of both groups, 28 women of the first group were able to get clear on that first Kemmelberg climb, including all six Boels-Dolmans riders which once again confirms the domination of the team.
Wiggle High5 was also able to get four riders in the lead, with Emma Johansson, Amy Pieters, Jolien D' Hoore and Elisa Longo Borghini, proving the Dwars door Vlaanderen 1-2 led to the necessary morale boost. Cervélo-Bigla equalled that number with Carmen Small, Ashleigh Moolman, Lotta Lepistö and Joëlle Numainville making the break.
Tiffany Cromwell was either not feeling well or just too far back when the bunch split, ending up in the third group on the road. She would finish in 39th place. Teammates Elena Cecchini and Lisa Brennauer were able to get into the break to defend the honours of the Canyon-SRAM team.
At the top of the Baneberg, the lead of the 28 riders had grown to 1'05" and towards the second climb of the Kemmelberg it was almost 1'30".
As it was only one hour of racing from this point and the gap to the chasers was big enough to hold, the attacks in the break started coming, one of them by Ellen van Dijk (Boels-Dolmans), returning from a broken rib in her first UCIWWT race, and another one by Olga Zabelinskaya (BePink), who returned to racing in Gent-Wevelgem after a two year doping suspension. All attacks were neutralized though and with the door wide open at the back, the final 40 kilometers commenced with a reduced breakaway of 23 riders.
The Monteberg, the fifth and final climb of the day, led to more riders getting dropped, among them big names like Christine Majerus (Boels-Dolmans), one of the top favourites D'Hoore (Wiggle High5) and Orica-AIS' Gracie Elvin and Amanda Spratt.
There were strong crosswinds in the final 25 kilometers towards Wevelgem, which meant the lead group would most definitely got split up before the finish, which indeed happened when Blaak (Boels-Dolmans) opened up the finale by putting in a monster attack. Although some chasers tried to get to Blaak, her teammates neutralised every counter-attack, giving Blaak a gap of 50 seconds in the final kilometer.
The dominance of the Boels-Dolmans team is unmatched, with not only strong riders, but incredible team tactics as well. With that, Blaak was able to ride towards her second Women's WorldTour win.
Boels-Dolmans has now won all four Women's WorldTour races so far, with two wins for Armitstead and two for Blaak.
Almost a minute and a half behind Blaak, Brennauer sprinted to second place in a very thinned out chase group and Dutch champion Lucinda Brand (Rabo/Liv) finished third.
Brennauer has found her sprint legs after not having had the best season so far and, given the predominance of Boels-Dolmans, was happy with her second place. "Boels-Dolmans were there with six riders, so they played their numbers really well. There was attack after attack after attack, and from one point on I was the only one of my team, so I had to gamble. It is a pity that one rider was able to get away by herself, but I did really well today."
Van Dijk explained some more on what happened when Blaak attacked: "Annemiek [van Vleuten], Emma [Johansson] and Lisa [Brennauer] reacted to Blaak, but they were too late and weren't able to bridge the gap. Romy [Kasper] and I were able to get to the three, with some other riders in our wheel, and from then on we just controlled the group," Van Dijk explained, adding that she had massively enjoyed to be back in the women's pro peloton.
Last year's winner Floortje Mackaij (Liv-Plantur) felt good today, but got caught up in the second group. "At the Kemmelberg, the group split just in front of me and there was too much wind to close the gap. I ended up in the second bunch and I knew my race was over." With a 25th place, she did take back the UCIWWT young rider jersey.
Both Blaak and Armitstead now have two wins to their names, but as Blaak has some 18 additional points to Armitstead's 8 extra points, Blaak is the new Women's WorldTour leader.
There was enough wind for this race the become very interesting again, yet we didn't have the horrible wether conditions of last year. To see what happened throughout the 115 kilometers from Ieper to Wevelgem, be sure to come back tomorrow for an photo gallery of this race.
Watch how Chantal Blaak secured her second Women's WorldTour win through this seven minute highlight video:
Results
Gent-Wevelgem In Flanders Fields WE (1.WWT) Deinze → Wevelgem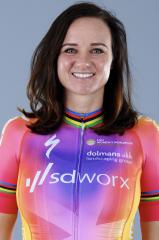 Women's WorldTour standings
General classification
1. Chantal Blaak (Boels-Dolmans) – 258 points
2. Lizzie Armitstead (Boels-Dolmans) – 248 points
3. Emma Johansson (Wiggle High5) – 185 points
Young rider classification
1. Floortje Mackaij (Liv-Plantur) – 12 points
1. Kasia Niewiadoma (Rabo-Liv) – 12 points
3. Alexis Ryan (Canyon-SRAM) – 6 points
Team ranking
1. Boels-Dolmans – 744 points
2. Rabo-Liv – 453 points
3. Wiggle High5 – 398 points