Photo gallery: with yet another win in Gent-Wevelgem, Boels-Dolmans continues winning streak
Don't miss out on the latest CyclingTips updates.
The orange Boels-Dolmans team continued its domination of the UCI Women's WorldTour over the weekend with another win for Chantal Blaak. Lisa Brennauer (Canyon-SRAM) came in second and Lucinda Brand (Rabo-Liv) rounded out the podium. Boels-Dolman has now won every Women's WorldTour event thus far with Lizzie Armitstead and Chantal Blaak each claiming two victories.
The race, held just days after the terrible bombings in Brussels, was suppose to be a celebration of life, but that celebration ended abruptly when news broke that rider Antoine Dumoitié (Wanty-Groupe Gobert) had been killed in a crash with a motorcycle during the men's race in Gent-Wevelgem.
When the women's race unfolded, the accident had not yet happened, and the women's 2016 Gent-Wevelgem actually was another extraordinary race, like we've had throughout the entire Women's WorldTour so far. Although sometimes not much happened in the early parts of a race, we have always had an exciting finale. This time it was a solo break that earned Blaak her second UCIWWT win, after winning de Ronde van Drenthe in a sprint out of four.
Also great news that the UCI is now again making their own highlights videos! Scroll right on through to the bottom for a nine minute clip of the race and reactions from lots of riders.
Results
Gent-Wevelgem In Flanders Fields WE (1.WWT) Deinze → Wevelgem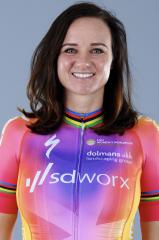 Clara Koppenburg (Cervélo-Bigla) receiving some last minute tactics before the start of Gent-Wevelgem.
Back to back they faced each other… Wiggle High5 warm up in Ieper.
Ashleigh Moolman (Cervélo-Bigla) all concentrated and ready to race.
The fourth round of the UCI Women's WorldTour about to get underway.
Dutchies Julia Soek and last year's winner Floortje Mackaij (Team Liv-Plantur) chat on the presentation stage in Ieper – Women's Gent Wevelgem 2016, a 115km UCI Women's WorldTour road race from Ieper to Wevelgem, on March 27th, 2016 in Flanders, Belgium.
Thumbs up! Elena Cecchini is ready to race. She would finish 12th after being very active at the front.
The team to beat: Boels Dolmans are presented to the crowds in Ieper.
Attempts to stick the race in the gutter begin early.
Grey clouds hovering over the peloton. Fortunately the rain drops stayed away and the peloton just had to battle the wind, which was enough to deal with!
Emma Johansson (Wiggle High5) and Ellen van Dijk (Boels-Dolmans) lead the peloton up the Kemmelberg for the first time.
Ashleigh Moolman (Cervélo-Bigla) battles up the Kemmelberg.
Alison Tetrick (Cylance Pro Cycling) reaches for a bottle. The team hasn't been able to get a good result in yet. The best placed rider for the team in Gent-Wevelgem was Rosella Ratto in 83rd place, with Tetrick in 84th. The rest didn't finish.
Lisa Brennauer (Canyon-SRAM) and Ellen van Dijk (Boels-Dolmans) in the lead group as the race heads to Kemmelberg for one final time. This was Van Dijk 's first race back since getting injured earlier in the season.
Jolanda Neff (Servetto Footon) battles up Baneberg.
Ashleigh Moolman (Cervélo-Bigla) takes on the Banenberg with Elisa Longo Borghini (Wiggle High5) in her wheel – is that a smile or a grimace she's wearing?
World champ Lizzie Armitstead (Boels-Dolmans) doesn't shy away of doing the dirty work with her head in the wind.
The lead group weaves across the moat back into Ieper.
Chantal Blaak's (Boels-Dolmans) lead is growing, gaining over a minute on the best of the rest.
Chantal Blaak wins in Wevelgem after a brave solo move.
Lisa Brennauer (Canyon-SRAM) wins the sprint for second ahead of Lucinda Brand (Rabo-Liv).
Jolanda Neff (Servetto Footon), who rode to a third place in the Trofeo Binda last week, explains how the final played out to her team.
Gent Wevelgem top three: Chantal Blaak (middle), Lisa Brennauer (left), Lucinda Brand (right).
Chantal Blaak receives kisses from the podium boys at Gent-Wevelgem.
In addition to the Sporza video of the race and a video report by Focus-WTV, here's the UCI highlights video of how Chantal Blaak secured her second Women's WorldTour win, with commentary by Niels Goudriaan of inCycleTV and interviews by Felix Mattis.
Women's WorldTour standings
General classification
1. Chantal Blaak (Boels-Dolmans) – 258 points
2. Lizzie Armitstead (Boels-Dolmans) – 248 points
3. Emma Johansson (Wiggle High5) – 185 points
Young rider classification
1. Floortje Mackaij (Liv-Plantur) – 12 points
1. Kasia Niewiadoma (Rabo-Liv) – 12 points
3. Alexis Ryan (Canyon-SRAM) – 6 points
Team ranking
1. Boels-Dolmans – 744 points
2. Rabo-Liv – 453 points
3. Wiggle High5 – 398 points