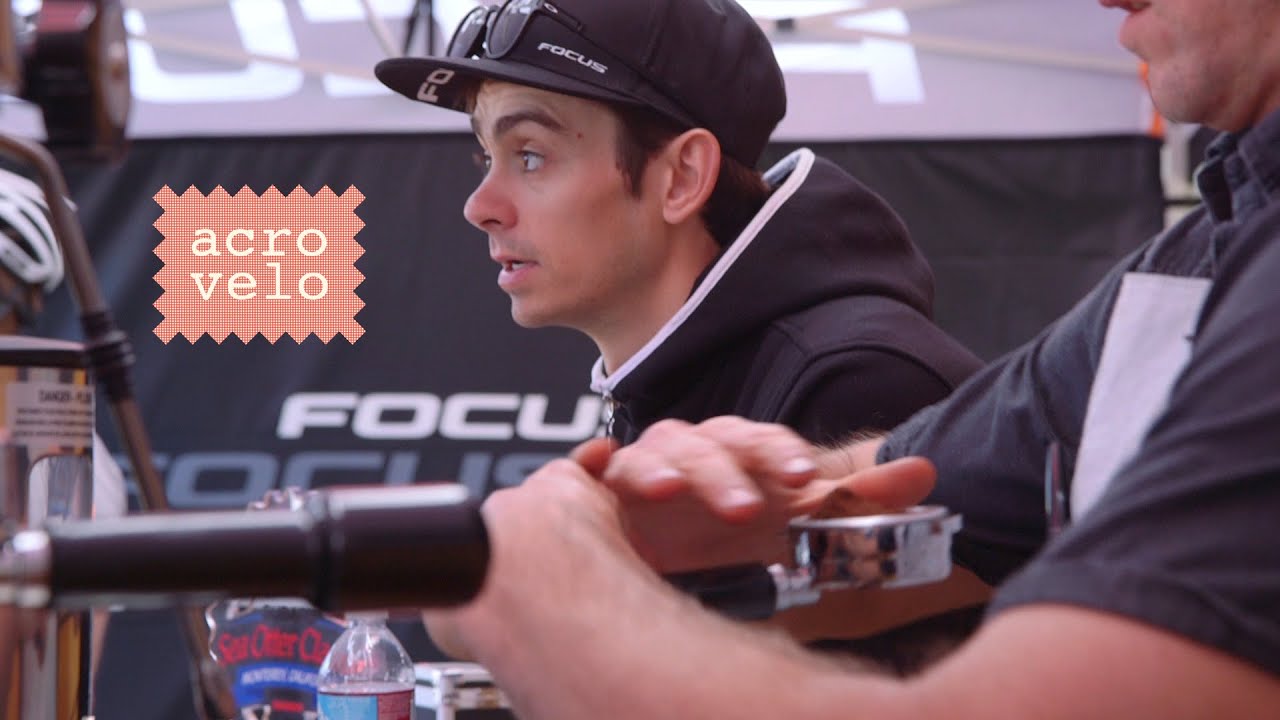 Stephen Ettinger Diary: Time traveling
Don't miss out on the latest CyclingTips updates.
As I laid awake at 3am Tuesday morning, in an anonymous Airport hotel in Sydney, I came up with this really great, witty little opening for this little collection of anecdotes.
But I finally fell asleep at 6am, a whopping 30 minutes before our alarm went off. As I helped a very broken and high-on-painkillers Alex Grant navigate the Sydney airport with a smashed heel, all hope of thinking clearly, and giving you the impression that I was any kind of wordsmith, was sadly scuttled. (More on all that below.)
I was awake because I am a terrible sleeper, and that just gets worse after I've raced in three hemispheres, on three continents, over four weeks. My body has no clue what time zone I am in. As I write this, I'm not even sure what day it is right now. I'm somewhere near the international date line as I write this… I left Sydney on Tuesday, so is it Wednesday now? Or Monday? I'll split the difference, and just confide that I really don't care. [It was Tuesday, in North America. — Ed.]
My own bed is on the other end of this germ tube, somewhere, and thats about all that matters. By the time I landed at home in Bellingham, Washington, on Wednesday, I'd logged something stupid like 30,000 United Premier qualifying miles in just three weeks.
I'm someone who views airline status being inversely proportional to one's quality of life. The Star Alliance lounge in Buenos Aires was very nice — I'm a sucker for a hot shower part of the way through 36 hours of travel — but there is no place like home. I keep clicking my little red Giro slippers together in hopes that one of these days, I'll be teleported home across continents.
Please don't misinterpret me; one of the main reasons I follow the World Cup traveling circus is because I love to travel. I love exploring new places, creating new friends and relationships. I truly value the unexpected, the unpredictable, and the utterly unimaginable.
This journey, as a pro cyclist, has opened my eyes and heart to places and experiences I otherwise would not have seen or had. Some of them have been intensely pleasurable, others have been enormously frustrating, but wow, am I ever grateful for each and every one of the trips I've been on. But 19-inch wide seats, and older, slow 737s are a bit of a buzz kill in what is otherwise an incredible existence.
https://www.instagram.com/p/BDqYWw7GQep
Welcome to Argentina
This bit of suitcase living started with a trip to Catamarca, Argentina, for the Pan American Championships during the last week of March. Don't worry about trying to find it on a map, I think it has since blown away.
As is the general rule in bike racing, its a bit rare that we actually get to spend any time being a tourist in the places we travel through. But on this trip, because there is only one flight into and out of Catamarca each day, we had a 20-hour layover in Buenos Aires. Plenty of time to build bikes, and shake out the legs with a ride around the city at rush hour.
I love Latin America. The energy is just visceral. Russell Finsterwald, Chloe Woodruff, and I rode through the City University, along the ocean, and through the Microcentro. We zipped down boulevards that were 16 lanes wide, lined by colossal Colonial buildings, weaving through busy afternoon traffic jams. We rode past parks with massive greens and ponds, past sunbathers and tennis players, and down the railroad tracks past innner-city slums. Then we poked around and found the only place that would serve us dinner before 10pm; it was their lunch menu. That was a "Last Supper" of sorts.
Once in Catamarca, we ate processed white flour — and that's pretty much it. Pasta, white breads, cheese tarts, corn flakes, chicken and eggs. Mix and match to make three square meals a day. No sauces or garnish; occasionally, a bit of melted cheese. Turns out that's about all they serve in that neck of the woods. The terrain is more suited to sand excavation than cattle ranching.
In desperation, we went to the grocery store and bought all the canned beets and pickled veggies we could get our hands on. There were a couple pithy tomatoes and sad cabbage sitting on the shelves; otherwise, no signs of life.
On race day, our staff was held up getting to the venue by an hourlong parade. This was the weekend after Easter, and I'm still not sure what specifically was being celebrated; any Catholic folks out there who might want to provide some insight? It was one of those things that all the Latin American teams seem to have anticipated, and they had all gotten their cars out of the parking garage early. Somehow the Americans missed the memo. Which really is pretty standard, because typically, we miss all the memos at Pan Ams. Training schedules, race times, lap counts, etc, are all kind of loose suggestions, and change pretty whimsically.
Anyway, this parade shook me out of bed on the sixth floor of our Stasi hotel, and left the city smelling like fresh manure all day. It excited all the ferrel street dogs into a frenzy, and they seemed particularly interested in my calves come race morning; I got a little pre-race sprint workout in as I rode up to the venue from the race hotel.
The racing part went well, I finished third, on one of the most punishing tracks I've ever raced. I won this event in 2014, and so it was good to be back at the sharp end.
A BAGGAGE COMEDY OF ERRORS
We knew flying home would be chaotic. Everyone and their bikes were flying to Buenos Aires Monday morning, early, and there was no way that our little puddle jumper would hold the bikes and gear of a dozen national teams.
We got to the airport early, only to find the single check-in desk empty. By the time we got on our Aerolinas Argentinas flight a few hours later, our gear, which had been checked first, was at the bottom of the pile, instead of the front of the line. So we watched them load bikes onto the plane, but when they arrived at our gear, they decided the plane was full, and then closed the cargo doors. They drove away the luggage cart with our bike bags sitting on top, and parked it alongside the terminal. Our stuff was not coming with us.
Because our Spanish was little better than an Argentinians' English, we just had to hope that our gear would find its way to Buenos Aires the next day.
A few of the Brazilians' bags didn't make it either, and I was pretty sure that there was going to be a fistfight between the ground operations staff and one particular master blaster who was on his way home. I don't think anyone was about to step between these two as they started shoving each other on the tarmac. I couldn't understand what was being said, but it sure seemed like there were some verbal threats. In the U.S., this Brazilian guy would have gone straight to the FBI interrogation room for pulling what he pulled, but everything is just a bit looser in South America.
Once we landed, the ground staff in Buenos Aires assured us everything would be forwarded to our homes in the U.S. But we soon discovered that the Aerolinas Argentinas tracking numbers they provided were "no bueno" for tracking baggage within the Delta Airlines/One World system. Our bags couldn't be tracked on the computer, due to the handwritten "expedite" tags, so we had to call baggage desks over and over to try to get visual confirmation that our stuff had made it to Buenos Aires, and then to Los Angeles, and back into my hands. It turns out that finding the phone number for the lost-baggage desk at JFK Airport is pretty nearly impossible. (Hit me up if you ever need it. You're welcome.)
What a cluster. My bike showed up just in time for the UCI.HC event that following weekend in Bonelli Park, California, just down the road from the Redlands Classic that was also taking place.
SEA OTTERS AND TAPEWORM CREATURES
That South America trip cooked me, and after racing the cross-country at Bonelli — I finished seventh in sloppy, muddy conditions, dropped chain, blah, blah, blah — I bailed on the short track. But it turns out that jet lag is the devil incarnate, and instead of letting me sleep in a bit, I was wide awake at 5am.
Fortunately, Daimo, my mechanic, was there. We had cash on hand, and a legendary donut shop right up the street. Paris-Roubaix was coming in hot over the Best Western wifi, so we made lemonade with lemons. I love riding and racing, and I am also just a huge cycling fan, so whether it's watching road racing or dirt jump competitions, its all good in my book.
From there, we went to Monterey for the Sea Otter Classic, held at the Laguna Seca Raceway.
The "Sea Donkey" was the first big race I did when I was growing up, and I have a lot of good memories there. My dad and I road-tripped down there with some friends when I was 14; it was the first time I'd raced against the country's fastest juniors.
It was a 40-mile cross-country race back then — I think it was my biggest ride ever — and my blood sugar dropped so low that I kinda blacked out. I don't remember the second half of that race at all, and there are good stories about how loopy I was after it. Anyways, my dad and I have been back every year since.
Because it's such a sentimental place for me, seeing my mom and dad standing there at the finish line when I finished third in the pro race this year meant a lot. It's been a pretty incredible journey, and they've supported me all the way along. It was against the same field I raced the previous weekend in Bonelli, and to be in the lead group all day, finishing in a climactic three-up sprint for the win, was incredibly special.
Racing in Australia, for the first cross-country event of the UCI World Cup, was really the prize of my early season. I didn't get eaten by any salt water crocs when I swam in the ocean, and I didn't get stung by massive poisonous jelly fish. There were no snakes that crawled into my bed, or electric ants that found their way into my shoes. I did have a damn good time, though.
Really, the only close call was when an innocuous-looking tapeworm creature climbed into my shoe during a ride. I thought it was just a harmless blade of long grass that had been tossed up from my front tire, until I felt it starting to eat though my sock. Not sure where it would have ended up going in the top of my foot, but I am really glad to not have found out. I did a pretty good roadside dance trying to get my shoe unlaced and holding my bike up, accidentally cutting the worm in half in the process, and letting one end of it get into the shoe itself. I hope Giro understands why I urgently requested a new set of shoes.
In Cairns, I caught up with a lot of friends from Europe, had a really great time riding on a fun course and along the ocean, and just hanging out a bit. My friend Alex Grant (Cannondale-Fly360) had enough excitement for all of us. He crashed hard in training, and tore up his shoulder, then shattered his calcaneus (heel) during the race on the exact same feature that had taken him out a couple days earlier. He put himself in the hospital and landed a business class upgrade for the flight home.
https://www.instagram.com/p/BEmh5eWmQYx/
Markus Bauer one upped Alex however — he took a chartered jet back to Germany with a broken hip. I am bummed for both of them, especially because those injuries couldn't happen to two nicer guys. Markus had been on point lately, too; just the previous day we'd talked about how it was suddenly possible for him to make the German Olympic team, if things went well. The next day, he was being carted off in an ambulance.
I definitely feel fortunate to have kept the rubber side down all week, and feel like I got off maybe a bit lucky, finishing top 20 with no crashes, no flats, no messing around. I had an ear-to-ear grin the entire race. It's not the top 10 result that punches my ticket to Rio, but it's a good start.
I get to spend nearly three weeks at home before another two weeks in Europe for two more World Cups. Those will decide the Olympic team, and despite the jet lag, the hunger is burning. United Airlines should just give me that "1K status" now, so I can work on defying my rule of "inverse proportionality" over the next couple weeks.
About the author
Stephen Ettinger grew up in Central Washington, skiing, climbing and mountain biking. He started racing mountain bikes, and nordic skis, in middle school and never looked back. After graduating from Montana State University with a B.S. in human health and performance, he moved to Switzerland to race for the BMC Mountainbike Racing Team. He was the U.S. national cross-country champion in 2013, and the short-track XC national champion in 2014. He's raced for Team USA at the world mountain-bike championships on six occasions. He's currently operating his own privateer team, with support from RideBiker Alliance and Focus Bikes, among others. Follow his journey on Twitter and Instagram, and check out his Cascade Sport team website.