Big day for American cycling as Megan Guarnier wins the first stage of the women's Tour of California
Don't miss out on the latest CyclingTips updates.
Without a live feed to watch, the press gathered at the finish line, eagerly peering down the chute, waiting for the women's peloton to arrive at the Heavenly resort in South Lake Tahoe, the finish of the Amgen Breakaway From Heart Disease Women's Race Empowered with SRAM 2016 (a.k.a the Women's Tour of California).
On the loudspeaker, the announcer was guestimating that a pack of 15 riders would be headed to the finish together.
"No way!" we mumbled to each other, all of us having seen the difficult, uphill finish.
Suddenly a solo rider appeared, hugging the right barricades. Squinting to see her as she came closer, her red, white and blue jersey was unmistakeable.
"It's Megan!" someone exclaimed.
"Called it!" someone else responded
Sure enough, it was Boels-Dolman's Megan Guarnier who soloed to the finish, pumping her fist in the air and proudly displaying the American national jersey in front of her home crowd.
Finishing solo for second was Swedish national champion Emma Johansson (Wiggle-High5), and behind her a sprint ensued for third. Fighting for that final podium spot were Marianne Vos, Evie Stevens, Rosella Ratto and Kristin Armstrong, but it would be Armstrong coming across that line first.
"Today went exactly as planned," commented Boels-Dolmans DS Danny Stam, praising the team's teamwork, which was instrumental in bringing back Sarah Storey's (Podium Ambition Proc Cycling) solo breakaway.
"Sarah Storey rode a fantastic race, and eventually a team needs to take the initiative to reel her back in. When her gap reached 5 minutes I said 'you guys, it's time to put two rider at the front," said Stam. "Nikki Harris and Romy Kasper worked hard today and then Chantal [Blaak] jumped in to help for the finish."
A huge result for American cyclists
With the stars-and-stripes jersey on the top step and Armstrong in third, today was a huge day for American cycling. This being the first Women's World Tour event in the US, nine of the top 15 UCI teams made the trek across the pond, making the 'Women's Tour of California' America's most hotly contested women's event yet. American domestic teams got to line up along side the world's best riders while top American pros felt extra motivated to show off the exciting sport of women's cycling in front of their home crowd.
"Today taught me that the U.S. peloton is extremely strong," commented Beth-Ann Orton of the domestic Visit Dallas DNA Pro Cycling team. "It encouraged me to have confidence. Big events will do that. They fuel your fire and encourage learning. Because we're a domestic UCI team, [the Tour of California] is the highlight of our season. Tour of California is important for the business of cycling. It provides unusual fan and product exposure, both essential to financial development of women's racing. It's good for the sport, but it's also good for folks like me, and teammates, it gives us ambition for racing, it makes us better."
And having two Americans on the podium is the cherry on top.
Stud of the day: Sarah Story
The true stud of the day, however, was Dame Sarah Storey. The para cycling world champion attacked after the first Queen of the Mountains climb and soloed into the heavy winds until the final 15 kilometres.
"People looked like they had put a lot into that first QOM. I saw a lot of puffed out faces and decided it'd be a good time to go," Storey told Ella CyclingTips.
And gone she was. Into winds. All alone. Storey impressively managed to open up a gap up to 5:15 at one point.
"It was pretty epic," Storey said."It was a really tough day. At one point it looked like it may hold on, but I was just thinking about keeping the pedals turning."
Though getting caught seemed inevitable, the attack was much more than a suicide mission.
"We wanted to make it a show," Storey elaborated. "We [Podium Ambition Pro Cycling] are obviously not inside the World Tour teams. We are a guest team or a wild card team or whatever you want to call it so it's important for us to show our face at the front of the race and try to make an opportunity in the break of the day — it so happened to be a solo break. Mission accomplished in that sense!"
When she did get caught, it went quickly, and the bigger teams started vying for position for what would be a very exciting finish. For a valiant effort, Storey was deservedly awarded "the most courageous rider" award for the day.
Stage 1 Results

Amgen Tour of California WE (2.WWT) South Lake Tahoe → South Lake Tahoe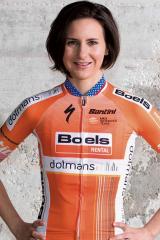 Onto Stage 2
The Amgen Breakaway From Heart Disease Women's Race Empowered with SRAM continues tomorrow with a team time trail. To make the travel easier on the traveling teams, the race organisers decided to cut the allowance of time trail equipment so the event will be held on mass start bikes, which is quite unusual for a WorldTour event. Stay tuned for coverage!
Highlights from Stage 1:
http://www.youtube.com/watch?v=NfdTgSmxER4