We're off to China: Seven things to know about round seven of the Women's WorldTour
Don't miss out on the latest CyclingTips updates.
After two Italian races, one in the Netherlands and three in Belgium, the Women's WorldTour leaves Europe this month. We're leaving behind the classics season and are moving towards a period of stage racing.
Before the peloton heads to the United States later this month for the AMGEN Tour of California, first there's the Tour of Chongming Island in China, which starts this Friday. Here are seven things to know about the seventh Women's WorldTour event.
---
1. The Tour of Chongming Island is a sprinter's race
Throughout the history of the Tour of Chongming Island, the race typically ends in a bunch sprint, so it's the one with the fastest sprinter legs who gets to throw her hands up in the air.
And when we're talking bunch sprints, we think of Kirsten Wild (team Hitec), Chloe Hosking and Giorgia Bronzini (both of Wiggle-High5) first. Indeed, these three women have all been victorious in Chongming Island before.
The last time the peloton raced in Chongming Island, it was a different sprinter crossing the line first though. The final stage of the 2015 Tour of Chongming Island was won by Roxane Fournier (PC Futuroscope), while Kirsten Wild (Team Hitec) secured the overall. Bronzini missed out both on stage wins and the GC podium in 2015, finishing fourth overall, and this team video shows how sad she was to disappoint her team:
Tour of Chongming Island (2.1) Chongming → Chongming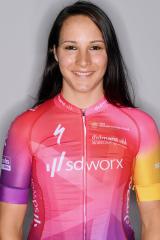 2. A new format for the WorldTour
The Tour of Chongming Island used to be a two-part race. There was the one-day World Cup race followed by a three-day stage race. Both were called the Tour of Chongming Island (only the addition of 'World Cup' in the World Cup race's name), which made things a little confusing sometimes.
It is the stage race that was selected as part of the Women's WorldTour, and the one-day race disappeared from the calendar.
The last World Cup event was won by Giorgia Bronzini (Wiggle-High5), who beat super favourite Kirsten Wild (Team Hitec) on the line:
3. Information on the race is very hard to come by
Information about this race is always hard to come by, especially if you're hoping to get live updates from behind the Great Firewall. This obviously makes it difficult for media trying to cover this race but fortunately, Velofocus will be providing photos for us from China.
The 2016 Tour of Chongming Island does have a website, but it's in Chinese only.
The website contains a road map though, illustrating the three stages.
4. Three Aussies have won the Tour of Chongming Island before
Chloe Hosking (Wiggle-High5) was the first non-Chinese rider to win the Tour of Chongming Island. After Li Meifang won the first two editions in 2007 and 2008, Hosking won the third edition at just 18 years of age.
Ina-Yoko Teutenberg then went on to win the two followung editions of the Tour of Chongming Island, after which the race was won by Melissa Hoskins in 2012 and Annette Edmondson the year after that, both women wearing the colours of Orica-AIS when they won this race. Hosking came close to a second victory when she finished 2nd behind Edmondson in 2013.
5. A lot of top UCI teams will not ride in China
Boels-Dolmans have three riders in the top 3 of the Women's WorldTour ranking and currently lead the UCIWWT team ranking, but they will not defend these positions in China. Rabo-Liv will also not be present.
Other big teams that are missing from the Tour of Chongming Island are Orica-AIS, Cervélo-Bigla and Canyon-SRAM.
With these teams missing, Wiggle-High5, Team Hitec and Team Liv-Plantur will be the biggest teams at the 2016 Tour of Chongming Island.
Other UCI teams taking to the start in China are Alé Cipollini, Astana, BePink, BTC City Ljubljana, China-Chongming-Liv, PC Futuroscope, Cylance Pro Cycling, Parkhotel Valkenburg and Servetto Footon.
The peloton is completed by the national teams of Tapei, France and Russia.
To refresh your memory, here are the Women's WorldTour standings after six races:
Women's WorldTour standings ahead of the Tour of Chongming Island
General classification
1. Lizzie Armitstead (Boels-Dolmans) – 368 points
2. Chantal Blaak (Boels-Dolmans) – 343 points
3. Megan Guarnier (Boels-Dolmans) – 325 points
Young rider classification
1. Kasia Niewiadoma (Rabo-Liv) – 24 points
2. Floortje Mackaij (Liv-Plantur) – 12 points
3. Alexis Ryan (Canoyon-SRAM) – 10 points
Team ranking
1. Boels-Dolmans – 1262 points
2. Rabo-Liv – 733 points
3. Wiggle-High5 – 658 points

6. As a typical sprinter's race, here's who to keep an eye on
All of the 2013 podium now ride at Wiggle-High5 and the numbers 2 and 3 will return to China to repeat or better that success. Lucy Garner will line up for the team, having boosted her morale at the Tour of Yorkshire, where she sprinted to second place behind Wild. Chloe Hosking takes to the start as a returning winner and will be eager to get back on the top step of that podium.
After a successful spring campaign, in which she finished second in the UCI1.1 Omloop van het Hageland, fourth in the Omloop het Nieuwsblad and won the UCI1.2 Drentse Acht van Westerveld, Leah Kirchmann will head to China in pursuit of her first Women's WorldTour victory.
Although Team Hitec returns to Chongming Island, sprinters Wild and Lauren Kitchen are expected not to start, so this might be a chance for Emilie Moberg to ride for her own chances, as she usually works very hard for the team as a domestique.
No line up has been revealed for Alé Cipollini yet, but they could have three cards to play in Chongming Island with sprinters Marta Tagliaferro, Marta Bastianelli and Annalisa Cuccinotta.
The last person that won in Chongming Island is PC Futuroscope's Roxane Fournier and no doubt she'll want to repeat that win now that the race is part of the Women's WorldTour.
Astana rider Fanny Riberot finished third in the Tour of Chongming Island World Cup last year, so watch out for her too.
7. Follow the race on Twitter or wait for highlights
The UCI has rules for races in the Women's WorldTour, which include providing a live broadcast, live coverage through a livestream, or a highlights package. We've heard that China Central Television (CCTV) is to provide a live broadcast, but we don't have any additional information on that yet and are unsure whether it will be internationally available.
We do know that the UCI is planning on providing highlights of the Tour of Chongming Island, just as they did for Gent-Wevelgem, the Tour of Flanders and the Flèche Wallonne Femmes.
Your best bet for live updates during the race is good old Twitter though. Use #UCIWWT for all updates on the Women's WorldTour race.
***
Which rider is your race favourite for the Tour of Chongming Island? Do you think any of the stages will be able to avoid a bunch sprint?