Nail biting finale sees Majerus win the opening stage of the Aviva Women's Tour
Don't miss out on the latest CyclingTips updates.
Ninety-one women took the starting line in Sourthwold, England, this morning for the first stage of the third annual Aviva Women's Tour. With the world's best cyclists among them, the fight for the tour's yellow leader's jersey was going to be a tough one.
Without a live stream however, we joined the many women's cycling fans online and followed the action via Twitter. From images, race radios and other accounts we followed a nail biter of a finale that saw Cylance's Alison Tetrick off the front for nearly 20 kilometers, but getting caught within the 1km-mark as the peloton thundered toward the finish line in Norwich. In the sprint, it was Christine Majerus (Boels-Dolmans) who crossed the line first ahead of Marianne Vos (Rabo-Liv) and Giorgia Bronzini (Wiggle-High5).
The stage
Stage 1 departed from the coastal city of Southwold, which is in county Suffolk. After being host for the final Women's Tour stage in 2014, the county has been hosting the Women's Tour opening stage for two years in a row now.

There were two intermediate sprints and two QOM sprints in today's stage. A maximum of 21 points was up for grabs in the points classification, with three points at each intermediate sprint and 15 at the finish line. A maximum of 12 points could be won in the QOM classification today.
How the race unfolded
A new 360 degree camera was used to make this unique shot of the riders ready to depart at 10:00 a.m. GMT this morning.
Great 360 pic of the riders all lined up on the start line! #AvivaWT2016 pic.twitter.com/SFguOxmOo0

— thewomenstour (@thewomenstour) 15 June 2016
Only 12.1 kilometers in, the first QOM was on the route. Maximum points were taken by Parkhotel Valkenburg's Ilona Hoeksma, with Tayler Wiles (Orica-GreenEdge) and Lisa Klein (Cervélo-Bigla) in second and third place. 
Ellen van Dijk (Boels-Dolmans) suffered a puncture early in the race, already having to work hard to chase back within the first hour of racing.
An unfortunate puncture has affected Ellen Van Dijk who is now chasing to rejoin the peloton #AvivaWT2016 pic.twitter.com/cgdVaJJhAM

— Drops (@dropscycling) 15 June 2016
With the stage well underway, first predictions of the winner of this stage were tweeted, these two both suggesting the same winner.
My bet for stage 1 Southwold-Norwich #AvivaWT2016 #UCIWWT
??? Kirsten Wild
?? Guarischi, Bastianelli
? Bronzini, Lepistö, Brand, Van den Bos

— Hoebele Senden (@Hoebele) 15 June 2016
Our favourite for the 1st #AvivaWT2016 is: @kirsten_wild | Preview & predictions: https://t.co/eZWlbAis6P #UCIWWT pic.twitter.com/Kzi0GYqdVC

— Road&Mud (@_RoadAndMud) 15 June 2016
A familiar sight along the route of the Women's Tour: school children ready to wave at their favourite riders.
The pupils at St Mary's School in Lowestoft are ready for the arrival of @thewomenstour @EDP24 #AvivaWT2016 pic.twitter.com/HTYGD0X2UY

— Joe Randlesome (@JoeRandlesome) 15 June 2016
Breaks formed and were caught again in the first hour and a half of racing. With the peloton complete, the first intermediate sprint came up. The 3-2-1 points plús bonus seconds were taken by Marianne Vos (Rabo-Liv), Gracie Elvin (Orica-AIS) and Lizzie Armitstead (Boels-Dolmans) respectively.
Just after this intermediate sprint, a small crash occurred, with both Elvin and Orica teammate Alexandra Manly involved.
#AvivaWT2016 Crash! Elvin & Manly down but chasing back on to the peloton now. pic.twitter.com/R7i4mV3XHU

— ORICA-GreenEDGE (@ORICA_GreenEDGE) 15 June 2016
All crashed riders were soon back in the peloton and the employees of Epic Tools watched on as the peloton passed their store around noon.
The @thewomenstour #AvivaWT2016 has just gone past @epictools Shop, very #exciting ? #cycling pic.twitter.com/zVQ8wcvcuW

— Epic Tools (@epictools) 15 June 2016
Through another win in the second QOM sprint, Hoeksma secured the Strava QOM jersey, while Tayler Wiles (Orica-AIS) and Valentina Scandolara (Cylance Pro Cycling) are now second and third in the QOM classification.
As Sarah Connelly points out, many more Strava QOM's are taken throughout the entire Women's Tour.
In 2014 race something like 135 @Strava segments were destroyed – some never re-taken – so awesome! #AvivaWT2016 https://t.co/WqR2DfIW4X

— Sarah Connolly (@_pigeons_) 15 June 2016
At 84.5 kilometers, Liv-Plantur's Leah Kirchmann, who just renewed her contract with the team for two years, took the second intermediate sprint.
2nd sprint @thewomenstour: Vodafone didn't let me go on Periscope live, but: 1. @L_Kirch 2. @Blaaki 3. @gracieelvin pic.twitter.com/UYwSUUzSSI

— Felix Mattis (@felixmattis) 15 June 2016
But with the majority of points for this jersey awarded at the line, the winner of today's stage would be the one wearing the Chain Reactions Cycles points jersey in stage 2.
With 20 kilometers to go, Alison Tetrick (Cylance Pro Cycling) accelerated off the front and quickly created a gap of 25 seconds as the peloton didn't react. Her lead increased to almost two minutes at the 8 kilometer mark.
The teams started riding at front at this point, but Tetrick didn't succumb straight away. As the peloton entered the final kilometer, a crash brought down several riders, while Tetrick only held a 200 meter advantage at this point.
The peloton closed in on her just in time for Christine Majerus (Boels-Dolmans) to win the stage, ahead of Vos and Giorgia Bronzini (Wiggle-High5) in a full out sprint for the finish.
And here is the moment @C_Majerus WINS stage 1 #AvivaWT2016 pic.twitter.com/xQtJa5ZqMt

— thewomenstour (@thewomenstour) 15 June 2016
Aviva Womens Tour (2.WWT) Southwold → Norwich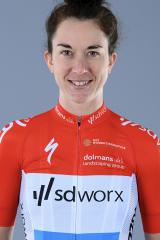 That makes Majerus the fourth Boels-Dolmans rider to win a Women's WorldTour race, after Armitstead, Chantal Blaak and Megan Guarnier.
Waiting for #AvivaWT2016 jersey presentations. pic.twitter.com/Q6EVTUZF6K

— Boels-Dolmans (@boelsdolmansct) 15 June 2016
Majerus also leads the GC now, with 1 second over Vos and 6 seconds ahead of Bronzini.
The standings
The Women's Tour standings after stage 1
General classification
1. Christine Majerus (Boels-Dolmans)
2. Marianne Vos (Rabo-Liv)
3. Giorgia Bronzini (Wiggle-High5)
Stoke-on-Trent young rider jersey
Floortje Mackaij (Liv-Plantur)
Chain Reactions Cycles points jersey
Christine Majerus (Boels-Dolmans)
Strava QOM jersey
Ilona Hoeksma (Parkhotel Valkenburg)
Adnams best British rider
Lizzie Armitstead (Boels-Dolmans)
Stage 2
Tomorrow's stage is the longest in the 2016 Women's Tour, with 140 kilometers and a considerable number of climbing meters to add to that. Time differences in the GC could be made here!
During the stage, the peloton passes Meriden, home to the National Cycling Memorial. The stage finishes in Stratford-upon-Avon, the birthplace of the famous William Shakespeare.