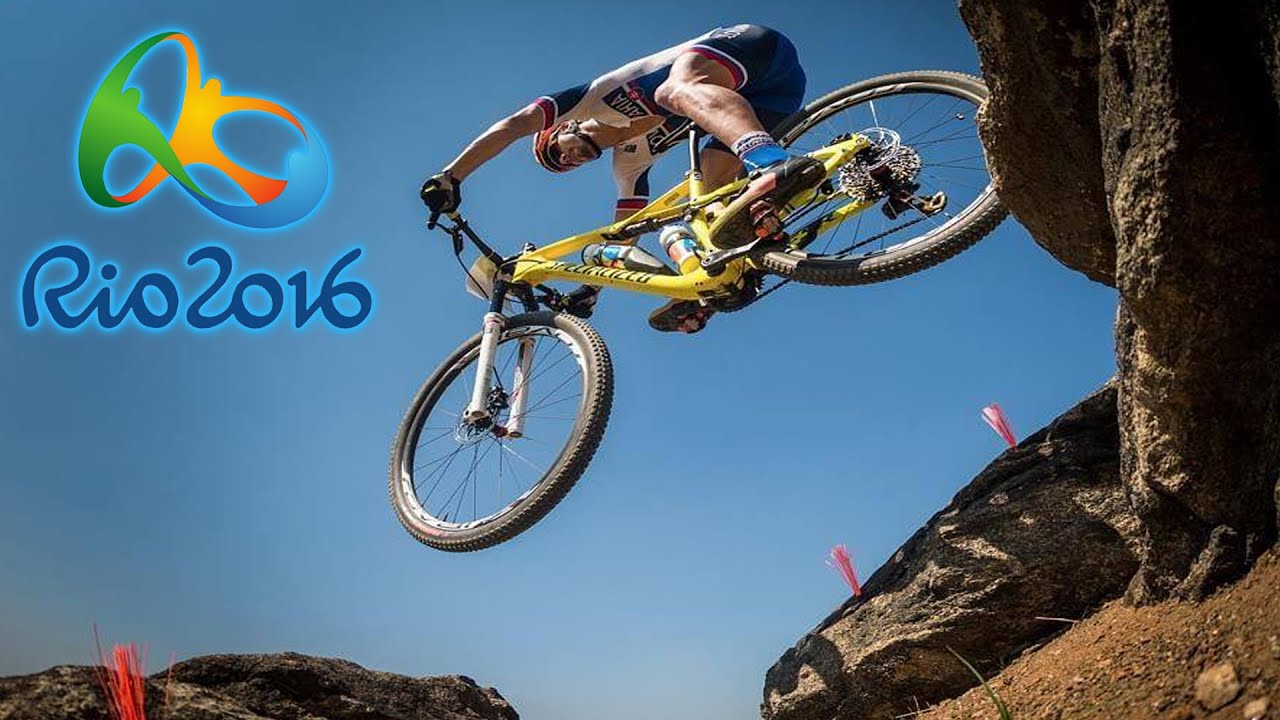 Sagan's Olympic MTB dream ends with early puncture, but oh, what might have been
Don't miss out on the latest CyclingTips updates.
In the end, the dream of an Olympic mountain-bike medal wasn't to be for Peter Sagan.
The world road champion — and one of the most exciting bike racers most anyone who has followed the sport can recall — would not add to his incredible 2016 season with an Olympic medal in Rio de Janeiro.
But oh, what might have been.
Though he'd kept it quiet until June, Sagan, the 2008 world junior mountain-bike champion, had been planning to race off-road in Rio since January.
And while some may have viewed the Slovakian's interest in racing knobby tires at the Olympic Games as a bit of a lark — he found the Rio road course too hilly, but had no recent mountain-bike results to speak of — on Sunday at Deodoro Olympic Park, Sagan immediately showed that he had, in fact, taken the prospect of a podium finish very seriously.
"I have not raced the mountain bike in seven years," Sagan said, though he'd raced several times in 2016 leading into the Olympics. "A lot of things have changed. I'm here for more personal reasons. I want to try. I will give the maximum, for sure. You can lose the race in the start, but it could be good, maybe, if I am lucky, and I can go to the front pretty fast."
Racers faced a rain-soaked course that rode very differently than what they'd previewed all week. True to his word, Sagan went to the front, "pretty fast."
Though he started in a back row that was all his own, with the lowest number of UCI mountain-bike points among the 49 starters, the five-time green jersey winner of the Tour de France quickly advanced through the field, utilizing its wide fireroad to wisely get to the front before the course's first pinch-point.
As the majority of the field struggled to get through a bottleneck after only 1km of racing, the man who was the biggest wildcard in the race had, very suddenly, made the race's critical selection.
Sagan started the first climb in a five-rider group with Marco Fontana (Italy), Victor Koretzky (France), Shlomi Haimy (Israel) and eventual winner Nino Schurter (Switzerland) — and ahead of former Olympic champions Julien Absalon (France) and Jaroslav Kulhavy (Czech Republic).
Sagan rode impressively to get there, and looked comfortable with the pace.
Was Peter Sagan, the rider who so regularly makes the impossible look possible, going to pull off yet another superhuman feat? Was he going to disprove the critics, such as Schurter's longtime team manager and mentor, Thomas Frischknecht, who had told CyclingTips, "Peter Sagan has about the same chances of becoming Olympic mountain-bike champion as if Nino would race the road event and go for gold"?
Alas, he would not. Sagan rode well for the first of seven 4.85km laps, handling the descents and climbs with aplomb, but he punctured out of the lead group as it approached the start-finish line. Though modern-day mountain-bike racing allows for technical assistance, such as a wheel change, it's only allowed in specified tech zones.
The Rio course had one tech zone, which riders passed twice per lap, however Sagan had just passed the tech zone when he flatted his front tire, and riders are not allowed to travel against the direction of the race. In a 90-minute race with the best in the world fighting for Olympic hardware, a puncture was certain death; Sagan would never see the front again.
A rear puncture, on the fifth lap, would seal Sagan's fate, forcing him to run his bike through technical sections. By the time he had a third mechanical on the sixth lap — it appeared to be an issue with his saddle, or seatpost — Sagan's day was done, and he was pulled, finishing one lap down on Schurter.
Given his stature in the sport, his lack of mountain-bike racing, and his strong start, much was made of Sagan's mechanical malaise.
On Twitter, critics pointed to the skills required in mountain biking to avoid punctures — proper tire selection, and tire pressure; correct line choice; and the finesse involved in "riding light," or un-weighting when riding over sharp, rocky sections. And while none of the riders who reached the podium dealt with mechanical issues, Sagan was far from alone.
Shortly after his first puncture, Fontana — the bronze medalist in 2012 — flatted out of the lead group. Not long after that, Koretzky, the 2011 junior world champion, also punctured. And like Sagan, neither man would see the front of the race again.
https://twitter.com/JasenThorpe/status/767410599420571649
What's known is that Sagan was running Specialized tubeless tires —Fast Trak front and Renegade rear — both with the company's S-Works casing, the lightest and fastest, but also least durable, of all the mountain-bike tire casings Specialized offers.
What's not known is what tire pressure Sagan was running, how much sealant had been used, or how much time the sealant had been given to "set up" inside the tires.
A highlights reel on NBC's website — titled "Rough terrain took its toll on the men's mountain bikers" — shows several riders crashing and walking their bikes, including a clip of Dr. Peter Lombard (Guam) flying over his handlebar on a technical rock drop and landing in such a way that looked like he could have broken his back. Fortunately, Lombard was not seriously injured.
And while it's impossible to say how Sagan might've finished without the mechanical issues, it is fair to say that a rider who won three stages at the Tour de France a month earlier would not likely have physically fatigued after 90 minutes of intense racing. How he would have held up to the mental stresses of handling his bike at that level, we can only speculate.
Or, perhaps as some have stated, we already have our answer.
After the spring classics, Sagan twice raced elite-level events in Eastern Europe in April, crashing out of a race in Graz, Austria, and finishing fourth at a Czech Cup event in Teplice, after a puncture, to earn 25 points in the UCI rankings.
What's indisputable is that Sagan rode at the front of a 49-rider Olympic field for 12 of 90 minutes, and of the five men in his lead group on the first lap, three suffered punctures — Sagan, Fontana, and Koretzky — while the other two, Schurter and Kulhavy, went on to take gold and silver.
What's also up for debate, however, is whether or not three mechanicals in 90 minutes can be called a coincidence, or bad luck.
Stephen Ettinger, the 2013 U.S. national cross-country champion, said it's impossible to speculate on how Sagan might've finished based on just one lap, but added, "That's mountain-bike racing. A flat on the road is bad luck, a flat on the mountain bike is usually due to a mistake."
"Sagan has the engine, but that 90-minute effort is just so different," Ettinger added. "Maybe he loses it mentally, because so much is always coming at him. Maybe his upper body gets tired, and he slips his wrist off the bars and stacks it hard. He looked strong on the first lap, but it's easy to look strong the first lap, especially if you get a good start and are at the front with everyone else chasing. I'd love to say that he could have been a medalist. It's just hard to say how well he'd hold it together in a rock garden after 75 minutes."
In typical Sagan fashion, the Slovakian star was pragmatic about his mechanical-laden day on the sport's biggest stage.
"In the start I felt great, and was in the top three," Sagan told Reuters. "But then I had a puncture and I had to go for half a lap before I could get a wheel change. Then it was impossible to make contact with the first guys. I also had a puncture on the third or fourth lap, only a small one, but my wheel felt like chewing gum. Two punctures were very bad for my mentality. I did everything, but it was impossible to get in the top 10. I felt I [could have made] the top 10.
"But, after seven years, I am back on the mountain bike," Sagan said. "I was happy to try."
And for a brief period, cycling fans were also very happy he tried.
As short as it was, Sagan's Olympic mountain-bike experiment was thrilling, ultimately provoking more questions than answers. And what's sure is that speculation over what he might be capable of against the sport's best is far from over. For Sagan, a rider who often chalks up experiences and outcomes to destiny, "what might have been" may yet become "what will be."
An Olympic medal in 2020? That might all depend on how hilly the Tokyo road course is.