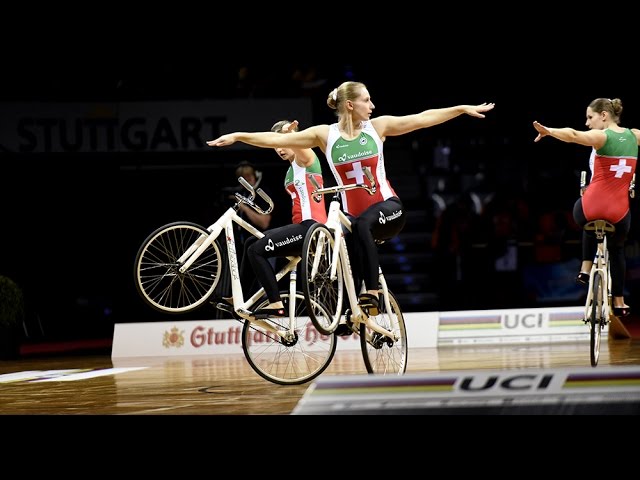 Video: gymnastics meets fixed-gear bicycles at the UCI indoor cycling world championships
Don't miss out on the latest CyclingTips updates.
The UCI indoor cycling world championships wrapped up in Stuttgart, Germany this weekend where cycling's niche disciplines of artistic cycling and cycle-ball were on display.
Most popular in Germany, where there are an impressive 10,000 licence holders, artistic cycling is a form of competitive cycling in which athletes perform routines set to music on fixed gear bicycles. Similar to gymnastics or ice skating, athletes perform a series of trick during their 5-minute routine to earn points. The individual or team with the highest score wins.
While rarely seen outside of Europe, the sport has a long history with the first artistic cycling World Championships dating back to 1956.
Perhaps the most graceful and mesmerizing discipline in cycling, the sport takes an impressive amount of balance and full-body strength.
Approximately 18,000 spectators attended the three-day event, where individuals and teams vied for the coveted rainbow stripes.
Your new artistic cycling world champions:
Women's Solo: Lisa Hattemer (Germany)
Women's Pairs: The Thürmer sisters – Julia and Nadja (Germany)
Women's Quartet: Celine Burlet, Jenifer Schmid, Melanie Schmid and Flavia Zuber (Switzerland)
Watch the highlights here.