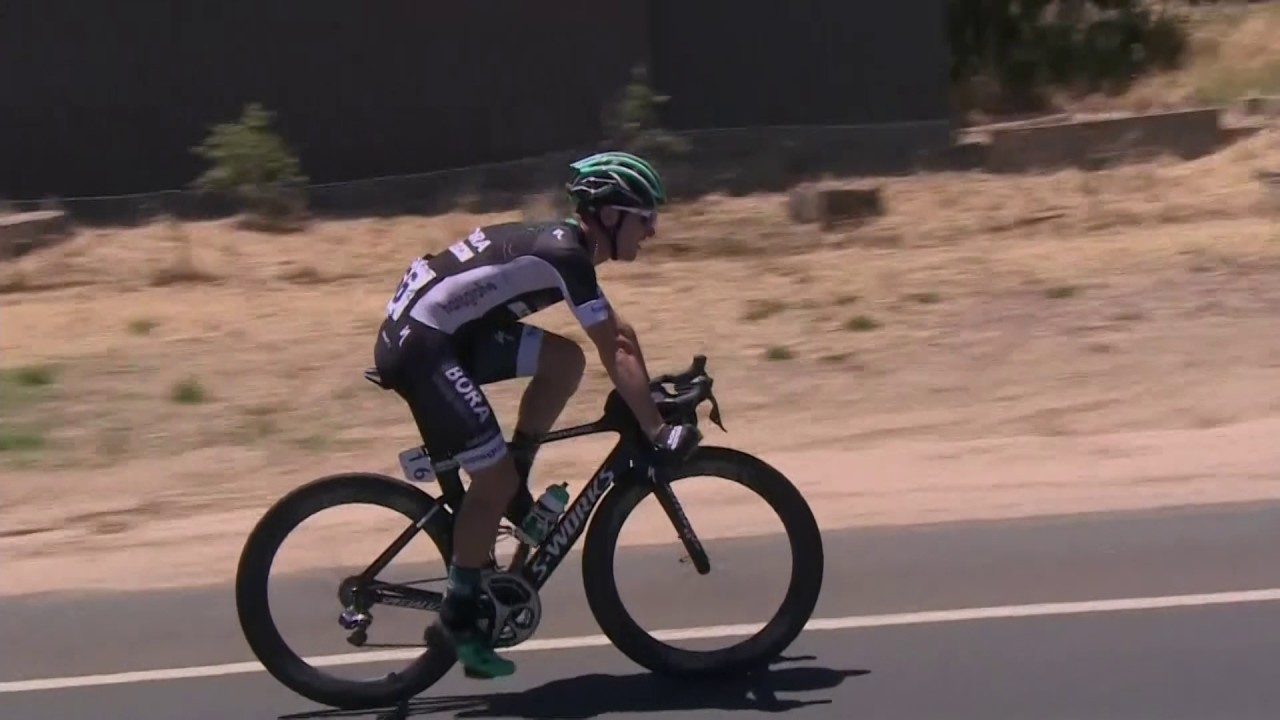 Caleb Ewan scorches to victory as extreme heat shortens Tour Down Under stage 1
Don't miss out on the latest CyclingTips updates.
ADELAIDE, Australia (CT) – It was no great surprise when word came through that the Tour Down Under peloton was roughly half an hour behind schedule. Such was the heat on today's opening stage that racing as normal simply wasn't an option.
Instead the peloton cruised through the first couple hours of the stage, leaving lone leader Laurens De Vreese (Astana) to dangle out front on his own, the Belgian also tapping away at a comparatively sedate pace.
With temperatures nudging 40ºC, riders started to talk amongst themselves about the possibility of having the stage shortened. Some approached rider representative Adam Hansen who struck up a conversation with commissaires and the race director.
"The riders know that I'm the CPA delegate of this race so a lot of riders were coming up to me and just questioning it, if there's something that's possible that can be done," Hansen told CyclingTips. "It's my job to represent the riders. And for me it's a hard thing because I like the heat. [But] it's not my choice; it's the riders' choice."
"The UCI [commissaires] agreed, all the riders they agreed to it and we just needed the OK from Mike [Turtur, race director]."
Turtur agreed – shortening the stage was the right thing to do. And so on the first of three stage-ending circuits through the Barossa Valley, the announcement came over race race radio: the final lap would be removed and the stage trimmed from 145km to 118.5km.
The pace increased in the final lap and De Vreese finally succumbed inside the final 20km. Jan Bakelants (Ag2r La Mondiale) took a flyer, sensing his opportunity for victory, and so too did Adam Hansen.
"I don't mind the heat so much," Hansen said. "I want to do something here [at the TDU] so I had to show myself a little. When I was out there I was like "Phwwww, now I feel it."
And not without reason: Hansen's bike computer was reading 47.5ºC the one time he decided to check just how hot it was. His teammate Lars Bak saw 51ºC at one point.
Hansen wasn't able to bridge across to Bakelants, and Bakelants, too, was caught with 2km to go. As most had predicted, the stage was decided in a bunch sprint, and as many suspected, it was Caleb Ewan (Orica-Scott) who prevailed (see video below).
The 22-year-old narrowly ousted Danny Van Poppel (Sky) and Sam Bennett (Bora-Hansgrohe) to add to his victory in the People's Choice Classic a few days earlier, and his stage 1 victory in Lyndoch a year earlier.
"It was a lot of pressure coming back here — same finish as last year — so I had pressure to do the same thing and win," Ewan said post-race. "So it's a relief and you know it's just a great start to the week. I think it will put the whole team on a high and hopefully we can do something like we did last year" [ed. when the team won four of six stages and the general classification].
In the end, with 26.5km removed, stage 1 finished slightly ahead of schedule, and riders scurried away to find shade and hydration. The consensus: shortening the stage had been a good decision.
"I think it was brilliant that the race organisers respected the riders," said Richie Porte (BMC). "I think that was the hottest day I've had on the bike … I've never ridden in anything quite like that and even in the shade it was hot."
Hugs to @tourdownunder for deleting one finish circuit due to extreme heat. Progressive organization is why we love starting the season here

— Peter Stetina (@peterstetina) January 17, 2017
Thank's @cpacycling and @HansenAdam asking for extreme weather protocol to be applied. 50°C with my Garmin #tourdownunder #equipefdj pic.twitter.com/Y5u1aZYdaH

— Jérémy Maison (@JeremMaison) January 17, 2017
When stage 2 begins in Stirling tomorrow, it will be Caleb Ewan that wears the ochre jersey of overall race leader. Ewan won't have the jersey by day's end, but he'll be hoping it's one of his teammates, Simon Gerrans or Esteban Chaves, that can win one of the hardest stages in the Tour Down Under's 19-year history.
Thankfully for all involved, the forecast suggests tomorrow won't be nearly as hot as today, with temperatures closer to 30ºC than 40.
Results
Santos Tour Down Under (2.UWT) Unley → Lyndoch