Coryn Rivera wins Trofeo Alfredo Binda in historic bunch sprint finish
Don't miss out on the latest CyclingTips updates.
The 19th edition of the Trofeo Alfredo Binda – Comune de Cittiglio saw an historic finish on Sunday when a reduced bunch of 30 riders barreled down the finishing straight in the first mass sprint finish in many years. Going early, sprinter Coryn Rivera (Team Sunweb) was the fastest to the line, claiming the victory in the Women's WorldTour's third round, and continuing the team's successful Spring campaign. Cuban national champion, Arlenis Sierra, netted her biggest result to date by finishing just behind Rivera in second place, and Danish youngster Cecilie Ludwig (Cervelo-Bigla) rounded out a podium that no one had predicted.
Trofeo Alfredo Binda - Comune di Cittiglio (1.WWT) Taino → Cittiglio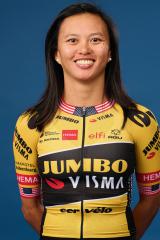 Highlights:
***
2017 Trofeo Alfredo Binda
With the tifosi warmed up by the Trofeo Alfredo Binda Junior Cup race, which was won by Dutch rider Lorena Wiebes as part of the national selection, 147 riders departed from the new start place in Taino for the 131.3 kilometer race towards and around Cittiglio.
2017 Trofeo Alfredo Binda took the riders from Taino to Cittiglio first, followed by one big loop and then another four laps on an 18 kilometer circuit, passing the finish line five times before the actual finish.
In addition to a static finish line camera like the Trofeo Binda offered the last couple of years, organisers Cycling Sport Promotion promised moving images of the four local laps, offering an exciting prospect which doesn't happen too often in women's cycling. And most excitingly; they were right!
How the race went down
Being spurred on by home crowds, three Italian riders wanted to get into an early break. However, Alé Cipollini's Anna Trevisi, Simona Frapporti (Hitec Products) and Silvia Valsecchi (BePink-Cogeas) weren't allowed by the peloton and were only able to get a small gap before being reeled back in.
Another duo escaped the peloton, this time being allowed a little more leeway from the peloton. Anna Stricker (BTC City-Ljubljana) and Lija Laizane (Aromitalia-Vaiano) got a small advantage.
After passing the finish line for the second time, marking the start of the four 18-kilometer laps, both climbs in the first of these laps were used to take back the leading duo: Laizane was caught on the Cuvio, with Stricker being able to hold it out a little longer, being brought back by the peloton on the Orino climb.
The race still needed to be truly opened and it was Orica-Scott's Jessica Allen attempting to do just that. Jumping from the peloton, she slowly gained an advantage in the second of the four 18-kilometer laps. The gap went up and down a bit, but with two laps to go, Allen was still on her own off the front.
Only 36 kilometers to go from this point onwards and Elisa Longo Borghini (Wiggle-High5) was the first of the favourites to try something. Possibly just testing out the legs, because she didn't pull through, but you could clearly she was determined to put on a nice show again after her victory in the Women's WorldTour race two weeks ago in Strade Bianche.
Sabrina Stultiens, part of a strong Team Sunweb line-up, was the next to get in on the action. But before she could join Allen, the peloton brought both women back.
It initiated the opening of the final, with the favourites raising the tempo in the peloton, causing it to be strung out in the narrow streets of the Cittiglio streets, with several riders losing touch at this point.
Boels-Dolmans, Orica-Scott and Team Tibco-SVB tried to take control of the race, when it was a different Aussie, Tiffany Cromwell (Canyon-SRAM) this time, who launched another solo attack.
She was able to stay away until the penultimate climb of the Orino, but with a yet increased speed in the peloton, Cromwell wasn't able to maintain her advantage. Meanwhile, at the back, more and more riders were getting dropped.
As the commentators and public we're awaiting a 'gruppo compatto' at the finish line, four riders broke free and heard the bell for the last lap with a 10 second gap to the peloton: Marianne Vos (WM3 Pro Cycling), Alena Amialiusik (Canyon-SRAM), Aussie champ Katrin Garfoot (Orica-Scott) and Shara Gillow (FDJ-Nouvelle Acquitaine-Futuroscope).
Recognising the danger of this quartet, Boels-Dolmans, Wiggle-High5 and Team Sunweb didn't let them get too far away and caught them back before the gap got too big.
The final lap was marked by both attacks at the front and bigger names getting dropped at the back, mostly sprinters for whom the rapid succession of small climbs proved just too much, like Lotta Lepistö (Cervélo-Bigla) and Ann-Sophie Duyck (Drops Cycling).
When Katrin Garfoot (Orica-Scott) decided to attack again, a group of favourites was quick to follow, with just Boels-Dolmans missing out of the big teams. The chase group comprised Coryn Rivera (Team Sunweb) Alena Amialiusik (Canyon-SRAM), Kasia Niewiadaoma (WM3 Pro Cycling), Annemiek van Vleuten (Orica-Scott), Hanna Nilsson (BTC City Ljubljana), Arlenis Sierra (Astana) and Women's WorldTour leader Longo Borghini.
But even this group wasn't able to stay away until the finish line. At three kilometers from the finish, a number of riders joined the leaders, with the race working towards a bunch sprint with a very reduced peloton of 30 riders.
For years and yeras, this race hasn't seen a bunch sprint of so many riders contesting the Trofeo Binda win and so it was an exception to see the traditional sprinters go for the win today.
Coryn Rivera (Team Sunweb) opened her sprint very early and was able to hold it until the line, with Sierra – who just like Rivera had been in the final chase group – taking a very tight second place.
"To have a win in my first year with a WorldTour team is something I am really proud of," Rivera said in the press conference.
"We had a couple of different cards to play today. Both myself and my teammates tried our luck in getting in any potential race deciding moves but it turned out that the race stayed together for a bunch sprint," Rivera added on the Team Sunweb website.
"We kept fighting to stay in the front group and it payed off. I was really thankful to have the support of my team and especially Ellen [van Dijk] there with me."
"She came back over to me at the last climb and stayed with me through to the end. She was instrumental in the finale and I couldn't have taken the victory without my team mates."
Youngster Cecilie Uttrup Ludwig (Cervélo-Bigla) got third, with which she takes back the Women's WorldTour young rider jersey from world road champ Amalie Dideriksen (Boels-Dolmans), who didn't take to the start in Trofeo Binda.
"Cervélo-Bigla worked as a team, protecting the leaders until the final. With a great effort we had three riders in the final with Ashley [Moolman-Pasio], Marie [Villman] and Cecilie [Uttrup Ludwig] and that's a great effort," DS Thomas Campana said.
"Our plan was to have options in the final and it worked out well. The group coming to the finish was very big compared to last year and the team worked well together at this young age and did a lead-out. We got a podium and a top ten for Ashleigh."
"It's a good day for us and we gain more confidence for the classics in Belgium. Cecilie gets incredible support from the entire team and she carries the pressure really well at this young age to repay the team. Today was another day where she showed she can carry that responsibility, it's nice to see."
"It's a team performance with a great rider making the podium in the end. We also must not forget that we had two sprinters here with Lisa Klein and Lotta Lepistö and they survived until two laps to go, which is an incredible performance for them."
Uttrup Ludwig herself commented on the team website: "I felt quite good, I think I had diamonds in my legs today. I'm really proud to wear the young rider's jersey. I'm up against some world class riders and we'll just take it one race at a time."
"I want to make a big shoutout to Marie [Villman] because at 1.5km to go she was amazing and took me right to the front in the perfect position with 1km to go. She dropped me on Coryn Rivera's wheel and could not have done a better job, she is a world class rider. I'm so proud of the girls, this has been an incredible day."
With her ninth place finish, Longo Borghini retains the Women's WorldTour leader's jersey.
Women's WorldTour standings after Trofeo Alfredo Binda
General classification
1. Elisa Longo Borghini (Wiggle-High5) – 220
2. Elena Cecchini (Canyon-SRAM) – 185
3. Annemiek van Vleuten (Orica-Scott) – 170
Young rider classification
1. Cecilie Uttrup Ludwig (Cervélo-Bigla) – 12
2. Amalie Dideriksen (Boels-Dolmans) – 6
3. Elisa Balsamo (Valcar-PBM) – 4
If you have an evening to spare, watch back the entire livestream of round three in the Women's WorldTour:
***
The Women's WorldTour continues with Gent-Wevelgem on Sunday 26 March.