How one small mistake lost the race: Inside the Ronde van Drenthe with Janneke Ensing
Don't miss out on the latest CyclingTips updates.
A spring-like day in Drenthe, with blue skies and not much wind, caused the second round in the Women's WorldTour, the Ronde van Drenthe, to open up very late. Not that the race wasn't hard, but it was riders getting dropped from the back during the first 120 km mostly, with a couple of short attacks at the front not sticking.
Fireworks only started after the second time up the VAM-berg, with serious attack upon attack, mainly from Team Sunweb, who brought a strong line-up to Drenthe. A four-rider break eventually got to sprint for the win, with world road champion Amalie Dideriksen delivering the first win of the season for her team Boels-Dolmans. Elena Cecchini (Canyon-SRAM) and Lucinda Brand (Team Sunweb) joined her on the podium, with Elisa Longo Borghini (Wiggle-High5) coming in fourth and retaining her Women's WorldTour leadership jersey. Dideriksen is the new leader in the young rider classification – scroll down to the bottom for the updated standings in the Women's WorldTour.
Originally from Drenthe and still living in Gieten, we followed Janneke Ensing of Alé Cipollini in this race through her back yard. We caught up with her ahead of the Ronde van Drenthe and spoke to her after the race, in which the team came away with a tenth spot for Chloe Hosking – obviously not what they were expecting from this race, after Hosking came fourth in 2013 and fifth in 2015.
Women's WorldTour Ronde van Drenthe (1.WWT) Hoogeveen → Hoogeveen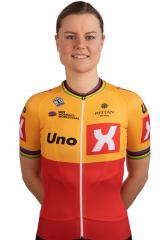 ***
Janneke Ensing (Alé Cipollini) has had a quiet week since Strade Bianche on March 4. "I returned to Drenthe on Sunday and I did nothing all day. I had a massage on Monday and did a short spin to loosen up the legs."
"On Tuesday I did a recon of the first part of tomorrow's route and on Wednesday I took another rest day," Ensing tells us one day before round 2 in the Women's WorldTour, the Ronde van Drenthe.
With a season that started Down Under, in which Ensing took a second place in the Tour Down Under GC and won the mountain classification, the days between Strade Bianche and the double weekend on her home ground in Drenthe were reserved for recovery mainly.
"I've already had quite a number of race days, which also involved a lot of travel," Ensing says. "Lots of races that suit me are coming up on the calendar, and I will be racing most of them, so I have to look after myself."
"I really wanted to take it easy this week and recover properly to get back in action this weekend in Drenthe."
Following the Women's WorldTour Ronde van Drenthe on Saturday, the same six-rider line-up of Alé Cipollini also races the UCI1.2 Drentse 8 van Westerveld on Sunday. Both races take place in Ensing's back garden.
Racing at home
"This is my training area. I usually go in the direction of Exloo, where the cobbles are, because I love that part of Drenthe. I usually skip the cobble stones in training though, but I know where they are and the roads leading up to them."
"I wish I had had that advantage last week in Strade Bianche. Then my result would have been much better."
"I was too inexperienced in the race and wasn't quite sure how the last kilometers looked like. I was too far behind on the penultimate gravel sector. I felt strong enough to follow that group of five that went away there, but I had had a bike change so lost my Garmin and the stem notes. That was a real pity…"
"Something like that wouldn't happen to me in Drenthe. I know where everything is, so that's somewhat of an advantage to me."
"But this race has had so many editions, that I think everyone will know where the interesting bits of the course are located. So in that sense, knowing these roads isn't a major advantage for me personally. It's just fun to race here."
A new season with a new approach
After two years representing the lime green colours of Dutch team Parkhotel Valkenburg, Ensing was personally contacted last year by Hosking, asking her if she wanted to join her at the Italian team of Mario Cipollini. Ensing didn't have to think about this request very long.
Although her transfer to Alé Cipollini does mean a step back from being an absolute team leader to the role of super domestique, with only so much chances to go for the win herself, she was looking forward to joining an international team and remaining in the Women's WorldTour, as her former team fell out of the top 20 in the UCI team ranking at the beginning of the season.
Putting on a new jersey wasn't the only change to Ensing's season. She also drastically reduced the number of ice skating races she did over the winter. "I've had a different approach to what I did the winter before."
"Last year I did a lot of World Cups. It involved a lot of travelling which, in hindsight, cost me a lot of energy. I didn't have enough time in between to train how I wanted to."
"This year, I did do some ice skating, but just for training and to keep fit – and to switch up my bike training. Because, to be honest, I don't like training as a cyclist very much. It think it's pretty boring. I like the racing, but training on the bike is not my hobby."
"When I was a full-time skater, I enjoyed training much more than as a cyclist. You know, as a skater you can do strength training, jumps, skating of course, cycling a bit, roller blading. There's so much more you can do."
"But cycling is quite monotonous. That's why people take up cyclocross or track cycling in the winter. I choose ice skating. But like I said, I skipped the World Cups this year. I have been to Spain more to train this winter."
Race preparation
Winter training in the Spanish sun isn't just beneficial for getting those kilometers, but it's also a way of bonding with teammates. With half the team renewed and lots of nationalities thrown together in the 2017 roster, it looks like Ensing has found her place in Alé Cipollini, as she hospitably invited a number of the Alé Cipollini line-up for the Drenthe weekend to stay with her on Thursday night.
"Two team-mates would stay with me on Thursday night. I picked up Romy Kasper from Germany and would originally also pick up Chloe from Assen, where she'd arrive by train. But her flight was overbooked, so she was put on a different one which arrived at Schipol at 11 p.m. We decided it would be better of her to stay the night in Amsterdam. Eventually she arrived this morning."
Fortunately, Hosking arrived in Drenthe on time, as the team put all their cards on the Aussie sprinter. "If you just look realistically, Chloe is our team leader. It's a flat course that suits her, so if we ride towards the finish line with Chloe, we know she can win."
"Of course we also have other teammates that can take the victory in Drenthe. I could win, but then I'd have to arrive solo. So I can go for my own chance if the opportunity presents itself, but ultimately, we have Chloe in the team for the sprint. She is our protected rider."
That Ensing is from Drenthe doesn't just mean she knows the area well, she is also consulted about prerequisites for the race, like what food the organisation should offer the riders. "Femmy van Issum, one of the organisers, called me three months ago to ask me, basically, 'what do you eat?'. I am of course a rider, but I'm also a dietician. So yes, it's very nice that she came to me with this question."
"I gave her some information and advice on what I think generally most riders eat. It varies for each rider individually, of course, but generally it is important to take in a lot of carbohydrates the day before the race. Some protein and not too much fat, because that's not so good on the stomach."
"So mainly lots of pasta or rice – whatever you like. And I'm always spare with the sauce, because it's usually somewhat fatty. And you have to eat lots of vegetables of course."
Ensing emphasises that food is very personal and that each person has their own metabolism and preferences.
"Before going to sleep, I always take some proteins to recover a little better at night. And I obviously pay attention to what I eat, but that's different for each person. Some are more concerned about it than others."
"My metabolism is generally quite quick, so I need proper food and wouldn't be able to ride on just dry rice or pasta. So I think it's very different for each person."
The Women's WorldTour Ronde van Drenthe
With the team ready to go and the body fuelled by the right amounts of carbohydrates, protein and fats, Alé Cipollini took their yellow fluo bus to the start in Hoogeveen, Drenthe on Saturday morning. Although the start of the race was calm, the final was anything but.
Only 37 riders finished the race, with Ensing and Kasper crossing the line in a group that arrived at the finish line six minutes behind winner Dideriksen.
Not happy with her race, Ensing was told at the finish line that Hosking got tenth, which didn't add to her mood.
"My position was great on the cobbles, but the peloton stayed together through all cobble sectors."
"I was unhappy about that, because I was in the right position to get in a break," Ensing said, citing the levelled playing field in the women's peloton as the reason. "There isn't one team that stands out this year. So everyone is looking at each other and no-one wants to take up the role of making it a tough race."
"We wanted to let Chloe do a bike change after the last cobble section, so I went to the back to check whether that was possible. Usually a bike change [to change for a bike with higher tire pressure after the cobble sectors] is no problem, especially with the pace we were going."
"But when we wanted to do it, it was exactly the moment the race exploded. I got dropped with seven other riders and we returned just when the peloton hit the VAM-berg for the second time."
"It was great that we returned, but something like that costs too much energy. It means you've used up a bit of power you need later in the race."
"Chloe eventually made the 15-rider lead group, but I wasn't there to support her. Later, as the lead group shattered too, Chloe wasn't able to close the gap to the first four – which I could've done if had been there. One small mistake cost us the race today," Ensing said.
Even though the result wasn't what Ensing had hoped for, she was able to enjoy racing through her home province of Drenthe during the race just a bit. "There were a lot of people cheering for us, that was magnificent. I had just hoped it would have been a different race."
Looking forward
Ensing and her Alé Cipollini teammates get another chance on Sunday, in the UCI1.2 Drentse 8 van Westerveld.
When Ensing ended up in the 19-rider chasing group behind the 15 leaders, she didn't have to put her head in the wind anymore as the team had Hosking with the leaders. "I could take it easy the last kilometers."
So although her legs didn't feel too well today, she admitted, she should be recovered enough for another chance tomorrow.
Ensing is also looking foward to the longer term, as a supporter's club and sponsorship program has been set up to support Ensing financially. Final plans should all be rolled out this year and contain supporters being able to join the club for 50 euros a year, for which they receive a bimonthly newsletter with original content, and the opportunity to join a bike ride with Ensing once a year, open to members of the supporter's club only.
It's a new way of generating money to fund her cycling career, as there are only a handful of female riders that can actually live off cycling at the moment.
"Every little helps," Ensing says. "As a cyclist, you don't earn a lot of money."
"I wish I could be a cyclist full-time, but that's just not possible at the moment, for me."
"That's why I do ice skating in the winter [for which Ensing receives a small fund from the Olympic committee] and also work as a dietician throughout the year."
"But it's my dream to one day become a full-time professional cyclist."
Women's WorldTour standings after Ronde van Drenthe
General classification
1. Elisa Longo Borghini (Wiggle-High5) – 190
2. Lucinda Brand (Team Sunweb) – 155
3. Elena Cecchini (Canyon-SRAM) – 125
Young rider classification
1. Amalie Dideriksen (Boels-Dolmans) – 6
2. Cecilie Uttrup Ludwig (Cervélo-Bigla) – 6
3. Alice Barnes (Drops) – 4
Team classification
1. Boels-Dolmans – 281
2. Wiggle-High5 – 260
2. Orica-Scott – 195
If you have some time, watch the last 20 kilometers of the Ronde van Drenthe here:
https://youtu.be/ZcrDa36TSh8
***
The Women's WorldTour returns to Italy for the Trofeo Alfredo Binda on Sunday 19 March.