Lotta Lepistö takes her first Women's WorldTour win in photo finish at Gent-Wevelgem
Don't miss out on the latest CyclingTips updates.
An exciting finale full of attacks ultimately led to nothing, and so it came down to a sprinters' battle in the finale of round four of the Women's WorldTour in sunny Flanders. In a photo finish, it was Lotta Lepistö (Cervélo-Bigla) who outsprinted hometown favourite Jolien D'Hoore (Wiggle-High5) and American pocket rocket Coryn Rivera (Team Sunweb) on the line.
Gent-Wevelgem In Flanders Fields WE (1.WWT) Ieper → Wevelgem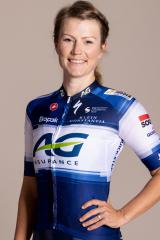 Highlights videos:
While Boels-Dolmans absolutely dominated the season last year, the 2017 season thus far has been pleasantly varied, with a new winner of different teams at every round.
With talent more evenly distributed among teams, and the Tour of Flanders just days away, the anticipation for the Gent-Wevelgem race was high.
The elite women's Gent-Wevelgem
The Gent-Wevelgem organisers made use of the longer race distance allowances and extended the race to 146 kilometers, breaking up the exposed country roads with five climbs: the Kemmelberg and Monteberg twice, and the Baneberg.
Sun shown down in Boezinge as the women's peloton lined up for a cobbly start to the race. Teams like Sunweb and Wiggle-High5 were hoping to continue their already stellar spring while four of the peloton's biggest teams – WM3 Pro Cycling, Canyon-SRAM, Cervélo-Bigla and Orica-Scott – were still in search of their first Women's WorldTour-win of the year.
And as the weather was unseasonably pleasant and calm, wind would not be of aide to anyone and a sprint seemed likely.
How it went down
As the peloton cruised along at a steady pace, the peloton stayed mostly together for the first 70 kilometers until they arrived at the hilly section.
The five climbs came over the course of just 34 kilometers, and it took its toll on some riders. A front group of around 30 riders split off the front on the second time up the Monteberg together with all of the major favourites presented, including Women's WorldTour leader Elisa Longo Borgini (Wiggle-High5), Women's WorldTour best young rider Cecilie Uttrup Ludwig (Cervélo-Bigla) and Gent-Wevelgem defending champion Chantal Blaak (Boels-Dolmans).
The first rider to try something from this front group was Cervélo-Bigla's Marie Villman, a neopro from Denmark, but the attack was short-lived. It was the start of an episode of attacks, with none of them sticking.
When a group of four, including Ellen van Dijk (Team Sunweb), Elisa Longo Borghini (Boels-Dolmans), Christine Majerus (Boels-Dolmans) and Katrin Garfoot (Orica-Scott), got a little gap, it looked like this might be a group to stick.
But there were too many teams hoping for a bunch sprint, so this group got reeled back in as well.
With a sprint to the line, a 30+ lead group readied itself for a bunch sprint. Lotta Lepistö (Cervélo-Bigla) took the win.
"This race was my goal," Lepistö said after the podium ceremony. "I was focussed on winning it. It's a race that suits me and last year I was close, but made a mistake and I told myself that won't happen again. Flanders is Flanders and anything can happen but this was my goal and we agreed to target today and I got it. I am really satisfied. Three weeks ago I told Christina [Pertchold] I want to win this race, she texted me yesterday and said keep your promise."
"We had five girls in the front group. They did an amazing job. Stephie [Pohl] did the leadouts to the Kemmelberg, Marie [Vilmann] our climber here in Flanders, attacked after the climbs to put pressure on the group, Cecilie [Uttrup Ludwig] waited for me in the climbs and brought me to the front because I wanted to ride them at my own pace. She covered a million attacks. Lisa is my tandem, she is always with me. Ashleigh coming back from injury and being in all the attacks and keeping me calm. She always has the right things to say, telling me to relax, it's not my turn to go into a group. Thomas in the car had a really good tactic and believed in us. This is another team victory."
Cervélo-Bigla DS Thomas Campana couldn't be more thrilled with the victory, which he confirms was as much a team victory as it was due to Lepistö's strong sprint: "This is a good start. It's overwhelming. The team really drove the victory on Wednesday [at Dwars door Vlaanderen] and gave their all so today they were tired."
"We have a lot of young riders, this is a very young group if you look at the average age. Lisa Klein is 20 years old and made it into the final, she was cramping but she supported Lotta all the way. These are 140 km races and this young group wins. It's amazing. The success is overwhelming for me and the staff. We're very happy that the riders we've developed over the years are winning and our talent scouting is working."
Lepistö was joined on the podium by Jolien D'Hoore and Coryn Rivera (Team Sunweb). Rivera was led out by Ellen van Dijk, who was part of a strong break in the final twenty kilometers of the race. "The final was full of attacks, but it was really hard to stay away," Van Dijk said.
"No-one wanted to cooperate, as they all had a sprinter in the lead group. Too many teams wanted a bunch sprint today."
"We were fine with a bunch sprint too, but could also arrive in a small group. But when no-one wants to make an attack work, it's not going to happen."
Defending winner Chantal Blaak (Boels-Dolmans) was hoping to make it a double win in Gent-Wevelgem, but came away with eighth. Teammate Anna van der Breggen reports: "No-one was able to get away on any point."
"I was away with [Giorgia] Bronzini for a bit, but she's not the right person to be away with. But we wanted to try to get away, so the team didn't have to work in the group behind. That was the idea behind it."
"When getting away with a small group didn't work, we shifted focus to the sprint. Unfortunately Chantal ended up with her head in the wind too soon. "
The victory of Lepistö made for a bittersweet day for the team, as they heard shortly before the start of the race that young rider jersey wearer Cecilie Uttrup Ludwig might receive a fine and 50 points deduction for not wearing the leader's jersey – which the team says they hadn't received from the UCI yet.
As Uttrup Ludwig was awarded the new young rider leader's jersey after the race, we're assuming a settlement has been arranged and she will remain the leader in the young rider classification.
The Women's WorldTour stays in Belgium to take on the much coveted Tour of Flanders on April 2.
Women's WorldTour standings after Gent-Wevelgem
General classification
1. Elisa Longo Borghini (Wiggle-High5) – 220
2. Elena Cecchini (Canyon-SRAM) – 215
3. Coryn Rivera (Team Sunweb) – 205
Young rider classification
1. Cecilie Uttrup Ludwig (Cervélo-Bigla) – 12
2. Amalie Dideriksen (Boels-Dolmans) – 6
3. Elisa Balsamo (Valcar-PBM) – 4
Team classification
1. Wiggle-High5 – 390
2. Boels-Dolmans – 386
3. Team Sunweb – 384
***
Do you think Lepistö can win a historic women's Gent-Wevelgem/Tour of Flanders double?