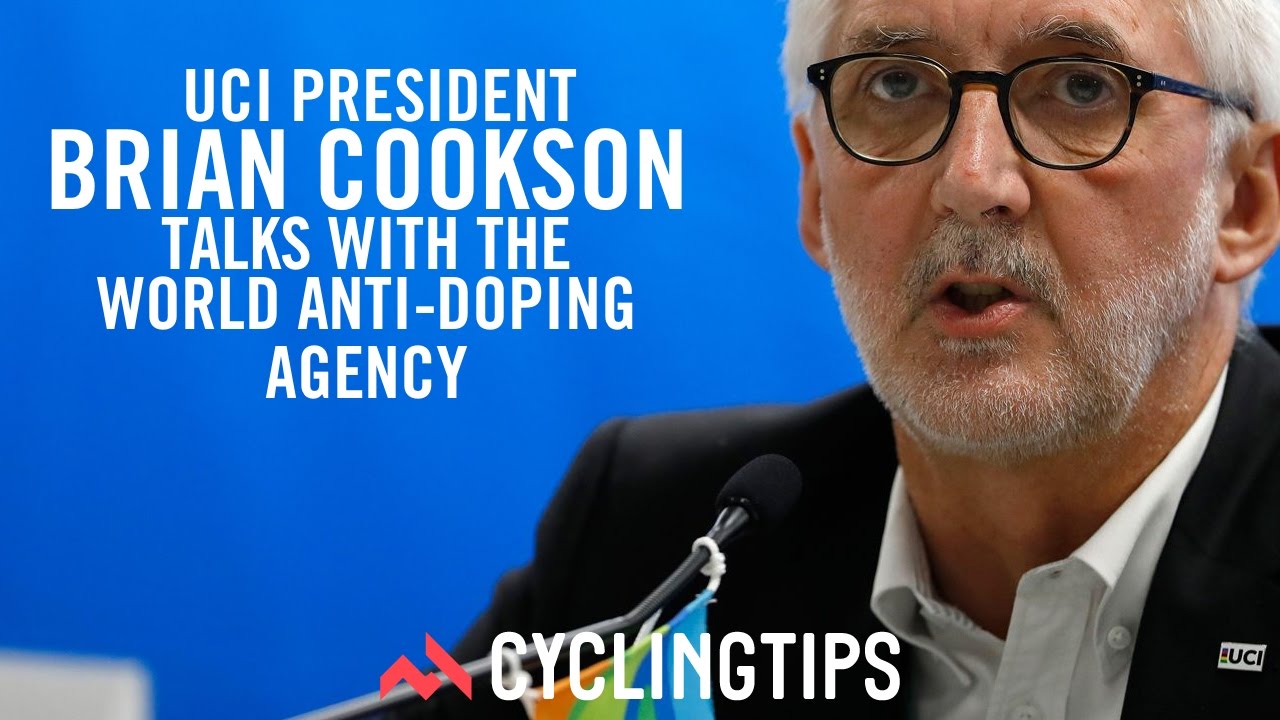 Brian Cookson: 'Professional sportspeople and teams will always push any rule to the very limit'
Don't miss out on the latest CyclingTips updates.
In a sit-down interview for the World Anti-Doping Agency's video series WADA Talks, UCI president Brian Cookson has reflected on his time as the head of cycling's governing body and on the sport's ongoing fight against doping.
Cookson, who has been UCI president since 2013, was asked to detail his contribution to the battle for clean sport. He began by referencing his efforts to repair the "ongoing feud" between the UCI and WADA; a feud caused by frustrations on either side about how doping was handled in the past two decades.
"One of the very first things that I did was to pick up the telephone and speak to John Fahey, the president of WADA at the time, and say, 'Look, we have to end this. We have to work together'," Cookson said.
In considering his achievements as UCI president, Cookson also pointed to the establishment of the Cycling Independent Reform Commission, an organisation that investigated doping and the handling of doping cases in cycling's recent history.
"It looked at some of the allegations that had been most damaging in the previous 15, 20 years or so," Cookson said. "And, most importantly, it made some very helpful recommendations to what we should do for our sport in the future to stop those problems repeating themselves. So that was a very important thing.
"At the same time, we asked the Institute of National Anti-Doping Agencies to do an audit on what we were doing. We again took account of their recommendations and changed a number of procedures and processes."
Cookson also pointed to the establishment and development of the Cycling Anti-Doping Foundation (CADF).
"All of cycling's anti-doping activities are now fully 100% independent of the UCI, so there is no possibility of a conflict of interest between the management and the governance of the UCI and the delivery of the anti-doping function," he said. "The two don't overlap at all."
While there's a general consensus that cycling is cleaner now than it has been for some time, it's certainly not true to say that doping has stopped entirely. Cookson believes that bike races at the highest level can be won clean, but highlights the need for the UCI and WADA to stay vigilant.
"I am not naïve about it," he said. "I think that professional sportspeople and teams will always push any rule to the very limit and we have to keep watching. We have to keep controlling.
"We have to keep making sure that our processes, our procedures, our science, working with the right people in WADA and so on, that all of those are the best possible practice at the time."
While cheating in cycling has traditionally come in the form of doping, "technological fraud", too, has been front of mind in recent years. Rumours of hidden motors have hung over the sport since 2010, and in January 2016, Belgian rider Femke van den Driessche was found to be using such a device at the Cyclocross World Championships. According to Cookson, the UCI has taken the threat of technological fraud very seriously, deploying testing technology and conducting tens of thousands of tests in the past 16 months.
"The very first time we deployed it [the testing technology] we caught somebody trying to cheat in that way, much to our surprise," he said. "Since then we have had all negative tests from over 20,000 tests that we have done in the first year, including over 3,000 at the Tour de France.
"So again I think if people are trying to cheat by technological fraud, by concealed motors or some other method which is at the very forefront of science, we believe that we have a system that can detect that form of cheating at a very early stage."
In September this year, Cookson's four-year term as UCI president will come to a close. The 65-year-old has indicated his interest in running for a second and final term. Whether that comes to pass will be determined at the UCI Congress in Bergen, Norway on September 21, a meeting that coincides with the Road World Championships in the region. While it's not yet clear whether Cookson will face any opposition for the presidency, the Briton has plenty he wants to achieve should he get a second term.
"We need to complete the revisions of the top level of our sport on the road," he said. "The men's road WorldTour, for instance, still needs some completions, some adjustments, in terms of the calendar, in terms of the regulations and the regulatory framework of that."
Cookson is also keen to see further developments when it comes to women's racing.
"We have done a great deal there in establishing a Women's WorldTour," he said. "More races, more opportunities for competition, but there is still a huge inequity between the rewards for women in cycling as compared with men.
"That's not just true of cycling, of course, it is true of many sports. But this is something that we are putting our attention to and something that we have got to do more of."
You can see the full interview at the top of this post.