A bottle of champagne for grandma: Hannah Barnes' Women's Tour report – final stage
Don't miss out on the latest CyclingTips updates.
While only in its fourth year, the OVO Energy Women's Tour of Britain –with its hoards of fans, publicity and five days of hard, exciting racing – is an absolute highlight on the women's calendar. It's the only UCI Women's WorldTour event in June and after a little break since the Amgen Breakaway from Heart Disease Women's Race Empowered by SRAM, riders are raring to go.
The Women's Tour is a big target for many riders and there are several teams and riders who call this event their home race, but for Canyon-SRAM's Hannah Barnes in particular, this is a special event. As the reigning British national champion, she's wearing the iconic red-white-and-blue stripes around her chest, and crowds cheer just a little bit louder as their national champion comes by.
What's more, her friends and family are lining the course. Her parents took the week off work to travel from stage to stage and even her 89-year-old grandmother will be travelling to London to see the tour's finale. In 2015, Barnes came away with a stage win. This year, she's set her sights on putting on a show for the British fans by repeating that feat.
We'll be following Barnes throughout the tour and checking in with her after each stage.
---
Women's Tour Stage 5 summary
As riders lined up in the heart of London for the fifth and final stage of the 2017 OVO Energy Women's Tour, the battle would be for the second and third place on GC podium. Kasia Niewiadoma (WM3 Pro Cycling) had a pretty strong hold on the leader's jersey and, barring any distasters, was set to take top honours.
And so, those teams eyeing a GC podium spot – namely Boels-Dolmans and Canyon-SRAM – were after the bonus seconds that could be gained in the intermediate sprints. Only 62 kilometres of racing lay ahead, but it was going to be one wicked fast hour and a half of racing.
Boels-Dolmans decided a bunch sprint was not in their favour and went full gas from the gun. They successfully split the field, creating a nine-rider break, with five riders of their own team, ahead of the first intermediate sprint.
But it was Hannah Barnes (Canyon-SRAM) in the pink Best British Rider jersey who outsprinted Boels-Dolmans' Christine Majerus and netted the three bonus seconds, moving her closer to a GC podium spot.
Wiggle-High5 moved to the front to chase down the break in an effort to defend Jolien D'Hoore's Eisberg sprinter's jersey, and go for the stage win.
The break was caught before the second, and last, intermediate sprint. Three very valuable seconds were on offer and several teams got their lead-out trains in order. Canyon-SRAM with four riders executed their lead-out to perfection, earning Barnes three additional seconds to move her into third place on the GC. It was all going to come down to the finish now.
As the high pace caused riders to fall off the back, Boels-Dolmans continued to attack the front group, sending one rider after another up the road. But they were running out of laps and a bunch sprint was looming.
Coming around the last bend, a clear train of black Wiggle-High5 jerseys delivered D'Hoore to the line. The powerful Belgian gave Wiggle what they came for as she crossed the line first, taking home the stage win as well as the sprinter's jersey.
Barnes took second, securing her third place in the GC as well as the Best British Rider jersey and taking home the combativity award on the stage.
With her third place finish on the stage, Majerus secured a second place in the overall.
OVO Energy Women's Tour (2.WWT) Chesterfield → Derbyshire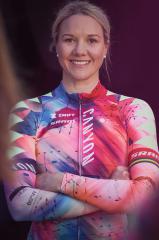 Champagne for Grandma
With a supportive team behind her, and a crowd filled with her friends and family, Hannah Barnes desperately wanted the stage win today…and she got so close!
"I would have loved to have given my team the win today," said Barnes. "They have been so great all tour and given me so much confidence. The whole team was there for me."
Still, she put on a tremendous show for all British cycling fans by winning both intermediate sprints to successfully move herself onto the GC podium while also coming away with the combativity award and Best British Rider jersey. All in all, a highly successful race for the Canyon-SRAM squad.
"Today was a day to fight, and we did that. To go out there into the stage today with a plan and to have the whole team there for me and give me the confidence I needed as our GC leader, that was definitely a highlight for me," said Barnes.
"We had the plan to go for the intermediate sprints and so to do that and come second at the finish and third on general classification is really great. I couldn't have asked for much more. It's been a really good week."
Grandma is all set for @thewomenstour final stage! Listen out for the cheering @bannahharnes @BarnesAlice #teambarnes pic.twitter.com/k9G5WXd0ZX

— Emily Barnes (@EmilyBarnes_95) June 11, 2017
One thing is for sure, Barnes put on an amazing show today, one that her 89-year-old grandmother will surely remember.
"She's in a wheelchair and has been in hospitality all day so I didn't see much of her. But yeah, she had a good time. All she really wanted was the bottle of champagne from the podium!" said Barnes.
Battle of the Barneses
After a good battle between her and her younger sister, Alice (Drops Cycling), Barnes came out on top, but the battle will soon continue.
Barnes is headed back to her home in Girona for a short training block before returning to the UK for the British national road championships at the end of the month. Barnes and Alice went 1-2 last year, and they'll definitely be going into the race among the favourites.
"There are going to be a lot of strong riders there this year," said Barnes. "It's always a funny race that one, but it'll be very competitive."
Who's your money on?
Follow Hannah at @bannahharnes and Alice at @BarnesAlice.

We hoped you enjoyed our Women's Tour coverage. If you liked our approach of following one rider throughout a tour, let us know who we should follow next in the comments below!