Doing it for grandma: OVO Women's Tour Stage 1 report with British champion Hannah Barnes
Don't miss out on the latest CyclingTips updates.
While only in its fourth year, the OVO Energy Women's Tour of Britain –with its hoards of fans, publicity and five days of hard, exciting racing – is an absolute highlight on the women's calendar. It's the only UCI Women's WorldTour event in June and after a little break since the Amgen Breakaway from Heart Disease Women's Race Empowered by SRAM, riders are raring to go.
The Women's Tour is a big target for many riders and there are several teams and riders who call this event their home race, but for Canyon-SRAM's Hannah Barnes in particular, this is a special event. As the reigning British national champion, she's wearing the iconic red-white-and-blue stripes around her chest, and crowds cheer just a little bit louder as their national champion comes by.
What's more, her friends and family are lining the course. Her parents took the week off work to travel from stage to stage and even her 89-year-old grandmother will be travelling to London to see the tour's finale. In 2015, Barnes came away with a stage win. This year, she's set her sights on putting on a show for the British fans by repeating that feat.
We'll be following Barnes throughout the tour and checking in with her after each stage.
Stage 2 – coming June 8th
Stage 3 – coming June 9th
Stage 4 – coming June 10th
Stage 5 – coming June 11th
---
Women's Tour Stage 1 summary
On the docket for the day was a 147.5-km stage from Daventry to Kettering.
As the riders lined up, the atmosphere was festive with flags and banners adorning the streets, and school children lining the streets.
Riders feeling nervous after a short break after the spring season, but with five days of hard and long racing ahead, the racing was uneventful until the first QOM (The Hasselbach) was approaching. Teams eyeing the QOM jersey got their riders in position, and it was Audrey Cordon-Ragot (Wiggle-High5) who reached the summit first. She'd repeat that feat on the second QOM of the stage to secure full points and she'll be wearing the SKODA Queen of the Mountains jersey for stage two.
Wiggle-High5 is hunting for jerseys in the Women's Tour because while Cordon-Ragot took on the climbs, teammate Jolien D'Hoore battled for the Eisberg sprint jersey. She'd fall short at the finish, behind Lisa Klein (Cervélo-Bigla), but look for her to make those intermediate sprints interesting in the coming stages.
In between the stage's intermediate sprints, however, the pace would lull and the twitchiness of riders caused a few crashes, which saw riders Georgia Baker (Orica-Scott) and Kristobel Doebel-Hickock (Cylance Pro Cycling) abandon the race.
Fed up with slow pace, Kasia Niewiadoma (WM3 Pro Cycling) launched a solo-attack with 47 kilometres to go while her team, under Marianne Vos' leadership, patrolled the front of the peloton.
Knowing the hard racing that's yet to come, no team was willing to waste their energy in chasing Niewiadoma back, knowing that Vos would likely counter.
And so Niewiadoma went clear and stayed clear. When she had built a three-minute lead, Boels-Dolmans decided to reduce the deficit, but the damage had been done.
| Related: Meet Kasia Niewiadoma
"I expected somebody to join me, unfortunately I was alone and I was thinking 'Oh no, there's 50km to go, there's a lot of wind, there are hills!' I wasn't sure if I could gain a lot of seconds but I was really motivated to keep pushing," commented Niewiadoma after the race. "When I saw the 15-kilometre to go sign I knew I had to go full and see what happened."
Niewiadoma came across the line with an impressive 1'42" gap over Vos, who took the field win for second place. With her impressive solo, Niewiadoma claimed her first UCI Women's WorldTour win of 2017, as well as the Women's Tour leader's jersey.
Boels-Dolmans' Christine Majerus rounded out the podium in third, also down 1'42" from Niewiadoma.
The best British rider award today went to Hannah Barnes' younger sister Alice (Drops Cycling), who netted a top 10 result.
OVO Energy Women's Tour (2.WWT) Daventry → Kettering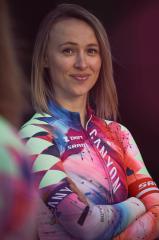 Barnes' stage 1
A loud cheer welcomed Hannah Barnes onto the stage in the departing town of Daventry. The white jersey with the iconic red-white-and-blue bands earning her instant favouritism with the British fans on home soil.
"This jersey is such an iconic jersey. Lining up here in front of this crowd feels pretty special," Barnes told Ella CyclingTips.
The 24-year-old from Kent won the national champion title almost a year ago, and unless she defends her title in a few weeks, this could be her last WorldTour event in the champion kit.
"It feels really special every time I race or train in it. I'll do everything I can to hold onto it. I won't be giving it up without a fight," she assured.
But first things first. The Women's Tour of Britain is a big target race for Barnes, and she hopes to show the British fans and her friends and family what she and her team can do.
"This event is five days of long, hard racing. There's crowds and school kids every village we come through and there is great coverage. It's a good opportunity for us to show our sport and show off the sponsors that support us," said Barnes.
Her goal?
"To come way with a stage win. I won a stage here two years ago, so I know I can do it," she said.
Doing it for grandma
The stage win two years ago wasn't just memorable for Barnes, but for her family as well.
"I have lots of people here for me. My mom and dad took the whole week off to watch me race, and my 89-year-old grandmother will be in London," said Barnes. "The last time she watched me race was two years ago. Her memory is not good, but she remembers that win. I want to give her something to remember."
Nerves, chaos and surprise
Today's stage could be summed up in three words: nerves, chaos and surprise.
Nerves: "This is a big race for me so I was nervous," said Barnes. "At the start I was more excited than nervous because 140ks is a long ways to get nervous. But at 20k to go, I get really nervous. How I deal with it? Years of practice!"
Chaos: "It was chaotic. There were a lot of nervous and excited riders. Everyone had a bit of a break and was raring to go," said Barnes.
"It was a bit negative. Everyone kind of rolled around until we got to the first QOM. There was a lot of wind and a few teams tried to put it in the gutter but it all came back together when there were lulls."
Surprise: "The race is really hard this year and the stages are very long. You could sense that people were holding back today because tomorrow will be really hard. I think this whole tour will be a war of attrition," said Barnes.
"It was surprising to see a lone break. Kasia is a strong rider and manages to stay away for 45k. A solo isn't common but she showed it can be done."
Onto stage 2
"Given the [rainy] weather, the profile and the length, I think it will be a quite interesting race tomorrow," said Barnes. "I think it will be really aggressive."
Will Canyon-SRAM be part of the action?
"We've got a strong team here. We'll be part of it, yes," said Barnes.
Stage two information
Stoke-on-Trent -> Stoke-on-Trent
Thursday June 8
144.5 kilometres
Stoke-on-Trent will host both the start and the finish of stage two and during the stage, the peloton will travel the Staffordshire countryside in between, which is labelled 'tricky' by the organisation.
With two category-one climbs, stage two is considered this year's queen stage. Last year, it was Marianne Vos (WM3 Pro Cycling) who took the win in Stoke-on-Trent. Will she be able to pull off a win again?
Stage two profile
Jersey wearers going into stage two
OVO Energy green jersey: Kasia Niewiadoma (WM3 Pro Cycling)
Wiggle points jersey: Kasia Niewiadoma (WM3 Pro Cycling)
SKODA Queen of the Mountain jersey: Audrey Cordon-Ragot (Wiggle-High5)
Eisberg Sprints jersey: Lisa Klein (Cervélo-Bigla)
Adnams best British rider jersey: Alice Barnes (Drops Cycling)

Check back tomorrow for Barnes' stage two report!