So close: Hannah Barnes' Women's Tour report – stage 2
Don't miss out on the latest CyclingTips updates.
While only in its fourth year, the OVO Energy Women's Tour of Britain –with its hoards of fans, publicity and five days of hard, exciting racing – is an absolute highlight on the women's calendar. It's the only UCI Women's WorldTour event in June and after a little break since the Amgen Breakaway from Heart Disease Women's Race Empowered by SRAM,  riders are raring to go.
The Women's Tour is a big target for many riders and there are several teams and riders who call this event their home race, but for Canyon-SRAM's Hannah Barnes in particular, this is  a special event. As the reigning British national champion, she's wearing the iconic red-white-and-blue stripes around her chest, and crowds cheer just a little bit louder as their national champion comes by. 
What's more, her friends and family are lining the course. Her parents took the week off work to travel from stage to stage and even her 89-year-old grandmother will be travelling to London to see the tour's finale. In 2015, Barnes came away with a stage win. This year, she's set her sights on putting on a show for the British fans by repeating that feat. 
We'll be following Barnes throughout the tour and checking in with her after each stage. 
Stage 1: Doing it for Grandma
Stage 2: So close!
Stage 3 – coming June 9th
Stage 4 – coming June 10th
Stage 5 – coming June 11th
---
Women's Tour Stage 2 summary
After nearly four hours of aggressive and hard racing, the women's peloton barrelled into the streets of Stoke-On-Trent, Staffordshire, for a sprint finish. Dutch sprinter Amy Pieters (Boels-Dolmans) was the first to cross the line, just ahead of British champ Hannah Barnes (Canyon-SRAM) and Dutch powerhouse Ellen van Dijk (Team Sunweb).
WM3 teammates Marianne Vos and Kasia Niewiadoma finished fourth and fifth respectively, ensuring that Niewiadoma retains her leader's jersey with a 1'42" lead.
"Given the [rainy] weather, the profile and the length,  I think it will be a quite interesting race tomorrow. I think it will be really aggressive,' British champ Hannah Barnes predicted in speaking to CyclingTips yesterday. And she sure was right.
Today's 145 kilometres saw heavy rain and winds, two categorised climbs and one attack after the other.
Marta Bastianelli (Ale Cipollini), Anna Trevisi (Ale Cipollini) and Alison Jackson (BePink) all threw in some leg-zapping attacks, and field shattered into smaller packs as short-lived breaks formed. The move of the day came when playmaker Lucinda Brand (Team Sunweb) went clear on the steep, lower slopes of the QOM climb in Ipstones. For a long time, it looked like we may see a repeat solo victory like the day before as Brand stayed clear even with Canyon-SRAM and Boels-Dolmans leading the chase.
It wasn't until the outskirts of Stoke-on-Trent, with just 7 kilometres to go, that a diminished peloton of approximately 30 riders made contact with the Dutchwoman, at which time teams started preparing for a bunch sprint.
Pieters was the first to come around the cobbled bend with Barnes and Van Dijk close behind.
"It was a really hard day, we lost a bit of time on the GC yesterday so our goal was to go for the stage win," said Pieters afterwards. "The climbs were really tough. The first one was long, the second was really steep and stayed steep all the time. We came back over the top of Gun Hill and I knew it was going to be a sprint. We spoke about preparing for a sprint so they could save my energy, and the girls helped me really well in the finale."
A second place finish was bittersweet for Barnes.
"I'm really pleased to be up there in the finish, it's been a long time since I've been able to be aggressive and get a good placing like that, but I'd have loved to have finished off the team's good work today with a win," she said.
But with her second place finish, Barnes now sits in third in the general classification, 1:46 minutes behind leader Niewiadoma and on par with Marianne Vos in second place.
Cervelo Bigla's Lisa Klein retained the Eisberg Sprints Jersey while Audrey Cordon-Ragot extended her lead in the SKODA Queen of the Mountains classification, with Brand now her nearest challenger, six points adrift.
Another long, hard stage awaits the field for tomorrow and there's plenty of time left for the GC to get shaken up.
"I don't want to overreact or get too confident, but this is another day done," said Niewiadoma. "Everything can happen, as we saw today. It's so hard to control it when lots of teams are attacking. I know that everybody wants that OVO Energy Green Jersey, so it's like one team versus all of the others. It's a big battle."
OVO Energy Women's Tour (2.WWT) Stoke-on-Trent → Staffordshire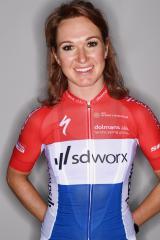 Cervélo-Bigla Pro Cycling
So close: Barnes sprints to second place
In our first check-in with Barnes yesterday, she told us that she was eyeing a stage win. Today, she almost had it.
After nearly four hours of hard racing, the race came down to a bunch sprint and Barnes put herself in the right position, but she'd come just a few metres short as Amy Pieters beat her at the line.
"After yesterday, we as a team decided to go after the stage wins now, and we wanted to just be aggressive, and I think we did that. We were represented in most of the breaks that went up the road today, and when after Gun Hill the two front groups got back together, we asked what to do and it was decided that it was going to be me wait for the finish and then have some fun in the 10k," Barnes told CyclingTips.
"There were loads of attacks as most teams I think had the same plan and so everyone countering each other's attacks, which was really good. But it was hard to stay near the front and stay in contention when that is happening. The last three Ks were quite uphill and then the last 500 meters were really technical so you had to be in a good position before then to get a good result."
The second place was bittersweet but also promising for the stages ahead.
"I haven't been in that position to be competitive and to be able to finish yet this year. I would have liked to have gotten the stage win for the team. They put their trust in me today so I think about them when I'm sprinting to the line," said Barnes. "But yeah I think we can go into the next stages pretty confident with how we raced today."
Second on the stage, Best British Rider and third in the GC, all-in-all, it was a good day for Barnes even if she's taken the Best British Rider's jersey off her younger sister's back.
"I did take if off my sister, unfortunately. The sisterly competition is pretty friendly though. As I was going up to the podium today I said to her; 'oh you can have it tomorrow!'," said Barnes.
"It's just fun. She is at the same hotel tonight and so I look forward to seeing her and catching up."
In three words, Barnes summarised the stage as "hard, aggressive and positive."
"It was really exciting. There were a lot of aggressive riders out there today. It's good, a lot of teams are really wanting to put a good show on
It was a really positive race," she said.
Eat, rest, sleep, repeat
Two days in and the legs are already feeling it, said Barnes. Or perhaps they're only getting better,
"Yesterday, for the first half of the stage my legs felt really bad and I feared it was going to be a bad week for me, but I rode into it.  Johnny, our masseuse, is doing his magic to get them ready for tomorrow but yeah, it's been two really hard days of racing already so I'm tired," she said.
"I have noticed over the years at stage races that I can build into it. If I sleep well and eat well I hope to get better."
Barnes is known for her need of sleep, she revealed.
"If I get less than nine hours, it's not good…" she said laughing.  "I try to be in bed by 10."
Luckily her roommate, Trixi Worrack, is pretty good about getting sleep as well.
Barnes said that during stage 2, she burned a little over 2400 calories, which she prefers to replenish with "anything sweet".
"I really love sweets so the soigneurs make me sweet rice with honey and cinnamon and Belgian muesli all mixed in," she said.
Inspiring the next generation
The Women's Tour is well-known for its crowds. Race organisers have gone to great length to educate the community about the race, and encourage community groups, schools and those who live along the route to get involved. Over 100,000 children attend the  Women's Tour each year, and it's a highlight for riders and spectators alike.
"I was about their age when I started to do this," said Barnes. "I was 10 and my first club was Ian Stannard's club and I used to race around in his ex-kit that he used to use with his name stitched in it, so I looked up to him. [these school kids] seeing us as we come by will hopefully inspire them to try cycling or do sports."
Onto stage 3
Up next is another long, hard stage from Atherstone to Royal Leamington Spa. A lot of teams are going to be aggressive as they were today. It's going to be good," said Barnes.
"I think tomorrow will be a lot like today. It's long but on paper, it does not look as difficult as it was today.We are going to keep taking each of the stages as a one-day race. Sure, getting on the podium for the GC would be great, but anything can happen in these races and with 150-kilometre stage tomorrow we'll just see what happens."
Stage three information
Atherstone to Royal Leamington Spa
Friday, June 9
151 kilometres
This is the second year in a row that Warwickshire County Council has hosted the OVO Energy Women's Tour. Atherstone will once again welcome the start of the stage, after welcoming the peloton at the start of Stage 2 in 2016.
This time round, the riders will finish in the spectacular town of Royal Leamington Spa, and will be hoping for much better weather than they experienced in Warwickshire last year!
Stage three profile

OVO Energy Leader's Jersey: Kasia Niewiadoma (WM3 Pro Cycling)
Wiggle Points Jersey: Kasia Niewiadoma (WM3 Pro Cycling)
SKODA Queen of the Mountain jersey: Audrey Cordon-Ragot (Wiggle-High5)
Eisberg Sprints jersey: Lisa Klein (Cervélo-Bigla)
Adnams best British rider jersey: Hannah Barnes (Canyon-SRAM)

Check back tomorrow for Barnes' stage three report!