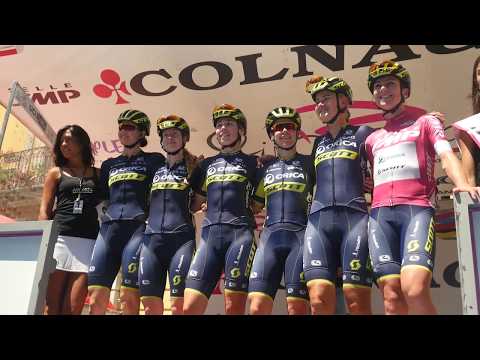 Backstage at the Giro Rosa: Throwing everything at it
Don't miss out on the latest CyclingTips updates.
The sense of urgency ramped up in the battle for the pink jersey, held by Anna van der Breggen (Boels-Dolmans) since Stage 2, in the climb heavy eighth stage of the Giro Rosa. Orica-Scott went in to the hot and hilly stage in the south-west of Italy knowing they would have to throw everything they could at powerhouse team Boels-Dolman to try and move third-placed Annemiek van Vleuten and fifth-placed Amanda Spratt up the leaderboard.
As the day's race played out there were splits in the field, breakaways, so many attacks and the Australian team certainly played a part in animating the race. Both van Vleuten and Spratt fought hard and finished in the top ten, but so did all those ahead of them on the leaderboard so there was no shifting up. In fact Lucinda Brand's (Team Sunweb) stunning solo victory — which came even after crashing in the last ten kilometres — lifted her into fifth spot ahead of Spratt.
Far from deterred though, you get the impression that the women of Orica-Scott might just have a little "pillow cry" and then get right back to throwing everything they have at it again in the next stage.
Get more on the inside story of the pillow cries, icy poles, well-travelled text books and, of course, how the stage unfolded with the latest instalment of Orica-Scott's Backstage Pass above.
Missed some of the previous backstage passes? Click on the links to catch up on stage 1, stage 2, stage 3, stage 4,  stage 5, stage 6 and stage 7.