Giro Rosa stage 5: Riders struggle with surprise climbs in the ITT
Don't miss out on the latest CyclingTips updates.
In its twenty-eighth edition, the Giro Rosa is once again a celebration of women's cycling. It's the only remaining Grand Tour on the women's calendar and therefore a big target for many teams and riders.
Boels-Dolmans has been taking control of the race ever since the stage one team time trial, getting their Canadian rider Karol-Ann Canuel in pink. Anna van der Breggen took over the leader's jersey in stage two and led by 25 seconds going into the fifth stage.
Stage five consisted of an extremely difficult individual time trial, covering two climbs with gradients reaching up to 20%. One of the riders not at all concerned with the course was Annemiek van Vleuten (Orica-Scott), who powered to another stage win and took back time in the GC, jumping back up to third overall. We provide you with all the best shots from the stage and links to highlights videos as we come across them.
Missed the earlier stages of the Giro Rosa? Read our Giro Rosa round-ups of:
Surprise climbs in the ITT course
Race leader Anna van der Breggen (Boels-Dolmans) had already said of the climb in stage two that "on the race profile, it doesn't look that hard, but it's my ninth Giro. I know by now to check the course another way."
In the stage five individual time trial, the Giro Rosa truly pulled the first of its traditional tricks with the road book offering a hilly profile, but nothing too serious.
However, the riders that did a recon soon found out that the course in no way looked like the stage profile on paper. Some riders even had to walk up the climbs during their recon, too steep to stay on their bikes. We hope everyone got the memo about how the course looked liked in real life, or checked the UCI Women's WorldTour Twitter feed when it tweeted:
Today's #GiroRosa 5th stage may have big impact on GC. A 12.7km time trial, it has 2 brutal climbs, the with gradients of 20%!! #UCIWWT

— UCI_WWT (@UCI_WWT) 4 juli 2017
The first images from the climbs looked like this:
First riders up to the Muro di Cocciari (30%) #TT #GiroRosa @WMNcycling pic.twitter.com/ooHUpvyBNg

— Mattia Bazzoni (@ilbazzo) July 4, 2017
Small movie from climb #GiroRosa pic.twitter.com/f9A7oXKibd

— Bart Hazen (@Bartoli84) 4 juli 2017
Riders took to Twitter to express their disbelief about the course and specifically, the difference between the course profile in the road book and the actual course.
Hardest rest day of my life ????

— Julie Leth (@JulieLeth8) 4 juli 2017
Seriously. This shows the steepness a little better ???? pic.twitter.com/ANkK7aZ8gt

— Sarah Roy (@Sar_Roy) 4 juli 2017
After seeing the ITT course this is the most hilariously misleading profile I've ever seen. ????@GiroRosaCycling #GiroROSA #oneforthegoats pic.twitter.com/QnzrpqJEFp

— Dani King (@DaniKing1) 4 juli 2017
How's this for the final climb in the #GiroRosa TIMETRIAL ???????????? #madness #30% #whatrestday https://t.co/f0ZOmcCzEm

— Annette Edmondson (@NettieEdmo) July 4, 2017
WM3 Pro Cycling's race leader Kasia Niewiadoma, sixth in the GC ahead of stage five, said that "for sure, it's one of the hardest courses for a time trial I've ever done".
https://www.youtube.com/watch?v=j4jCSYQ_8Xo
Best thing about a 30% climb in a TT is that people can see the riders well???????????????? @GiroRosaCycling https://t.co/EePeRunARX

— Valentina Scandolara (@ValeScandolara) 4 juli 2017
Great photo of me during the #GiroRosa TT. (Thanks @adrianartn ????) pic.twitter.com/DS895NFsKQ

— Annette Edmondson (@NettieEdmo) July 4, 2017
That time trail was no joke ????Even when you try to keep it "easy"! Now, the best part of the day. Massage outside ???? pic.twitter.com/Y9m83dGv7y

— Chantal Blaak (@ChantalBlaak) July 4, 2017
And when cars can't even get to the top because it's so steep, you truly understand how tough this individual time trial was going to be.
Anche l macchine hanno seri problemi !! pic.twitter.com/GMvmzjTbOM

— giada borgato (@giadaborgato) 4 juli 2017
Even triple Giro Rosa winner Marianne Vos (WM3 Pro Cycling) expressed her surprise on Twitter:
Actually I don't know if I have to be happy or sad now… Looks terribly steep, but that's the #GiroRosa: expect the unexpected!

— Marianne Vos (@marianne_vos) July 4, 2017
It was going to be an interesting stage!
How the stage unraveled
At 12.15pm CET the last rider in the GC, Vittoria Reati (SC Michela Fanini), was the first off the start blocks. Mirjam Bjornsrud (Team Hitec), the 31st rider to take to the start, set a time of 29'05″97, which got her in the hot seat for a while, until Monika Király (SC Michela Fanini) beat her time by over half a minute.
Our current leader, @MiriamBjornsrud #UCIWWT #GiroRosa pic.twitter.com/jG2C0kwILa

— UCI_WWT (@UCI_WWT) July 4, 2017
A number of riders rode into the hot seat after Király, including Vos' teammate Anouska Koster, former world ITT champion Linda Villumsen (Team VéloConcept) and stage three winner Hannah Barnes (Canyon-SRAM).
Eagerly we awaited the first of the GC favourites to take to the start. 2009 Giro Rosa winner Claudia Lichtenberg (Wiggle-High5) went into stage five just outside the top ten overall, seconds from Shara Gillow (FDJ-Futuroscope-NA) and Team Sunweb's Floortje Mackaij and Sabrina Sultiens. With a 3'07" gap to Van der Breggen, the pink jersey might seem unreachable for her already, but at just over a minute from Guarnier in third place, it looked like the results of the extreme ITT stage five could thoroughly reshuffle the entire top 10 in the GC.
Lichtenberg set a time of 27'39", which was a great effort for the tough time trial that it was, but she came nine seconds short on the rider in the hot seat at that moment, Arlenis Sierra (Astana). Gillow slotted into fourth, behind Sierra, Lichtenberg and Barnes. Lucinda Brand (Team Sunweb), eighth overall ahead of stage five, didn't beat Sierra's time either.
Amanda Spratt (Orica-Scott) did beat Sierra's time, by thirteen seconds. But a real take-over of the hot seat happened when her teammate crossed the line.
Surely one of the riders who wasn't sad about the crazy course awaiting her in the ITT, Annemiek van Vleuten (Orica-Scott) already set the fastest intermediate time. She was hoping to use the time trial to get herself back in contention for the pink jersey, after she dropped to fourth overall when she missed out on the first group in yesterday's stage.
Related: Nearly one year after her Rio crash, Annemiek van Vleuten sets her sight on the Maglia Rosa
When Van Vleuten posted a time of 25'29" after a lightning fast ITT, she definitely took back control of her Giro Rosa GC. Her time proved almost two minutes quicker than Megan Guarnier (Boels-Dolmans), she was 1'15" quicker than Elisa Longo Borghini (Wiggle-High5) and took 41 seconds on Van der Breggen. She jumps up to third overall, now a minute and a half behind Van der Breggen.
After a bad day yesterday, Van Vleuten can celebrate today, taking her second stage win this Giro Rosa and and precious seconds towards her GC ambitions.
Giro d'Italia Internazionale Femminile (2.WWT) Sant'elpidio a Mare → Sant'elpidio a Mare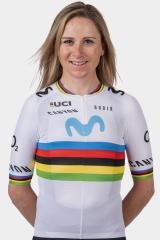 Boels - Dolmans Cycling Team
Another rider who had wanted to use this tough individual time trial to climb up in the GC was Niewiadoma, but unfortunately she crashed on the descent of the first climb and saw her chances of getting up on the Giro Rosa podium fade away. "My wheel just slipped away," Niewiadoma said. She was able to continue, but "it's so difficult getting back into your rhythm after a crash."
Eventually, Niewiadoma finished 2'03" behind Van Vleuten in the stage and now stands 2'39" behind her in the GC, far down from the overall podium.
Stage six information
Stage six: Wednesday July 5

Roseto Degli Abruzzi – Roseto Degli Abruzzi
116.2 kilometres
After an opening lap of of 27.5 kilometres, the peloton does three laps on mostly the same circuit at 29.5 kilometres per lap, before a likely bunch sprint determines the stage six winner.
There are QOM points to be won on the climb that features on the circuit on the third ascent only. There's also an intermediate sprint during the third lap.
Jersey wearers going into stage six
Pink leader's jersey: Anna van der Breggen (Boels-Dolmans)
Purple points jersey: Annemiek van Vleuten (Orica-Scott)
Green Queen of the Mountain jersey: Annemiek van Vleuten (Orica-Scott)
White young rider jersey: Floortje Mackaij
Blue best Italian rider jersey: Elisa Longo Borghini (Wiggle-High5)

Check back tomorrow for the Giro Rosa Round-up of stage six!