Giro Rosa stage 4: sprinters' day shakes up GC
Don't miss out on the latest CyclingTips updates.
In its 28th edition, the Giro Rosa is once again a celebration of women's cycling. The only remaining Grand Tour on the women's calendar is a target for many teams and riders.
The team time trial in stage one and the tough climb in stage two have already caused the first time differences in the GC. It was a familiar sight when Anna van der Breggen (Boels-Dolmans) put on the pink jersey after stage two, the 2015 winner eager to repeat that win this Sunday in Torre del Greco.
A pancake flat stage four looked like it was going to be another bunch sprint, but it was eventually a sprint by a reduced bunch, won by Jolien D'Hoore (Wiggle-High5), who took her first Giro Rosa victory. Anna van der Breggen (Boels-Dolmans) also made the split and keeps the pink leader's jersey.
Missed the earlier stages of the Giro Rosa? Read our Giro Rosa round-ups of:
Giro Rosa Round-up: stage four
Stage four can only be described by two words: hot and flat. Hours before the stage start, temperatures already reached 30 degrees Celsius. And without any wind to offer a cooling breeze, it was going to be a hot day in the office.
Two riders didn't take to the start in Occhiobello this morning. Team Sunweb's Molly Weaver, who only returned to the Women's WorldTour in the Giro Rosa after recovering from serious injuries she sustained at a training ride crash in February, punctured in yesterday's stage at a bad time. It meant the end of her Giro Rosa.
Not how I wanted my Giro to end after working so hard to get here. Puncture once the team car passes+no neutral service=game over! #gutted

— Molly Weaver (@mollyweaver94) 2 juli 2017
Tiffany Cromwell (Canyon-SRAM) also didn't line up in the peloton, withdrawing to focus on the Thüringen Rundfahrt (or Lotto Thüringen Ladies Tour as it is rebranded in 2017), as had always been the team's plan. A 165-rider peloton left Occhiobello at 12.15pm local time for 118 kilometres.
The heat made for an uneventful first half of the stage. A couple of breakaways were attempted, most notably an attack by Trixi Worrack (Canyon-SRAM), but they all led to being very short-lived attacks.
Boels-Dolmans targeted the intermediate sprint points again today, doing everything to keep Anna van der Breggen (Boels-Dolmans) in the pink leader's jersey. They wanted no bonus seconds to go to Annemiek van Vleuten (Orica-Scott) in the intermediate sprints, as Van der Breggen's closest rival in the GC, only 18 seconds down.
Megan Guarnier (Boels-Dolmans) won the first intermediate sprint, ahead of Dani King (Cylance Pro Cycling) and Stephanie Pohl (Cervélo-Bigla). She wore the green jersey for Van Vleuten, as the fifth rider in the QOM classification – numbers one to four all wearing higher-ranked jerseys.
Halfway through the stage, the wind picked up a bit and an exciting finale ensued. Three riders tried to sneak away from the peloton, the tension palpable, but the nervous peloton caught them not much later.
The wind caused splits in the peloton, breaking it up in at least three larger groups. Kilometres before the second intermediate sprint, there was a lead group, followed by a 10-rider chase group and behind that, the first bunch. Without any names, it was a guessing game whether the favourites had made the split.
The results of the second intermediate sprint showed that at least two Boels-Dolmans riders had made the split, Chantal Blaak and Guarnier taking second and third behind Lucinda Brand (Team Sunweb). The reduced bunch had a 35-second advantage as they went into the last 20 kilometres of the stage. Would they be able to prevent a bunch sprint?
The answer: yes. The advantage grew to 1'09" at 10 kilometres to go. Word came out that Van Vleuten had missed the front group, meaning a reshuffle of the GC after the stage, with Guarnier moving into the podium places.
The reduced bunch returned to Occhiobello, preparing for a sprint. Although it initially looked like  Chloe Hosking (Alé Cipollini) had won the sprint, delivering her Italian team her first Women's WorldTour victory, it was eventually Jolien D'Hoore (Wiggle-High5) who was determined as the winner after inspecting the photo finish.
Result of Stage 4 of the #GiroRosa Occhiobello – Occhiobello
Hosking
D'hoore#UCIWWT #GiroRosa pic.twitter.com/3eP1ReIfXi

— UCI_WWT (@UCI_WWT) July 3, 2017
"Yeah, it was pretty close, but a win is a win," D'Hoore said. "Somewhere around halfway WM3 put the hammer down, together with Boels-Dolmans, and suddenly we heard that Annemiek van Vleuten was in the second group. So we started to work for Elisa, for the GC, and then we came really fast to the final 5km for the sprint."
"In the end we had two roundabouts in the last 800 metres, so it was pretty dangerous and hectic," she said. "But I managed to be up there, thanks to Giorgia [Bronzini], she led me out into the sprint, and yeah, it was a close call."
Coryn Rivera (Team Sunweb) managed third behind D'Hoore and Hosking.
"As a team we learned from yesterday's stage and applied it to today and we finished it off with a podium," she said. "We were all together for most of the stage, especially when the bunch split as well as inside the final 5 kilometres."
"Lucinda was able to take me around the final two roundabouts and I could take the opportunity to go for the podium," Rivera said. "It was great team work and we can also take some more points to learn from which is great. As a team we continue hunting for some more great results here."
GC reshuffle
Van Vleuten missed the front group, but Van der Breggen did not. She'll keep her pink leader's jersey and will line up in the pink skinsuit for the individual time trial tomorrow. She now has a 25 second lead on Elisa Longo Borghini (Wiggle-High5) in second place and teammate Guarnier in third place, 1'56" down. Van Vleuten dropped to fourth place, with a gap of 2'17" to Van der Breggen.
"Annemiek was a little caught out of position at one moment and suddenly the race split," Orica-Scott DS Gene Bates reflected on what happened during the stage. "I think the front group realised Annemiek wasn't there and the time gap went from five seconds to thirty seconds instantly."
"All the girls waited for Annemiek, except Spratt who was in the front," he said. "There was a lot of the sprinter team's up there so probably 15 or 20 riders working hard to stay away, and just our six riders behind chasing. Once the gap opened up it was always going to be a tough ask for us to bring it back."
"It was simply a moment of loss of concentration, a little slip up and that can cost a lot in these kinds of stages," he concluded. "It is obviously disappointing for us but we just have to take positives from the day, we have to regroup quickly and just put our best foot forward now. The race is certainly not over, we won't give up with out a big fight."
Kasia Niewiadoma (WM3 Pro Cycling) remains sixth in the GC after stage four, but was able to take some time on Van Vleuten as she also found herself in the first group. She is 2'37" back from Van der Breggen, but only twenty seconds down on Van Vleuten now.
"We lost time in the beginning of this Giro and know this year's Giro Rosa is less difficult than previous editions," WM3 DS Jeroen Blijlevens said. "Today was a flat stage too. If you can't use the mountains to make a difference, you have to try something else. Today we had a chance to use the wind."
Giro d'Italia Internazionale Femminile (2.WWT) Occhiobello → Occhiobello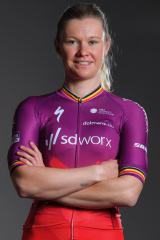 Boels - Dolmans Cycling Team
Stage five information
Stage five: Tuesday July 4

Sant'Elpidio a Mare – Sant'Elpidio a Mare
12.7 kilometres
Stage five consists of an indvididual time trial. It's an undulating course, with the finish some 140 metres higher than the start. In 2015, Anna van der Breggen (Boels-Dolmans) took the leader's jersey in the penultimate Giro Rosa stage by winning the individual time trial. Will she increase her lead in the GC even further tomorrow?
Jersey wearers going into stage five
Pink leader's jersey: Anna van der Breggen (Boels-Dolmans)
Purple points jersey: to be announced
Green Queen of the Mountain jersey: Annemiek van Vleuten (Orica-Scott)
White young rider jersey: Floortje Mackaij (Team Sunweb)
Blue best Italian rider jersey: Elisa Longo Borghini (Wiggle-High5)

Check back tomorrow for the Giro Rosa Round-up of stage five!