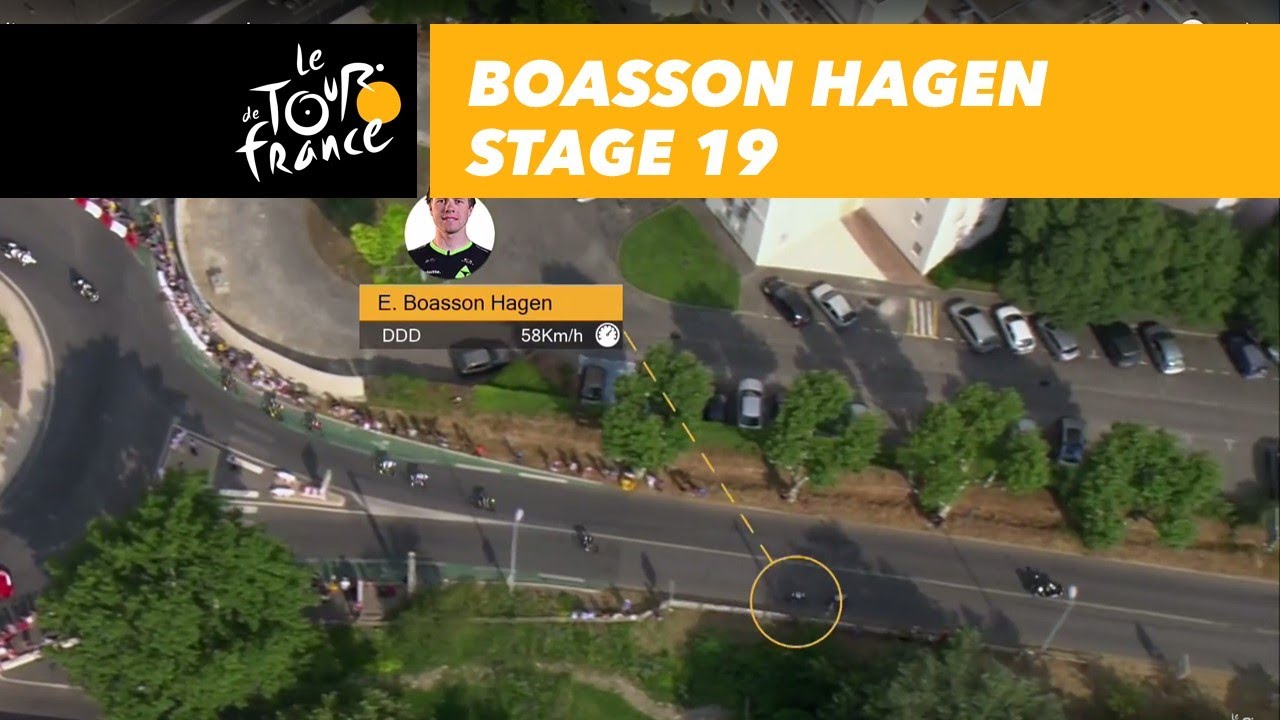 Keep right: How Edvald Boasson Hagen won stage 19 of the 2017 Tour de France
Don't miss out on the latest CyclingTips updates.
SALON-DE-PROVENCE, France (CT) – Riders make their way around dozens of roundabouts on a stage of the Tour de France, but very rarely does road furniture have an impact on the outcome of the stage. On Friday's stage 19 of the 2017 Tour, one particular roundabout was instrumental in deciding who would take stage honours.
With a touch under 3km to go the race was being led by nine breakaway riders, seven of whom went left at a traffic island and large roundabout on the outskirts of Salon-de-Provence. Two, Nikias Arndt (Sunweb) and Edvald Boasson Hagen (Dimension Data), went right — the shorter way — and opened a sizeable gap.
Boasson Hagen soon attacked and went on to win the stage solo.
For Dimension Data team principal Doug Ryder, Boasson Hagen's timely move, and the win that followed, was the result of careful planning.
"We prepare so well. We check every single route, we have got a car that drives half an hour ahead of the race to showcase the fastest lines and we said '2.7km to go, go right around the roundabout'," Ryder said post-race. "You could see everybody went left on the island, he went right with Nikias Arndt and they went through that roundabout and they got 10 metres and that was it, the race was done.
"It just shows that if you're really well prepared and you look at what the course offers … And I think we're probably the most prepared team and [had the] most prepared rider in that breakaway."
For Boasson Hagen, preparation was important, but so was reading the race as it unfolded.
"This morning I saw a video from the roundabouts and [that] we had to be on the right side," said the Norwegian. "Everyone went to the left side except Nikias Arndt and he made an attack and I counterattacked. I knew this was the moment to go and when he couldn't follow I just had to go full gas for the line."
Speaking after the stage Arndt was philosophical about finishing second, saying he was caught out by Boasson Hagen's immediate counterattack.
"I didn't expect that and I was also not strong enough to accelerate with him so that's how he got a gap. I couldn't close it again," Arndt said. "It would have been a challenge to beat him [in the sprint] — it was not my goal to go with him to the finish line because I know he is one of the fastest sprinters here in the Tour, so I actually wanted to come alone to the finish.
"But he also took the right moment at 3k and then we were together and then you saw that he already had a really good punch, how he accelerated there. Yeah, I mean, that was impressive. He was just super strong today."
So why didn't Boasson Hagen wait for the sprint from the nine riders — a sprint he would have been the favourite to win?
"I was afraid of people making final attacks so I didn't really want to wait for a sprint," he said. "I also had quite good confidence for the sprint but it was nicer to make the decision before and not end up with a photo finish again."
Of course, going the right way around one roundabout was only one ingredient in Boasson Hagen's victory. He also had to get into the day-long breakaway, something the team had planned from the outset.
"There was a lot of teams that hadn't won anything — at least 50% of the teams — so it was really important … if there was a breakaway to get into the move," said Ryder. "For Eddie to be in that move … if it didn't work then our whole strategy for the day was gone."
The team committed to the plan and Boasson Hagen was able to ride his way to victory.
"The team helped me a lot before the break went away," Boasson Hagen said. "They controlled the peloton and on the climb, I was in a good position to follow the attacks. Within the front group, we worked really well together all day.
"Naturally, at the end, there were some attacks but I managed to close them down and ride quite smartly."