Van Vleuten climbs to solo victory atop Izoard to win La Course
Don't miss out on the latest CyclingTips updates.
After three editions of La Course on the Champs-Élysées in the heart of Paris, the race moved away from France's capital city into the Alps.
The 67-kilometre climbers' stage from Briançon to the top of the Col d'Izoard was dominantly won by Annemiek van Vleuten (Orica-Scott), who attacked an elite group at 4.5 kilometres from the finish line.
After her Rio disaster and narrowingly missing out on the pink jersey in the 2017 Giro Rosa, Van Vleuten today proved that she's one of the best in the mountains.
| Related: Nearly one year after her Rio crash, Annemiek van Vleuten sets her sight on the Maglia Rosa
British road champion Lizzie Deignan (Boels-Dolmans) crossed the line in second, 43 seconds behind Van Vleuten; Elisa Longo Borghini (Wiggle-High5) rounded out the podium, 1'23" behind.
New-style La Course
The renewed La Course consists of two stages. However, only the first stage, today's race up Col d'Izoard, is part of the UCI Women's WorldTour.
La Course will continue on Saturday with a brand new race format. A select number of riders will compete in a pursuit-style individual time trial with start and finish in the Orange Vélodrome in Marseilles. The route is shared with the men's race, an individual time trial in the penultimate stage of the 2017 Tour de France. But while the men take on a regular time trial, the female riders will compete in a pursuit-style race in which the start times and gaps are based on their results of today's Col d'Izoard stage.
The riders will start their time trial behind Van Vleuten, in the actual time that they finished behind her on the climb. The rider who crosses the finish line first on Saturday wins the full two-day event.
The riders finishing within five minutes of the winner on the Izoard qualify for the time trial event in Marseille.
How the race unfolded
From the start in Briançon, 119 riders rolled off the start line for the first stage in the renewed edition of La Course by le Tour de France.
One of the first to attack was the French road champion Charlotte Bravard (FDJ-Furutoscope-NA). The (unusually) high amount of media coverage meant that riders were eager to get a little TV time, Bravard included.
| Related: New kit day: A look at the new national jerseys in the women's peloton
However, no one was allowed to go away early. A six-rider group, including Alexis Ryan (Canyon-SRAM), Chantal Blaak (Boels-Dolmans) and Leah Kirchmann (Team Sunweb), had a short stint off the front, but they too were caught back quickly.
As attacks were flying off the front, Molly Weaver (Team Sunweb) crashed and appeared to be in a lot of pain. Her team reported she sustained minor injuries to her wrist and lost some skin following the crash – yet another setback in a season which Weaver herself describes as a 'thunderstorm'.
When the action settled down a little bit, former world time trial champion Linda Villumsen (Team VéloConcept) decided it was the time to attack. Both the timing and the punch of her attack led to the first serious break of the day. Villumsen quickly gained a gap of about 30 seconds, and steadily built it up to a minute.
Boels-Dolmans recognised the danger in Villumsen, and all six riders moved to the front of the peloton to start closing the gap. Deignan was the last rider to set the pace for her team leaders and when Villumsen was caught at 9 kilometres from the top, Deignan's work had left only a 15-rider group in the tête de la course.
As the roads pitched upward, the front group got reduced even further to only five riders: Elisa Longo Borghini (Wiggle-High5), Deignan, Annemiek van Vleuten (Orica-Scott), Shara Gillow (FDJ-Futuroscope-NA) and Kasia Niewiadoma (WM3 Pro Cycling).
Despite being the pace setter, Deignan was the only Boels-Dolmans rider left at the front, as both her team leaders Guarnier and Karol-Ann Canuel were unable to stay connected. Her work would later earn her the most aggressive rider's jersey and a podium finish.
Some big name riders like Marianne Vos (WM3 Pro Cycling) and Ashleigh Moolman-Pasio (Cervélo-Bigla) had let the front group go long before the steep pitches and were surprisingly no longer in contention for the race win early on.
In the front group, Van Vleuten launched a well-timed first attack at five kilometres to go. Deignan stuck to her wheel, but when Van Vleuten attacked again, Deignan couldn't match the Dutchwoman's pace and Van Vleuten – who's recently earned herself the nickname "Van Vleugels" (Dutch for 'Van Wings') – flew up the Col d'Izoard solo.
Van Vleuten soon gained a gap of over 40 seconds, while Longo Borghini chased Deignan and Gillow. But Gillow had blown a few too many matches in an effort to follow Deignan and lost contact with the former world champion, allowing Longo Borghini to pass her.
As Van Vleuten reached the flamme rouge with a 40-second advantage and only one, albeit very difficult, last kilometre to go, it looked like she had the La Course Women's WorldTour victory safely in her hands.
Indeed she had.
Pushing until the finish line to take as many seconds as possible on her rivals ahead of stage two, Van Vleuten crossed the finish line atop the Col d'Izoard with a big smile on her face.
"I knew that if I had my Giro Rosa-legs, I'd do pretty well here," Van Vleuten said in her post-race interview. "I wanted to test out my legs at five kilometres to go, since I didn't want to leave it to a sprint with a group as big as that."
But the test resulted in distancing the rest of the field.
"Then I thought I just have to pull through now," Van Vleuten said. "My coach Louis Delahaye had told me to wait until the last kilometre and at some point I was like: maybe he was right. But I kept saying to myself that if my legs are hurting, others' legs will hurt too. And with Saturday' time trial, it's better to have a bit of an advantage."
"I don't think I'll be able to sleep very well tonight, it has yet to sink in," she added. "I only realised halfway through the climb the number of people that were out there to cheer us on, how big this race is for women's cycling. With the finish atop a climb like this, it's no longer about playing around – only the strongest rider can win. I'm very happy I was the strongest today and that I showed I can do this."
"I'm very proud of myself," she concluded. "I used to be a true classics rider, but I inspired myself by my Rio performance. You can get very far by believing in something."
Deignan followed at 43 seconds, with Longo Borghini crossing the line 1'23" behind Van Vleuten. In fourth place, Guarnier had caught Gillow to cross the line a little ahead of her with a  1'28" gap to Van Vleuten, while Gillow will have 1'33" to make up on Saturday.
"I definitely did not expect this, I was hoping for a top 20 maybe," commented Deignan. "So it's a big surprise for me."
"I think it definitely offered something different, something exciting, something new," Deignan said of the new-style La Course. "For me, it was about taking today seriously and I think Marseille for our team is perhaps a little bit of fun. We're not really sure what to think about it yet. I think we have an open mind to it. But for us, it was about being a professional team, racing professionally today."
"I maybe should have been a little bit more confident going into this race and have said that I was good enough to be a leader here as well, because I think perhaps I did too much work," she added. "We came into the race with Megan [Guarnier] as a leader and perhaps it was a mistake just to have one – but that's my mistake, not to be more confident. So when Annemiek [van Vleuten] attacked I was already pretty on my limit, having done quite a bit of work. I knew at that point I just had to pace myself rather than try to follow."
"I knew I had to manage my ascent," said third-place finisher Longo Borghini. "I looked at my power meter and kept a steady pace. I'm not the type of rider that is super keen to attack on a long climb, especially if it's at altitude."
"Thinking of how many kilos of ice cream I ate after the Giro Rosa, I'm pretty satisfied," she joked.
There were nineteen women who reached the finish line within five minutes of Van Vleuten. They qualified for the time trial in Marseille on Saturday. Here are their names and time gaps to Van Vleuten:
La Course by Le Tour de France (1.WWT) Briancon → Izoard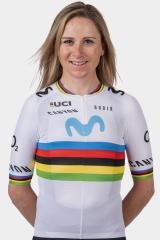 Women's WorldTour standings after La Course (provisional)
General classification
1. Anna van der Breggen (Boels-Dolmans)
2. Annemiek van Vleuten (Orica-Scott)
3. Kasia Niewiadoma (WM3 Pro Cycling)
4. Elisa Longo Borghini (Wiggle-High5)
Young rider classification
1. Cecilie Uttrup Ludwig (Cervélo-Bigla)
2. Alice Barnes (Drops Cycling)
3. Anna Christian (Drops Cycling)
Team classification
1. Boels-Dolmans
2. Wiggle-High5
3. Team Sunweb
Stage 2: A pursuit in Marseille
La Course continues with the pursuit-style time trial on Saturday. Van Vleuten will be the first to roll off the start ramp in the Orange Vélodrome in Marseille, at 1pm CET (7.00 am EDT, 9.00 pm AEST).
Although this second stage isn't part of the Women's WorldTour, there is still worldwide live coverage of the race. Check your local TV listings for exact broadcast times.
If you're in the unfortunate circumstances that the race isn't broadcasted live in your country, follow along online via #LaCourse, #UCIWWT or through the Ella CyclingTips Twitter account.
***
What do you think; will Van Vleuten be able to arrive first in Marseille?