Six days through Holland: The Boels Rental Ladies Tour in photos
With the UCI Road World Championships just three weeks away, a very competitive and fit peloton contested the Boels Ladies Tour over the past week.
The six-stage tour through The Netherlands – a 19-year-old event previously known as the Holland Ladies Tour – was upgraded to World Tour status for the 2017 season. A field of 92 riders came out for the penultimate event in the Women's WorldTour, but none were more focused on winning the tour than Orica-Scott's Annemiek van Vleuten.
The tour kicked off with a prologue in Van Vleuten's hometown of Wageningen, and she was eager to give her fans something to cheer for.
However, it would be a tough fight stage after stage as previous winner Ellen van Dijk (Team Sunweb) and Anna van der Breggen's Boels Dolman's squad, were also looking for a win on home soil. The six stages covering 577 kilometres would see five different winners, but ultimately, after taking the orange leader's jersey in the prologue, Van Vleuten would manage to keep it. She slowly built on her slim advantage until victory was hers.
The Cor Vos photographers were on site to capture the emotion, weather and action throughout the six days.
Prologue: A short sufferfest
Race favourite Annemiek van Vleuten (Orica-Scott) did not disappoint her hometown fans as she stopped the clock at just 5'47" after completing the 4.3-kilometre course. Van Vleuten sat comfortably in the proverbial hot-seat as rider after rider came in without endangering her time. No one looked close until European champion Ellen van Dijk (Team Sunweb), a late starter in the prologue, was nearing the end of her run. But even the former world time trial champion came short, crossing the line a little over four seconds later than the Dutch national time trial champion had.
Boels Rental Ladies Tour (2.WWT) Wageningen → Wageningen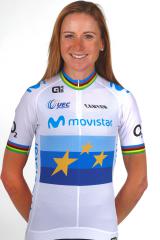 Stage 2: A rainy 132-kilometre road race with a sprint finish
After a fast start to the race, Japanese road and time trial champion Eri Yonamine (FDJ-Futuroscope-NA) went off the front solo. She opened up her gap to over two minutes and was then joined by a duo of Ilona Hoeksma (Team Hitec) and Winanda Spoor (Lensworld-Kuota).
It wasn't until the trio arrived in Arnhem together for the finishing circuit of 18.7 kilometres that the peloton decided to reel them back in. As her two companions gave in, Yonamine went on, and was finally caught with just two kilometres to go.
A crash then disrupted the sprint in the final hundred meters, but Kirsten Wild (Cylance) was already gone, barrelling toward the finish with little competition.
Boels Rental Ladies Tour (2.WWT) Eibergen → Arnhem
Stage 3: Another time trial
Two stages in, the top three in the general classification were still within seconds of each other. All three competitors are capable time trialists so the stage three time trial was an important one.
GC leader Van Vleuten once again proved that she is the fastest in the race against the clock, besting European time trial champion Van Dijk (Team Sunweb) and former world ITT champion Linda Villumsen (VéloConcept) to build on her overall lead.
Boels Rental Ladies Tour (2.WWT) Roosendaal → Roosendaal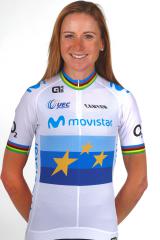 Stage 4: A bike-throw finish
A fast start to Boels Ladies Tour stage four meant that no-one was able to launch a successful attack. The fact that Pernille Matthiessen (VéloConcept) was awarded the red combativity jersey because her attack was the one that stuck the longest, says it all; she was off the front for a mere five kilometres.
After 100 kilometres from Gennep to Weert, the stage ended in three laps on a local circuit, and a bunch sprint was inevitable. This time it was a very close call between German Lisa Brennauer (Canyon-SRAM) and Australian Chloe Hosking (Alé Cipollini). In a bike-throw finish, only the cameras were able to determine Brennauer as the stage victor.
The top five of the GC remained unchanged.
Boels Rental Ladies Tour (2.WWT) Gennep → Weert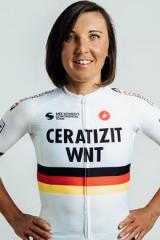 Stage 5: Anna van der Breggen's final GC attempt
It was an attack-filled penultimate stage on Saturday, but it wasn't until the finishing circuit that an attack actually stuck. Women's WorldTour leader Anna Van der Breggen (Boels-Dolmans), fourth in the GC at that moment, attacked and was swiftly joined by GC leader Van Vleuten. Van der Breggen won the stage in a two-up sprint and jumped up to second in the GC, at 43 seconds from Van Vleuten.
Boels Rental Ladies Tour (2.WWT) Stramproy → Vaals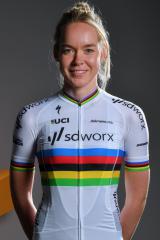 Stage 6: Save the longest and hardest for last
In the last and hardest stage through the Limburg hills, an 11-rider break formed very early in the stage and included Christine Majerus (Boels-Dolmans), Lucinda Brand (Team Sunweb), Alexis Ryan (Canyon-SRAM) and Hosking.
An attack by Van der Breggen in the peloton caused a split, with a group of 25 riders in the first peloton. Out of that group, Janneke Ensing (Ale Cipollini) and Kasia Niewiadoma (WM3 Pro Cycling) escaped and bridged towards the leaders. The lead group splintered in the final 30 kilometres, with first Niewiadoma off the front solo and eventually, Ensing leading the race.
Ensing would solo on toward her first Women's WorldTour victory, while Van Vleuten safely crossed the line in the first peloton to secure the leader's jersey.
Boels Rental Ladies Tour (2.WWT) Sittard → Sittard