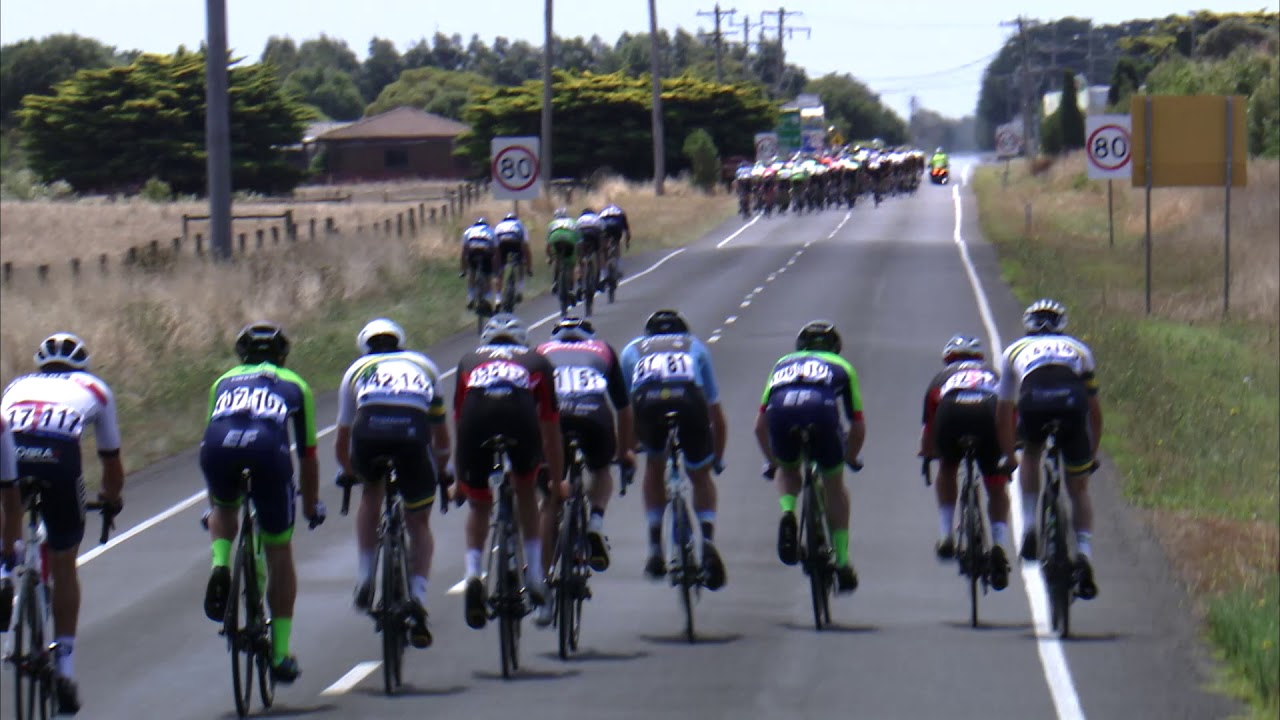 Carnage in the crosswinds: How a chaotic stage 1 of the Sun Tour unfolded
Don't miss out on the latest CyclingTips updates.
WARRNAMBOOL, Australia (CT) – Cameron Meyer (Mitchelton-Scott) summed it up best: "I don't know if you can explain what happened out there — it was definitely chaotic in the last 30 kilometres." Steele von Hoff (Bennelong-SwissWellness) painted a similar picture: "I looked down at my Garmin: we had about 40k's to go. Looked down again: five k's to go."
What began as a rather sedate stage 1 of the Jayco Herald Sun Tour ended in truly exhilarating fashion. There were echelons, there were splits, there were crashes, and there were more splits. There was the yellow jersey losing time, there were other GC contenders making up time, and to cap it all there was a nail-biting sprint from nine riders to decide the stage.
Denmark's Lasse Norman Hansen (Aqua Blue Sport) would win that particular battle, snagging victory ahead of von Hoff and Meyer. In doing so he'd also move into the overall lead.
There'd been plenty of talk of crosswinds at the start of the stage. A stiff breeze from the south-east meant action was likely when the race hit the famous Great Ocean Road and swung west along the coast towards Warrnambool. It didn't unfold exactly like that, but unfold it certainly did.
"We thought when we hit the Great Ocean Road the first time, 80km in, that echelons would form. But it didn't," Meyer said. "It was a bit of tailwind and it wasn't till about 30k out that it split. And when it split then … yeah — riders everywhere."
The action began as the riders turned inland, as defending champion Damien Howson (Mitchelton-Scott) explained.
"We turned off the ocean road and maybe a few guys started to relax, or they started to feel the pinch a bit," he said. "And once the wind was a little bit more favourable it was all hands on deck and [we] caused some carnage."
With support from Trek-Segafredo, the race's only other WorldTour team, Mitchelton-Scott threw everything at the split and tore the race apart.
"Luckily we had enough in the front group so we committed," Meyer said. "Trek had enough in the front group so they committed and that was enough to put time into the yellow jersey; time into some of the other riders that were looking for a GC result."
Ed Clancy (JLT-Condor) had gone into the stage with a narrow lead in the general classification after winning yesterday's prologue. But when he was caught on the wrong side of the split with roughly 30km to go, his time in yellow was over. Hansen, meanwhile, was making all the right moves and staying with the front group.
"I kept telling my teammates to just keep rotating and as long as you were on the echelon it was … hard but it was doable," he said. "As soon as you came behind the echelon you really had to dig deep. I made sure to stay on the echelon myself and I had one teammate with me the whole time and he made it a lot easier for me."
A group of roughly 20 riders opened a gap on the bunch containing the overall leader, with Mitchelton-Scott, Trek-Segafredo and Bennelong-SwissWellness the best represented at the front. That group would catch the day-long break of six roughly 15km from the finish, and then the attacks would begin again.
As the Clancy group fell further and further behind, a group of nine splintered off the already small lead group. It would be the day's most important selection.
What a location for a bike race! The picturesque @visitvictoria #GreatOceanRoad during the @Honda Civic Stage 1 of the #HeraldSunTour pic.twitter.com/rDXloPW7fI

— Jayco HeraldSun Tour (@HeraldSunTour) February 1, 2018
While Hansen had anticipated an aggressive race, the 2012 Olympic omnium gold medalist didn't anticipate just how aggressive it would be.
"I was definitely expecting crosswinds and a big split in the peloton," he said. "I didn't expect it to split more times at 20k to go when we were down to 20 guys. I didn't expect it to go down to [nine] in the last 2k.
"But for me that was just a bonus — [it] gave me a few less guys to look [out for]."
Even when it was a group of nine, the attacks didn't stop. The presence of fast finishers like von Hoff and Koen de Kort (Trek-Segafredo) at the front prompted a flurry of attacks from those without the same finishing speed. Among them was the defending champion Howson, who made a move inside the final kilometre.
"I knew Steele von Hoff from the Bennelong team was there," Howson said. "He was, in my eyes, the fastest. There was a few of us just continually having a dig in that last 5k knowing we had to get rid of [him] … or finish solo."
While Howson would be caught inside the final 100m, his attack altered the dynamics of the uphill sprint to the line.
"I stepped out early because I had to chase a Trek guy that was chasing Damien Howson [who] was up the road because it was all sort of spread out," von Hoff explained. "I probably shouldn't have done that because it put me on the back foot because I had to go at 250 to go … before it ramped up. Otherwise you can't get the right acceleration.
"But Lasse had already jumped so he had that speed. I tried to jump on him but he was just too strong today so I couldn't match him in the finale. Hats off to him. He is in yellow and he's deserved it."
Today's victory comes a day after Hansen finished third in the prologue, less than a second behind Clancy. Hansen believes he could have won on Southbank were it not for a cornering error, but today's win was the best kind of consolation prize.
"I was a bit gutted to have missed it yesterday but like I also said yesterday I made a mistake and you can't expect to win when you make a mistake on a short prologue like that," Hansen said. "I'm really happy to make up for it today and get away with the win and the jersey."
The Dane will go into tomorrow's stage 2 with a nine-second buffer over Meyer and a further second over von Hoff. The 199km stage concludes with a part-lap around the Australian Road Nationals circuit, including an ascent of the infamous Mt. Buninyong. If Hansen can survive the climb and make it to the finish, he's a strong chance of wearing yellow into stage 3.
https://twitter.com/AquaBlueSport/status/958918934614499329
And it's stage 3 that's shaping up as the most intriguing of the tour. The day ends with a 20km climb up to the Lake Mountain Alpine Resort and with so many riders so close on GC, it's a climb that a great many could use as a springboard to overall victory.
Howson is among them, just 16 seconds behind the lead in sixth place. But he's not the only Mitchelton-Scott rider with a chance at victory. Meyer is clearly in contention, so too Esteban Chaves even though the Colombian is 46 seconds down on GC.
"Esteban is a quality climber — he doesn't run podiums in a Grand Tour for nothing," said Meyer. "Personally I'd love 10 minutes on him if I was racing against him but luckily I've got him on my team. He's always going to be within striking distance.
"I think also with Damien and I now really close at the front as well we've still got three cards to play which probably puts us in the box seat."
Of course there's plenty of racing before they get to the bottom of Lake Mountain on Saturday. Tomorrow's stage heads in a north-easterly direction towards Buninyong and with a stiff south-easterly breeze on the cards again, another day of crosswind carnage isn't out of the question.
Stage result
GC