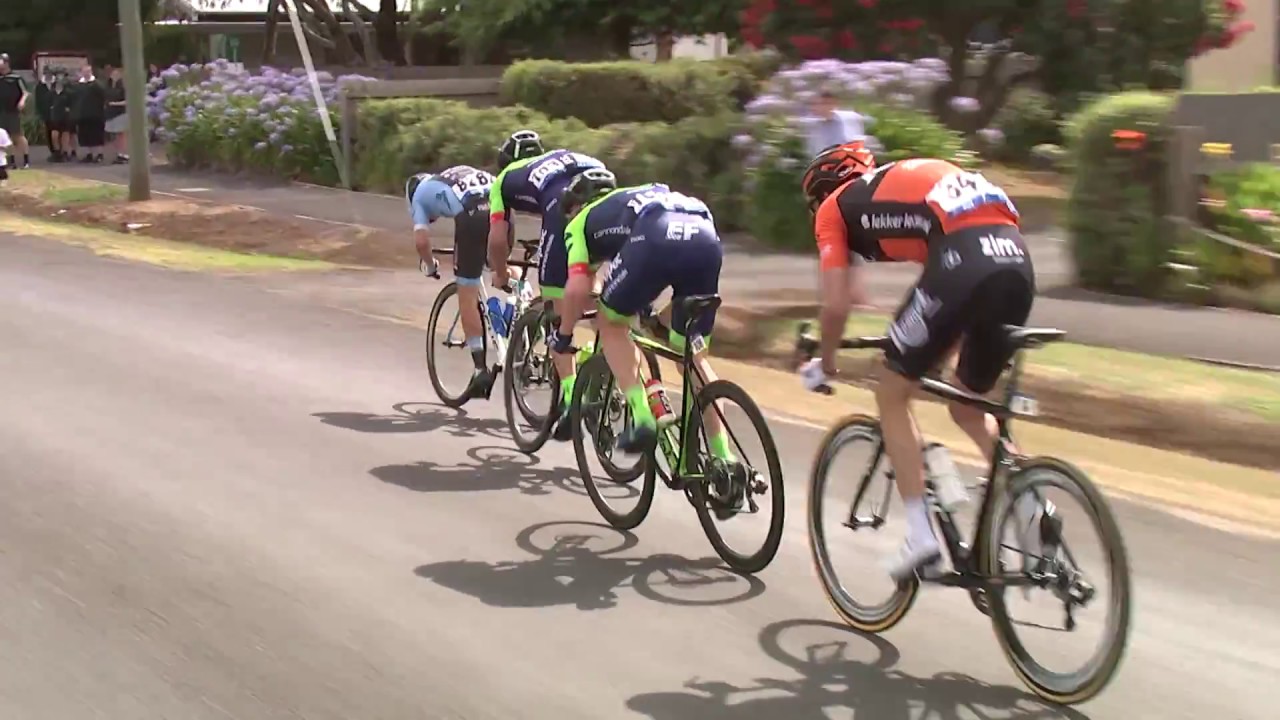 Sliding in the sand: Sun Tour peloton divided as stage 2 is neutralised
Don't miss out on the latest CyclingTips updates.
BUNINYONG, Australia (CT) – It was a bizarre scene. With only half the stage completed nearly 100 riders stopped, turned around, and started riding back the way they came. The convoy stopped, riders headed to their respective team cars, and an impromptu lunch break took place.
For three minutes and 25 seconds, the peloton of the 2018 Jayco Herald Sun Tour stood there waiting; waiting for commissaires to give them the all-clear to continue chasing the breakaway.
In the lead-up to the tour, officials had been made aware of roadworks scheduled for a section of the stage 2 race route. The roadworks were supposed to be happening after the Tour but, as race organisers would discover, they'd begun — but not been completed — before stage 2.
Organisers scrambled to find a way around the roadworks, eventually settling on a deviation that featured a 7km stretch of unsealed road. As chief commissaire Greg Griffiths told CyclingTips, the condition of that gravel road wasn't as good as had initially been hoped.
"First of all we were informed that the road would be firm enough to ride on," Griffiths said. "Maybe it was for the first few riders but once they broke the surface then the road virtually collapsed."
Seven breakaway riders had hit the gravel a few minutes before the peloton. That group split up a little, but it was when the peloton hit the dirt that the commissaires stepped in.
"I was following the main peloton and riders with great skill were having difficulty even travelling forward," Griffiths said. "We had riders spread over one kilometre — I don't think it was sporting that the race continued so I neutralised it.
"We timed the gap at the start of the dirt section, gave the breakaway riders that same gap at the end, and the race continued on. I think it was the fairest thing to do."
Even with the race neutralised riders in the peloton skidded and swerved on the soft, sandy surface, some panic-unclipping as they tried to remain upright. The bunch split into many groups, leaving many to wonder what might have happened had the race been allowed to continue.
"That was pretty fun — I was enjoying that," said eventual runner-up Steele von Hoff (Bennelong-SwissWellness). "But as soon as the race was neutralised of course I sort of sat up a little bit.
"It already split quite significantly and then it came into a narrow road just after. If it was racing, the peloton would have just been in pieces today. It would have been very eventful."
Despite enjoying the challenge, von Hoff was among the many riders that was glad to see racing halted temporarily.
"It was a safe decision to neutralise it because I almost did have a near miss," said von Hoff, who now sits second overall. "But that's kind of the fun of it — everyone's in the same boat. But it isn't a cyclocross race so it was a good call."
Stage 1 winner and overall leader Lasse Norman Hansen (Aqua Blue Sport) was far less impressed. He and his teammates were riding the front of the peloton when the neutralisation was announced; a peloton that had already split asunder.
"I would have enjoyed racing full-gas from there to the finish so I'm really really sad we neutralised it," he said. "We had the front as a team, we had Trek[-Segafredo] with us like yesterday. If we would have raced from there we would have been 10 guys left at the finish just like yesterday and I'm sure I would have been there."
While race officials were concerned about the surface being unsafe, Hansen saw it otherwise.
"It wasn't dangerous," he said. "There were some soft patches but as long as you just straight-lined them you were fine. I imagine some of the riders haven't tried racing a road bike on dirt before — we do it a lot in Denmark so I was used to it."
Several of the GC favourites were among those to be caught out on the loose surface, including Esteban Chaves (Mitchelton-Scott).
"Both Chaves and Cameron Meyer were way out the arse of the group so yeah, I'm pretty sure we would have eliminated some more GC guys," Hansen said. "Would have made tomorrow a bit more entertaining."
The drama quickly subsided once the race resumed. The seven breakaway riders were kept firmly in check by Mitchelton-Scott, Trek-Segafredo and Aqua Blue Sport on the approach to Buninyong.
The stage would conclude with a lap of the Australian Nationals road race circuit. A thinned down breakaway was caught at the base of the Mt. Buninyong climb, 10km from the finish, prompting a flurry of attacks from the main field.
James Whelan (KordaMentha-Australia) attacked hard, getting away on his own, before being joined by Nathan Earle (Israel Cycling Academy). The pair crested the climb together, but were soon swept up by a reduced peloton as they began the largely downhill run to the finish.
Some 47 riders reached Buninyong to contest the final sprint. Danish champion Mads Pedersen (Trek-Segafredo) capitalised on a strong lead-out to take a second straight stage-win for Denmark.
"I was in the wheel of Koen de Kort from the top of the climb and he just did a four-kilometre lead out [for] me onto the last 300 metres," Pedersen said. "I wouldn't say it was easy, but for me it is — I have to stay in the wheel of Koen and then just have to switch on the brain and then sprint for 250 metres."
Pedersen's sprint saw him edge out von Hoff who was second across the line for a second-straight day. Australian champion Alex Edmondson (Mitchelton-Scott) was third over the same finish line he crossed to win his national title nearly a month earlier.
For Pedersen, the win comes as a consolation prize after missing the decisive split on yesterday's stage 1.
"Of course it's a good feeling," he said. "We did a wrong move yesterday and I missed the first group so to get the victory back today — it's really nice."
Pedersen's compatriot, Hansen, will wear the yellow jersey again tomorrow after battling his way over Mt. Buninyong and into the lead group.
"I had actually settled not to sprint because I felt so bad," he said. "But at 800 metres to go I came rolling super fast from behind and I just decided to take a chance and just hit out early.
"So I just did a 800-metre sprint from the very back of the group. Didn't work out so well but I managed to lead out my fellow Dane Mads Pedersen for the win today.
"So yeah, happy for him and happy to be in yellow still."
https://twitter.com/AquaBlueSport/status/959289939723603970
Tomorrow's stage will be the most decisive of the tour. It's 220km long and ends with the 20km climb up to Lake Mountain. Hansen doesn't expect to be in yellow at the end of the day, but he's hoping a teammate might.
"Larry [Warbasse] looks really really good," he said. "I'm going to do my best to defend the jersey for myself and if I can't then [I'll try to] put it on Larry's shoulders for tomorrow."
Aqua Blue will have no shortage of challengers, not least from Mitchelton-Scott who have former winner Cameron Meyer (third overall) and defending champion Damien Howson (sixth overall) within 16 seconds, with Esteban Chaves another 30 seconds behind.
If the past two stage are anything to go by, it's sure to be another dramatic day at the Sun Tour.
Stage result
GC
Follow the link for full results from stage 2 of the 2018 Jayco Herald Sun Tour.