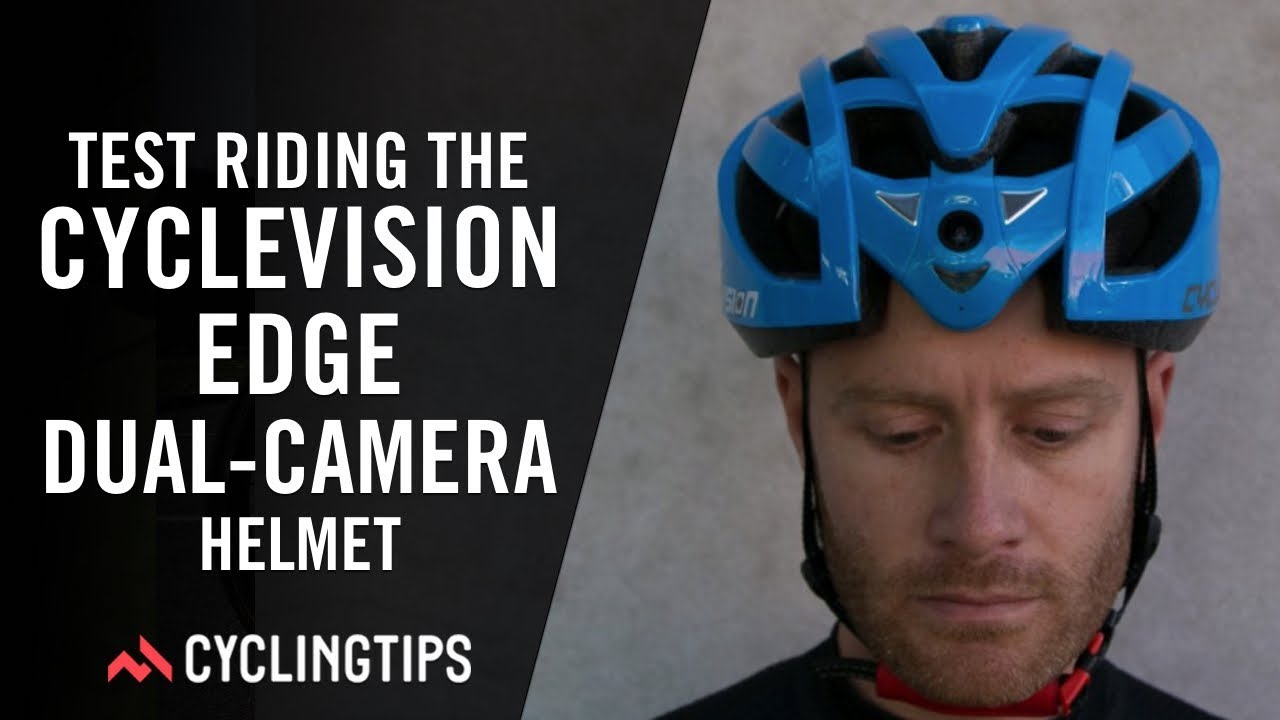 CycleVision Edge dual camera helmet review
Don't miss out on the latest CyclingTips updates.
Cycling safety is at the forefront of many riders' minds in a way it really hasn't been before. There's a perception that riding on the road is more dangerous than ever, and incidents involving cyclists seem to be happening more frequently than in years gone by.
With this in mind, it's little surprise many cyclists are taking steps to ensure they're as safe as possible while out riding: taking quiet (often gravel) roads instead of busier alternatives, using lights during the daytime, and, for some people, filming their rides to capture any incidents that might occur.
Australian brand Cycliq has made waves in this space with its Fly6 and Fly12 light and camera combinations, helping riders stay visible while also recording the world around them. Now, another Australian company, CycleVision, is about to bring its cycling safety technology to market: the Edge, a bike helmet with two integrated cameras.
The genesis
CycleVision was born in 2014 when company founder, Rob Asker, was involved in a crash while out on his bike.
"In 2014 I suffered the second hit and run accident of my life," Asker said. "I had another device, I could have put it on the bike and I could have recorded what was coming. But I was lazy. And whilst I was laying there, I think it was one of those lightning bolt moments. I thought 'You know, if I put cameras into a helmet I would take it everywhere I went.
"When I went to go buy something like this – there's nothing available. And so I thought to myself 'Well if there's nothing available, why don't I make one?'"
For many people, it would have been an impossible task. But for Asker, an aviation engineer by trade, it was well and truly achievable. In the next few years he designed a series of prototypes, continuously reworking and refining the product. Then, in early 2018 he launched a Kickstarter campaign to try and bring the CycleVision Edge to market.
Ultimately, the campaign reached little more than a third of its target — $33,807 of a $100,000 goal — but with an "alternative revenue source" available, the project is still going ahead full steam.
CycleVision plans to produce its first 500 helmets before July 2018, with Kickstarter supporters getting first access to the limited run.
The basics
CycleVision claims that the Edge is the world's first helmet with two integrated cameras. One camera sits at the back and the other is at the front; both capture 1920×1080 pixels at roughly 30fps with a 160º field of vision.
Each camera has its own 32GB internal memory card (which can't be accessed or upgraded without dismantling the helmet) and Micro-USB slot from which stored footage can be pulled. The back USB port is used to charge both cameras.
Each camera has its own WiFi network too, allowing you to connect your smartphone and change settings for the camera in question (via the Cyclevision smartphone app). The WiFi connection can also be used to provide a live feed from the camera it's connected to — perfect if you want to set up your mobile phone on your handlebars and have a live-feed of what's behind you. WiFi also provides the potential for online livestreaming from the connected camera (see below for details).
The helmet has an IP65 waterproof rating, meaning it is resistant to dust and water spray. It comes in one size (57-62cm medium/large) and two colours (white and blue). An earlier version of the helmet was standards approved for use in Australia, New Zealand, Europe, the UK, USA and Canada but after "some minor aesthetic changes" further standards testing is required. CycleVision expects this to be completed by the end of April 2018.
Initial impressions
Compared to a regular lightweight helmet, the CycleVision Edge does have a noticeable heft to it. At 447g it is significantly heavier than other helmets on the market, such as the Specialized Evade II (268g), Giro Vanquish (305g), or POC Ventral (264g). But despite the extra weight, I found it quick and easy to get used to the Edge quick and I never suffered any neck stiffness or soreness (that said, I didn't ride with it for more than three hours at a time). And while it's a heavy helmet, it's still impressively light given it contains two camera systems and a battery.
I only found the helmet's extra weight to be a downside on MTB trails or particularly bumpy roads. When hitting a bump, the helmet would sometimes drop down my forehead slightly, but even that is a minor issue — simply push the helmet back up and you're right to go.
Besides being heavy, the helmet is big, too. It's thick and chunky and for that reason alone, the CycleVision Edge won't take everyone's fancy. The fin-like design at the back of the helmet won't appeal to everyone, either.
The helmet itself is not uncomfortable, though. It does feel big — it feels like it sits around your head more than other helmets, and it does have a more obvious presence due to its size and weight. But the padding is soft, the straps perform as expected, and the retention system — a ratchet dial at the back — does a good job of keeping the helmet snug and secure.
It's a well ventilated helmet too — 21 vents ensure there's enough airflow to your head, helping to reduce overheating on those warm days.
(On a minor note, the front of the helmet looks somewhat akin to a smiling face. Two silver heatsinks comprise the eyes, the camera lens is the nose, and a recording/charging indicator light looks like a mouth. Hardly a deal-breaker, but once you see that, it's hard to unsee.)
Using the cameras
It couldn't be easier to start recording. Simply press the big, black button on the back of the helmet. After a couple of seconds both cameras will start recording and their indicator lights will start flashing red.
If a memory card gets full while recording, it will automatically start recording over the earliest footage. This removes the hassle of having to periodically erase the memory cards, particularly useful if you're only using the helmet to capture any dangerous incidents that may occur.
If you want to connect your smartphone to one of the cameras, simply press the helmet's button once more and the lights will flash green. From there you'll be able to discover and connect to either camera's WiFi network.
To turn the helmet off, simply press and hold the button. Simple.
Video impressions
There are a couple of things that are immediately apparent when you watch footage recorded with the CycleVision Edge. First: The footage is captured at a very wide angle. On the plus side this means you're getting more in the frame; on the downside it means there's a weird distortion at the edges of the image.
The manual says its possible to change the recording angle but I couldn't get that to work during my testing period — the option was greyed out in the smartphone app. There is a workaround, however — depending on the video editing software you're using, there are presets that can be used to "flatten" super-wide-angle images, reducing some of the edge-of-frame distortion.
The second thing that's immediately noticeable is that the video quality, while fine, isn't as good as you'll get from a standalone action camera like a GoPro. Images can be a little grainy at times and colour reproduction is sometimes poor. Colours often appear very dull; other times they appear super-saturated with blues and yellows looking particularly unnatural.
Of course, it's not all that surprising that the video quality isn't as high as from standalone devices — these two cameras are smaller, lighter and integrated into the helmet. And video quality isn't really an issue if you're simply using the camera to capture any dangerous overtaking manoeuvres on your commute — it picks up number plates just fine.
The video quality might be more of a concern if you're using the CycleVision Edge to capture footage for your sick new cycling edit (see mine at the top of the article), but even then, it does a more-than-fine job.
Image quality is surprisingly good in low light and at night — there's no noticeable drop in quality. Footage is impressively stable, too, when you consider there's no onboard image stabilisation.
By default each camera will add a timestamp to video it captures — useful in some circumstances, but probably more of a hassle for most users, particularly given the camera's timestamps appear to be slightly out of sync. Thankfully it's easy to turn the timestamps off — just connect to the camera in question via WiFi and access the camera settings via the CycleVision smartphone app.
While each camera has its own microphone, audio quality is poor — low resolution and quiet. While both microphones record to a stereo track, both only seem to create audio in the left track. In short: don't rely on the audio from the Edge — use a separate recorder if you want to get on-bike audio.
The audio in this clip hasn't been edited.
Additional features
As mentioned above, the ability to stream footage from a camera to your smartphone can be useful if you want to monitor what's going on behind you. Just connect your smartphone to the back camera via WiFi then turn on streaming via the smartphone app. There's even the ability to mirror the footage so what appears on the left of the screen is what's to your left.
For the safety conscious that want to see exactly what's happening behind them, this is certainly a nifty feature. It has the potential to provide a bit of extra time for an evasive maneuver in some cases, but this shouldn't replace other safety strategies like using rear lights at all times, or wearing bright or reflective clothing.
The CycleVision smartphone app also sets up the possibility of online livestreaming whatever the connected camera is seeing. This feature has great potential for race coverage — even the prospect of streaming your weekly local crit to your friends, family and social media followers is appealing.
Unfortunately, while the app has the provision for livestreaming, it currently isn't possible through a phone's mobile connection. For now you'll need to use a separate internet hotspot but CycleVision have said they'll look into this post-release.
Recording time and battery life
CycleVision claims that the Edge's battery lasts long enough for approximately three hours of recording time. That claim stacks up in my experience — in two battery life tests I was able to record for 2 hours 40 minutes and then for three hours exactly.
As mentioned above, charging is done via the rear USB port. Blue lights below the lens indicate the level of charge in the battery. Battery life can also be extended by using an external battery pack plugged in via the rear USB port.
As for recording time, you'll get between three and four hours of footage on each 32GB memory card before it fills up and starts recording over itself.
Issues and concerns
In the process of testing the CycleVision Edge I came across a handful of issues and problems. As noted above though, the helmet is still yet to be released so some of these issues might be resolved before the Edge makes it to market.
At this stage the CycleVision Edge breaks the video it records into two-minute chunks, rather than writing it as one long file. This is frustrating if you're trying to make a longer video using more than two continuous minutes from the one camera, particularly given each chunk appears to have two or three 100ths of a second of black screen at the end. Laying the clips out end-to-end will lead to black flashes every couple minutes or, as I found with Final Cut Pro, will simply stop the video from rendering.
It's possible to simply chop out the glitchy frames in your video editor and continue in that fashion. Alternatively, it's possible to run the videos through a converter (CycleVision recommends Video Converter by Wondershare) to strip out the black frames and join multiple clips together.
The team at CycleVision have said there won't be changes to the two-minute recording length prior to release, but a future version of the Edge will be updated to address various pieces of customer feedback.
During testing I ran into problems when the back camera's memory card became full. Rather than recording over the oldest footage, the camera would simply stop recording. The front camera looped over as expected.
On several occasions when hitting the record button, only one of the two cameras would record, even when the memory cards were empty and the battery was fully charged. The only way I could get it to work as planned was to wait for the battery to run flat, before recharging and trying again. (CycleVision has since explained that it's possible to reset the device by pressing a small recessed button above the main button.)
Transferring files off the cameras was slower than I'm used to with other camera devices and external hard drives. And on the issue of transfers, be sure not to plug a cable into both the back and front USB ports at the same time as this will damage the circuitry. While this is made clear in the manual, it does strike me as a design flaw — many people will use the device without reading the manual and pulling footage off two cameras at once seems like a pretty reasonable time-saving measure.
As for the CycleVision app, it has a rather basic feel to it and seems more like an existing app framework that has been altered for CycleVision rather than something that's been built from the ground up. While no changes are planned before release, an updated version of the app will arrive thereafter, incorporating user feedback.
Note that while the two videos are synced, their timestamps are not …
Price
Final pricing for the Edge is yet to be confirmed, but CycleVision tells us the helmet will be available for less than the AU$660 (US$515 / 360GBP / 414 Euro) that's listed on the project's Kickstarter page. This is due to the fact CycleVision has "been able to negotiate better deals with some of [its] suppliers" and has "trimmed operating costs across the board." The final price will be announced in the next few weeks.
Assuming the price drops into the AU$500-$600 range, that's still expensive for a bike helmet. But when you consider what's inside the helmet, it's really not a bad deal.
By way of comparison, the Fly6 rear camera + light combination and Fly12 front camera + light combination costs a total of AU$658. That's without a helmet, but does include front and rear lights. The GoPro 6 Black action camera is $599 on its own.
Conclusion
The CycleVision Edge is not a product without problems, but that's to be expected at this stage of development. More importantly, it's a product with potential. If safety is your goal, then you could certainly do worse than to have two cameras integrated into your helmet, constantly keeping an eye out for you and documenting any unfortunate incidents.
As an added benefit, it can also be used to provide a unique angle to cycling (and racing) videos, so long as you're willing to take a bit of a hit on video quality. And when it comes to racing, the capacity for livestreaming opens up exciting opportunities for the future.
The size, weight and form factor of the CycleVision won't appeal to everyone, but that's no different to any other product on the market. Importantly, the weight of the helmet, while initially noticeable, seems to become a non-issue very quickly.
We look forward to seeing how things progress with the CycleVision Edge, and indeed in the integrated camera space.
Photo gallery