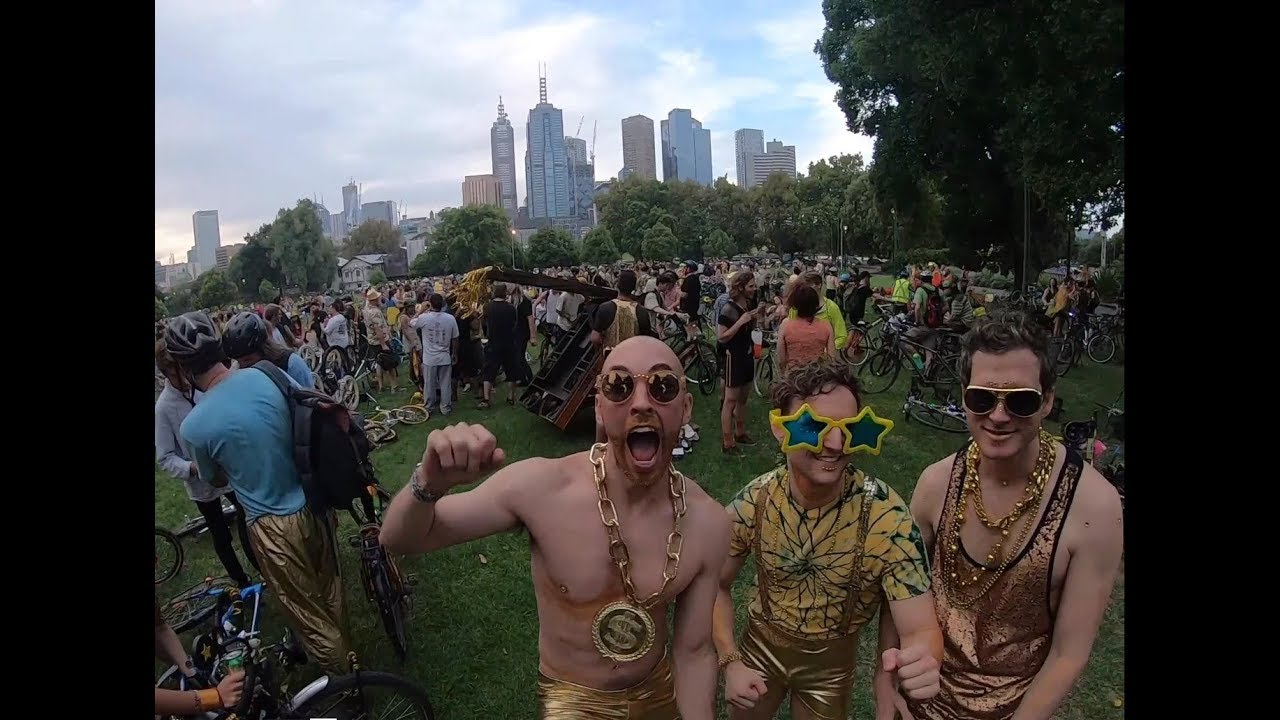 One golden evening at Bike Rave 2019
Don't miss out on the latest CyclingTips updates.
Being in on a secret is neat. As we rode through Melbourne, with pre-event beats blasting out of a bluetooth speaker, we rolled up alongside a rider resplendent in a gold jacket, with three Christmas baubles bouncing under her saddle. There was nothing more than a nod, followed by a laugh. We knew where she was headed.
Together we were en route to the Yarra River rendezvous point that marked the start of the sixth annual Bike Rave. Think of a giant flash-mob dance party on wheels.
I was headed down with my sister and her boyfriend. A bit of faffing about meant we were a bit late getting to the start, which meant we would miss the all-important 3-2-1 countdown that signifies the start of the party … and the start of a curated four-hour playlist. Of course, synchronising hundreds of bluetooth speakers simultaneously is next to impossible, but the unmeshed beats are certainly part of the charm of this low-fi approach in a world of streaming.
Although there was no one at the initial meeting point when we arrived, any fear of missing the party quickly evaporated as bass notes started wafting across the river. Stretching from Melbourne's boatsheds right back and out of view was a long line of riders, glinting golden – not just because of the spectacular sunset washing over them, but thanks to the 'gold' theme for the 2019 edition.
As we crossed the river to join the snaking mobile party, the scale of the event hit us. Filling the park at 'stop two' were all manner of bikes and people. Families alongside clubbers, showbike dragsters alongside bike polo rigs, fire-twirling reflected off gold-foil wrapped mountain bikes. Everywhere there were smiling, happy people.
While 'gold' was the official theme, it was the attitude of the riders that was most representative. "Have fun, be nice to people, meet people" was the simple message (alongside the more practical "Watch out for tourists, watch out for people on Southbank, watch out for the Yarra, watch out for anyone in Melbourne who doesn't ride a bike"). After a quick lap of the party we were soon being called to saddle up again.
As more than a thousand cyclists rolled slowly down Melbourne's Southbank I gained an appreciation not only of the uniqueness of this event, but the positive impact it left. Southbank was literally brought to a standstill as pedestrians stopped to cheer (and 'gram) the travelling dance party. There were curious faces, laughter, plenty of high-fives, and even some impromptu dancing as people stood up from their chairs in restaurants to see what all the din was about.
The one thing that was noticeably lacking was any form of irritation or agro from the public. At a time when hostility towards cyclists only seems to be growing, it was refreshing to be part of a event that had such a positive impact; a cycling event that bemused and entertained rather than frustrated.
I almost bailed on heading along, having never been to Bike Rave and not really knowing what to expect. But as the party continued on to a number of different stops and the laughing intensified, I was glad that I'd taken the punt. For the first time I had the chance to see a completely different spoke in the wheel that makes up this incredible and diverse cycling community.
While I'll probably forego the body paint and hotpants, I'll be back next year with a party attitude, plenty of bike bling, and a bigger speaker.
An excellent video from filmmaker Richard Garcia showing what Bike Rave is all about.