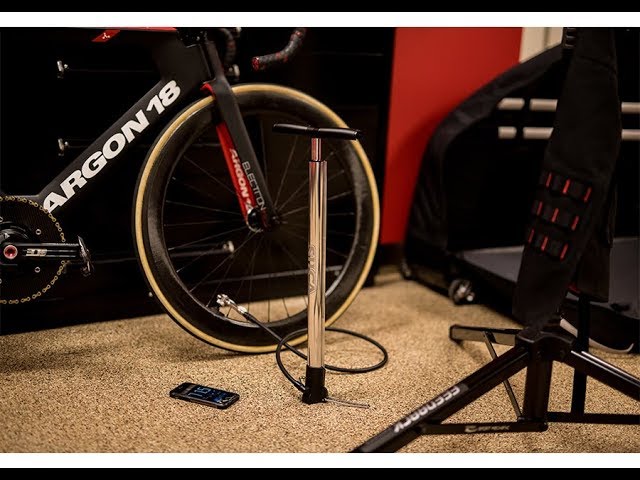 Silca introduces Viaggio Bluetooth-enabled travel pump
Don't miss out on the latest CyclingTips updates.
The tire inflation specialists at Silca have just announced their latest creation: a high-end travel pump called Viaggio ("travel" in Italian) that not only collapses for easy storage inside a travel case, but also boasts an electronic pressure sensor that sends readings in real-time to your smartphone via Bluetooth.
Wait, what?
As if travel pumps themselves aren't enough of a niche product, the fact that Silca has opted to equip the Viaggio with an electronic pressure gauge instead of a mechanical arguably ups the ante into the truly silly realm. Or does it? Having used a number of dedicated travel pumps myself over the years (such as from Lezyne and Specialized), the idea of a compact pump that also offers a far more accurate (+/- 0.5psi, claimed) and legible pressure reading than the micro-sized gauges typically fitted in this product category is honestly quite appealing. The same technology is also used on Silca's Tattico Bluetooth mini-pump.
Other features on the Viaggio include a properly sized removable aluminum handle, fold-out feet, a separate hose with Silca's excellent Hiro locking chuck (plus Schrader compatibility if that's your thing), and Silca's trademark leather plunger and brass check valve, all of which are intended to be fully serviceable and rebuildable. As icing on the cake, the Viaggio is stored in a fancy waxed canvas bag, which also has room for whatever other tools you might need to assemble and disassemble your bike on-site.
Not surprisingly given the Silca brand name, the Viaggio is far from inexpensive at US$275 (pricing for other regions is TBC). But if you're one of those frequent-flying cyclists who already has an ultra-high-end dedicated travel bike, this sort of thing might make sense. We just received one in for review, so we'll chime in with firsthand impressions in the coming weeks.