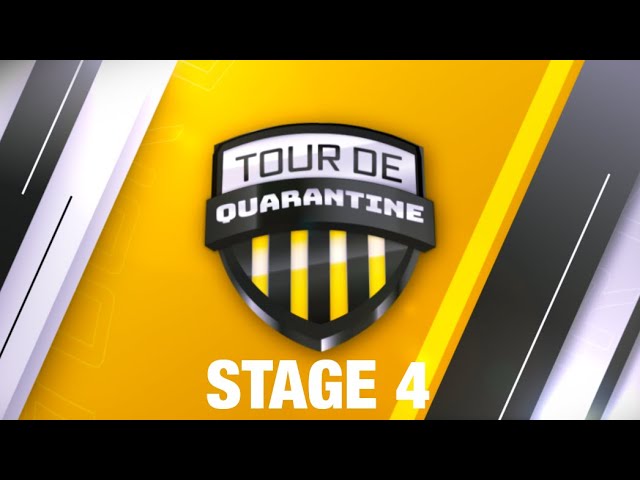 Tour de Quarantine stage 4: A big DNF and a controversial attack
Don't miss out on the latest CyclingTips updates.
All credit for the creation and production of the Tour de Quarantine goes to race announcer Brad Sohner, who gave us permission to post this bit of genius. Follow Brad on Twitter and keep an eye out for the coming stages of the Tour de Quarantine.
The fourth stage of the Tour de Quarantine featured plenty of storylines, as one contender pulled out of the race while two big stars battled for the stage win for the second time this week.
Sitting in fourth overall heading into the day, Bike Cop was a surprise DNF on Wednesday, climbing into the team car for unknown reasons.
Later on in the stage it would be stage 1 winner Lady On Ebike and stage 1 runner-up Guy In Orange going head-to-head once more, this time after attacking in the feed zone as the rest of the peloton turned to hoarding musettes. Despite the frustrated gesticulations of those caught out by the attack, the pair pushed on to build up a hefty gap.
Taking a 30-second advantage into the finale, Lady On Ebike and Guy In Orange were locked in a fierce battle as the finish line approached before Guy In Orange pulled clear in the final meters to nab the stage 4 win.
Post-race analysis from Dane Cash: This was the performance we'd been waiting on from Guy In Orange, who really needed to bounce back after coming up a little short on stage 1. His flying form was the talk of the team buses at the tune-up events heading into this all-important race, and his big showing on stage 4 was a strong statement that he has what it takes to get the big wins.
That said, the result came on a mostly flat parcours, and Lady on Ebike remains a rider to watch on the steep stuff moving forward. As for those complaining about the feed zone attack, I have no problem with that whatsoever. Hopefully the musette hoarders will learn their lesson. The race is always on.
For highlights from the last kilometer, click the video above.
Results
1. Guy In Orange – 0:45:32
2. Lady On Ebike
3. White Fork – 0:00:12
4. Jimmy Johns Delivery – 0:00:18
5. Kid On BMX Bike – 0:00:22
Check back for tomorrow's stage.