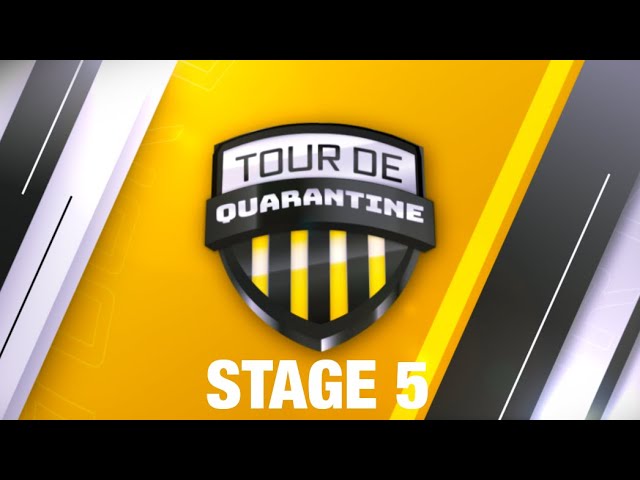 Tour de Quarantine stage 5: Another duel along the river
Don't miss out on the latest CyclingTips updates.
All credit for the creation and production of the Tour de Quarantine goes to race announcer Brad Sohner, who gave us permission to post this bit of genius. Follow Brad on Twitter and keep an eye out for the coming stages of the Tour de Quarantine.
The fifth stage of the Tour de Quarantine featured another two-rider showdown with overall leader Guy In Orange ultimately stamping his authority on this race, taking his second straight stage victory.
After his big win over Lady On Ebike on Wednesday, Guy In Orange swapped his trademark color for the neon leader's jersey but did not lose any of his trademark power. On Thursday he put it work in a head-to-head duel with Very Very Cute Dog (Good Boy).
With a gap heading into the final five hundred meters of the race, the canine looked set for the big win, but Guy In Orange put in a huge turn of pace as the finish line neared. Showing no mercy despite the cuteness of the dog he was leaving in the rearview mirror, Guy In Orange surged past and snatch the victory.
A despondent Very Very Cute Dog (Good Boy) settled for runner-up honors with Strava Hunter in a distant third.
Post-race analysis from Dane Cash: You have to feel Very Very Cute Dog (Good Boy), who was widely tipped to come away with this one. A skillset well-suited to this profile was just no match for the raw strength of Guy In Orange, who has now consolidated his lead in this race. Meanwhile, Lady On Ebike has seen her GC stock plummet after finishing nearly three minutes down on the day.
Particularly given his team's firepower and uncompromising commitment to keeping the pace high, Guy In Orange (now in neon) will be tough to unseat now—but then, anything can happen in this race.
For highlights from the last kilometer, click the video above.
Results
1. Guy In Orange – 6:25:32
2. Very Very Cute Dog (Good Boy) – 0:00:08
3. Strava Hunter – 0:00:33
4. Recumbent Dude – 0:00:41
5. Kid On BMX Bike – 0:00:55
Check back for tomorrow's stage.