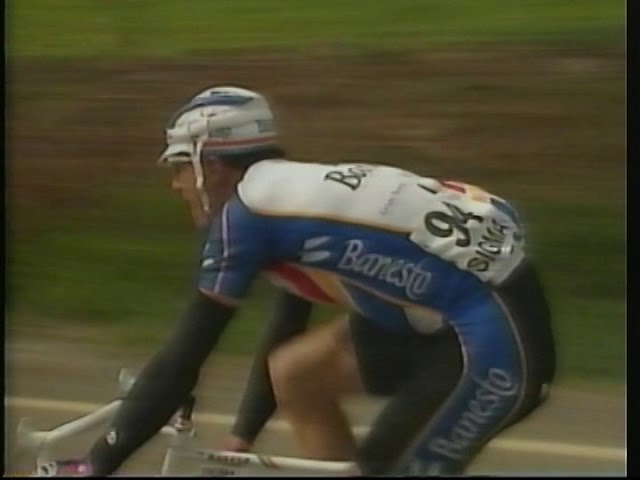 Come watch 1991 Liège-Bastogne-Liège with us
Don't miss out on the latest CyclingTips updates.
Welcome to the final week of #ClassicClassics, where we gather to watch bike races that have already happened — and pretend that they're totally new. Shhhh, no spoilers!
How it works
On Sunday, 26 April, 8am west coast time, we'll view the 1991 edition of Liège-Bastogne-Liège. Hit play on the video on the hour, and join us for conversation and banter, either here on Cyclingtips or on Twitter, where you can follow #ClassicClassics.
La Doyenne, the Drama Queen
The oldest of cycling's one-day classics, Liège-Bastogne-Liège dates from 1892. The first edition, a gentleman's race open to amateurs only, ran 250 kilometers from Spa to Bastogne and back. About half of the 33 starters elected to abandon in Bastogne and return to Spa by train, rather than by bicycle. Leon Houa won the day after more than ten hours in the saddle. His closest rival, Léon Lhoest trailed by 22 minutes.
Though the course has altered in various ways over time, it's retained a drama queen personality, all ups and downs, all day long. The course's signature climb, La Redoute, comes late in the day, and runs just over 2 kilometers, with an average gradient north of 8%. The famous climb has provided a launchpad for race-winning moves on multiple occasions. In 1997, for example, Michele Bartoli escaped with Laurent Jalabert, and Bartoli won it at the line.
With its succession of climbs, Liège-Bastogne-Liège typically unfolds as a race of attrition. It's rarely won by accident, and the results list includes some of the sport's biggest names. Predictably, Eddy Merckx tops the all-time list with five victories. He's followed by Alejandro Valverde and Moreno Argentin with four each. Bernard Hinault won twice, including the entirely insane 1980 edition that took place in the snow.
Make Way for the New Kids
The 1991 edition snapshots a generational shift. One of the best one-day riders of the era, three-time Liège winner and 1986 world champion Moreno Argentin, 31, hoped to cap his career with a fourth victory. A versatile and stylish one-day rider, Argentin had snapped up victories at Ronde van Vlaanderen, Flèche Wallonne, and a stage of the Tour de France in 1990, but Liège had eluded him since 1986.
Argentin started Liège in 1991 after beating Claude Criquielion into second at Flèche Wallonne. Theirs was one of the spicier rivalries of the era. Like Argentin, Criquielion, 34, was late in his career by 1991. It was, in fact, the Belgian's final year in the professional ranks. In 1984, Criquielion had won the world title, and he'd twice won Flèche Wallonne, most recently in 1989.
But he'd never yet won Liège-Bastogne-Liège. When Criquielion went to the line in 1991, his best finish there was second in 1985. That year, a three-up breakaway held off the field by 16 seconds, and Argentin took the win ahead of Criquielion and Stephen Roche. Now six years later, Roche was 33, and though he rode Liège in 1991, his best years were behind him.
In the grand tours, 1991 was also a transitional year. The previous year, Greg LeMond won his third Tour de France, but there were new talents nipping at his heels. While the old guard such as Argentin and Criquielion hoped to score their last victories at Liège in 1991, twenty-six-year-old Miguel Indurain was just getting started. In July, Indurain took his first of five-straight victories at the Tour de France. Lemond finished seventh, and the following year, LeMond rode his final season.
Last, but certainly not least, the 1991 edition of Liège includes Mexican talent Raúl Alcalá. At the 1987 Tour de France, Alcalá won the Best Young Rider prize and he went on to finish in the top ten overall on two occasions. He was a multiple-time winner of the Tour of Mexico and Alcalá won the 1987 Coors Classic ahead of Jeff Pierce and Andy Hampsten. In 1990, he also won the Tour de Trump.
Shiny Happy People and other ephemera
If you're wondering what 1991 sounded like, either because you weren't even there, or you can't be bothered to remember, we got you. Bryan Adams had the number one single in 1991: "(Everything I do) I do it for you." Song names, they were long back then.
REM scored the 100th most popular song with the uncharacteristically extroverted, "Shiny, Happy People." Metallica released the "Black" album, which sounded not at all like anyone expected. Life was pretty unpredictable in 1991, on the whole. Not to be outdone in volume or hair, the Scorpions made the year-end charts with Winds of Change.
Join us Sunday at 8am (Pacific), 5pm CET, to watch this excellent edition of Liege. Hop on Twitter with the #classicclassics hashtag or jump into the comments below.