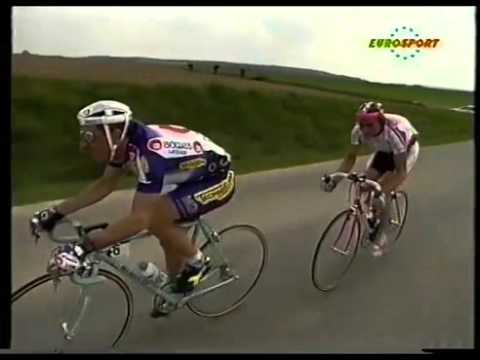 Come watch vintage Amstel Gold with us
Don't miss out on the latest CyclingTips updates.
Welcome back to week five of Classic Classics. This week's race is Amstel Gold Race, and we'll gather to watch it on Sunday, 19 April at 8 am Pacific time (that's 11 am Eastern, 5pm CET).
The concept, as always, is a simple one: open this page just before the start time, click play at exactly 8am Pacific, and watch the race with us here or on Twitter using the hashtag #ClassicClassics
If you took a bowl of spaghetti and threw it at a road map of the Limburg area of the Netherlands, you would end up with something that looks a lot like the course for Amstel Gold Race. A typical Amstel Gold course has more twists and turns than the most overly plotted pulp fiction. The 1994 edition ran 250 kilometers from Heerlen to Maastricht and included 25 hellingen, the sharp, hellish climbs that give the race its distinctive character.
Relative to its neighbors on the calendar, Amstel Gold is a baby-faced newcomer. The oldest of cycling's five monuments, Liège-Bastogne-Liège, dates from 1892. The first edition of Amstel Gold Race ran in 1966. It was a monster by modern standards at 302 kilometers. France's Jean Stablinski won that first one, and just 30 riders finished out of 120 starters. The race gained in prominence when Eddy Merckx showed up and won in 1973, after finally finagling enough start money out of the organizers. Merckx won again in 1975.
If the course is notable for its u-turns, the race is a wildcard for outcomes, too. Both climbers and cobbles specialists have won it, and Amstel Gold occupies a transitional spot on the calendar. Wave farewell to the wind-scoured cobbled races. Look ahead to the longer climbs of Liège-Bastogne-Liège, and farther still to the high mountains of Italy and France.
The record for most victories at Amstel Gold belongs to Dutch rider Jan Raas, who won on five occasions. The son of a farmer, Raas won a world title, three of cycling's five monuments — Milano-Sanremo, Ronde van Vlaanderen, and Paris-Roubaix — and ten stages of the Tour de France. Raas didn't consider himself a climber, but he could grind through the hellingen at Amstel Gold, which gives you an idea of what this race is about.
In truth, the winner's list of Amstel Gold is the mixed nuts of cycling's chocolate box. Bernard Hinault, Walter Planckaert, Fränk Schleck, Roman Kreuziger, Danilo DiLuca, Alexander Vinokourov, and Philippe Gilbert all have this race in common. None of these kids is all that much like the other one.
The 1994 season opened with a breakaway winner at Milano-Sanremo. Giorgio Furlan, riding for Gewiss-Ballan held off the field by 24 seconds. Mario Cipollini won the bunch sprint for second. The Ronde van Vlaanderen finished with a four-up sprint that included Gianni Bugno, Johann Museeuw, Andrei Tchmil, and Franco Ballerini. Bugno took that one right on the line.
One of the best editions of Paris-Roubaix in recent memory also took place in 1994. Andrei Tchmil won a dramatic solo victory ahead of Fabio Baldato and Ballerini. Tchmil had more than a minute in hand at the finish. If you're only going to win Paris-Roubaix once as Tchmil did, best to do it in style.
The 1994 startlist for Amstel Gold included a characteristically diverse bunch. The lineup at Heerlen included: Bjarne Riis, Ivan Gotti, Davide Rebellin, Richard Virenque, Claudio Chiapucci, and Johann Museeuw. Try if you can, to guess the winner out of that list of names. Yes, yes, you are probably smart and have all these things memorized. Don't spoil it for the rest of us less smart people!
See you all on Sunday at 8am, west coast! Join the conversation here or follow #ClassicClassics on the Twitter.