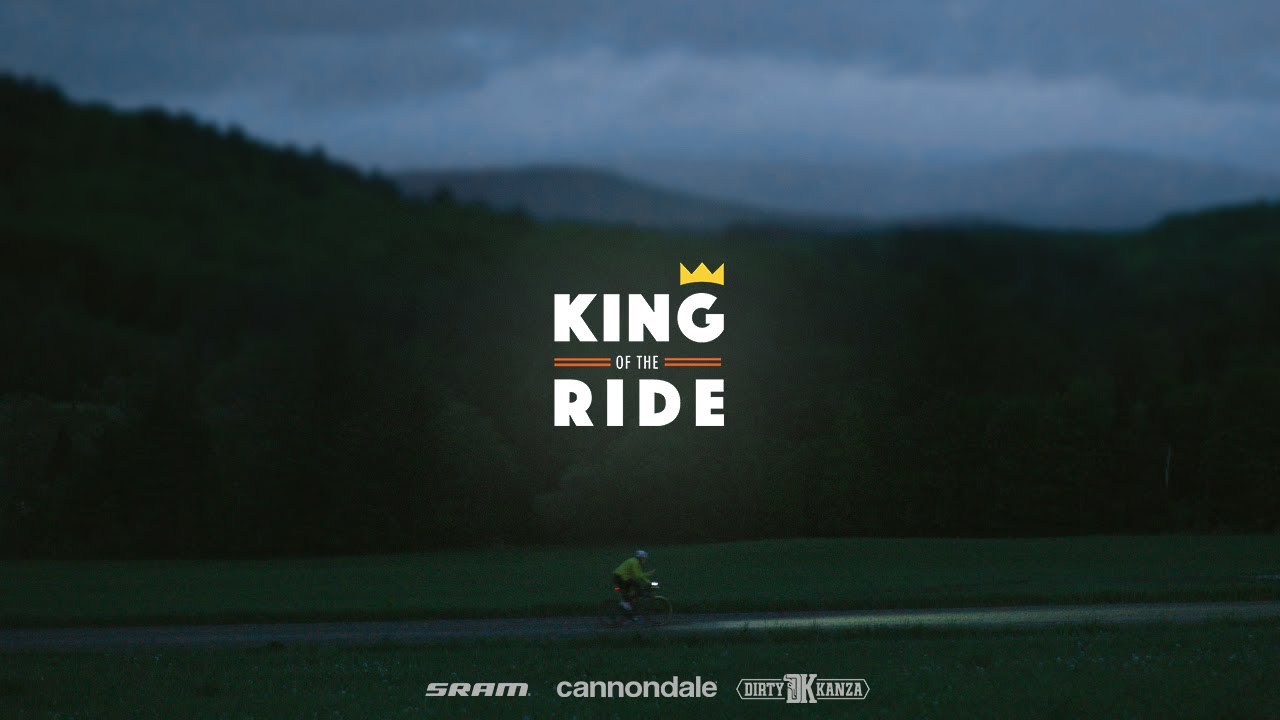 Ted King's ridiculous 23-hour gravel ride across an entire state
Don't miss out on the latest CyclingTips updates.
Three weeks ago, on a damp night on the Canadian border of Vermont, Ted King set off for a very big bike ride. With a chipper 'ciao', the ex-roadie-turned-gravel-pro rolled into the driving rain and the inky dark and set a course south.
King didn't know it at the time, but by the end of the ride he would be "as empty as I've ever been." In under 24 hours, he would ride 500 km (310 miles) down the length of Vermont, with almost 10,000 m (31,000 feet) of elevation, across some of the roughest gravel roads the state has to offer.
~~~
Like any other professional athlete – indeed, like any other person – King's life has been upended by the global pandemic. As coronavirus spread across the United States, the gravel season ground to a halt with a string of cancellations and postponements, and King's race schedule was suddenly a lot less cluttered.
Life had changed in other ways, too. Two days before coronavirus lockdowns hit Vermont, the Kings – Ted and his wife, Laura, who also works in the cycling industry and is an accomplished rider in her own right – welcomed their first child, Hazel, into the world. The enforced stretch at home in rural Vermont was, despite the world going to hell around them, "an eye-opening blessing."
"It's allowed us to timestamp the pandemic," King told me over Skype. "There were the early waves of 'things weren't right in the world', and then, the world goes into lockdown."
For a pair of new parents with a busy travel schedule, "to be granted this time to be in this forced lockdown with a newborn has been spectacular," King says. "Prior to this pandemic, I think the longest time that we were ever home without travelling somewhere was probably a month or less. It's a bit surreal to be here for months on end."
The life of a professional athlete imbues a certain discipline, though, and with the gravel calendar falling by the wayside King still wanted beacons in the gloom. He created DIY Gravel – a series of self-motivated events that would bring the gravel community together, even in isolation, to ride the distance of milestone races through the spring and summer. Since April 18, coinciding with the Rasputitsa gravel race, King has been trotting out these big rides.
On May 30, Dirty Kanza would've run, and that event, King says, "deserves something bigger." The most prestigious gravel race in the world has been the stage for some of King's biggest wins, in 2016 and 2018. More than perhaps any other gravel race in the 2020 calendar, it was the postponement of Dirty Kanza that left the biggest hole.
So, King filled that hole with a very big bike ride.
The Kings' adopted home state of Vermont is, King says, "tiny … narrow, but tall" and the preeminent distance cycling challenge there is the '200 on 100' – a 216-mile (348 km) ride along a single road, the Route 100. That's a tough ride in its own right, but idly curious, King asked a local endurance cycling legend and philosophy professor, Joe Cruz, for suggestions for a gravel variant. What Cruz came back with ended up being King's route for the Dirty Kanza DIY Gravel.
"I'd say it was 90% gravel, maybe 10% paved. And of that, maybe 25% of the route was class four roads," King told me. "It's a Vermont term. Class four means unmaintained roads, often decades or literally centuries old. A class four road might go by a really old stone wall that probably designated somebody's property 200 years ago.
"Unmaintained in this neck of the woods means when it snows in the winter, they're not ploughed. They are never roadswept. There were trees down across the course, especially in the beginning," King continues. "They're good for snowmobile and they're good for mountain biking; they're good for 4×4."
They're not quite as good for a gravel bike, even one at the more capable end of the spectrum, as King's Cannondale Topstone Carbon Lefty was. The rough terrain, King notes wryly, "slowed down the average speed considerably."
At various points during King's mostly solo odyssey south through Vermont, his spirits were buoyed by the presence of friends and family. Ian Boswell, another ex-WorldTour-professional-turned-gravel-racer based in Vermont, rode with King for around 45 miles (72 km), and Laura and Hazel stopped by for a morale boost too. "That boosted spirits … I was an emotional roller coaster at that point. Like, 'I don't know if I can finish – this is awful'. [Seeing them] was great," King says.
At the end of the ride, having ridden through the darkness of one night and into another, King finally approached Vermont's southern border with Massachusetts, his long frame backlit by a following car's headlights. His shadow – narrow but tall, kinda like Vermont – stretched across the road and into the dense forest on the roadside. With an effortful twist of his ankle, he clicked out of his pedals and came to a stop.
Speaking to CyclingTips three weeks later, King was still struggling to contextualize the enormity of the ride. "It took a much bigger physical toll on me than anything I've done in the past half dozen years," he says. "I was completely and utterly shelled and empty and smoked."
In a lineage of big rides for King that includes dozens of gravel races, Grand Tours and monuments, the DIY Gravel ride down Vermont occupies its own special place.
"It's my longest [ride] by 100 miles," King says. "It is the most climbing by probably two times … and it rained on me for the first five hours. It definitely cooled me off and made me question a whole lot of things when it's, you know, five hours of riding in the pitch black, super windy. And then on top of that, the whole day Sunday, it just never warmed up. So, yeah, it was probably four or five, six degrees Celsius."
That made for, King notes, a "cinematic bonus" for the film crew following him on the ride. They were able to capture the pitter-patter of rain on red barns, and the villages folded into the crevices between Vermont's endlessly rolling green hills, set to an accompaniment of interviews with King and Joe Cruz, intellectualising the meditative physicality of cycling. You can see the final film at the top of this article.
Ted and Laura King's daughter Hazel, now three months old, is growing up in a household where such activity is normalised and woven into the fabric of the home. The same week as Ted's cross-state ride, Laura set off on a DIY Gravel ride that may well have been the more impressive ride of the two, given the context – she rode 203 miles (326 km) across Vermont, New Hampshire and Maine, 12 weeks after giving birth. That ride was a DIY Gravel nod to the Belgian Waffle Ride, a race that Laura and Ted both finished second at in 2018.
Laura set off under clear spring skies, and this time it was Ted's turn to be emotional and logistical support. "I take a small fraction of the credit, but she takes the lion's share," King says. "I'm making sure that I pack the car right, to make sure that we have the right milk on ice [for Hazel] and coordinating with Laura if we're going to have a stop with her for her to feed Hazel. It's a fun puzzle."
Of the nutritional and hydration demands of riding that far while still breastfeeding a newborn, Ted says with a quiet awe "I can't even fathom it."
Laura King was riding up until a week before Hazel's birth, and a week later, she was back to it. She's steadily built up from there. "Laura has done an amazing job showing what is possible, certainly if things go well amid your pregnancy [and] if you have a healthy, happy child," her husband says. "I mean, she certainly recognises more than anyone how lucky we have been in our in the health of our child, her birth …"
https://www.instagram.com/p/CBLJTdJljZQ/
A hundred days into their new roles of parenthood, the Kings seem to have found a balance of what's needed and how to achieve it. Riding is important to both of them – both personally and professionally – so they structure their lives around that, checking weather patterns and scheduling in ride time.
"It takes the recognition that being out and being active is so important to both of us that it's not as though one person would ever deprive the other," King muses. "It's understanding that, yeah, part of what is going to make a peaceful home is letting us both get out and be active."
On Ted King's cross-Vermont ride, the changing family dynamic helped provide context and comfort to understanding the physical demands he was putting himself through. On those seemingly endless kilometres on sloppy, rocky or tree-crossed roads, King had plenty of time to think – about family, about the state of the world, about isolation, and about the challenges and rewards of a very big bike ride.
"To be taken so far out of your comfort zone," King says, "to do things on a different timetable, to do things on a different schedule than you're accustomed, which is probably no different to having a kid … that's a good kick to the butt every now and then."
Ted's bike
Frameset: Cannondale Topstone Carbon Lefty
Shifters/brakes: SRAM Force eTap AXS, 1x
Rear derailleur: SRAM X01 Eagle eTap AXS
Cassette: SRAM X01 Eagle, 10-50T
Crankset: SRAM Force AXS 1x Crankset, 46T with SRAM Force AXS power meter
Pedals: Speedplay Pavé
Wheelset: Zipp 650b 303 Firecrest wheels
Tyres: Rene Herse Switchback Hill 650×48 mm, tubeless
Handlebars: Zipp XLPR
Stem: Zipp SL Speed
Seat post: Zipp SL Speed
Saddle: Fizik Tempo Argo R1 saddle
Computer: Garmin Edge 1030
Computer mount: Barfly cycling computer mount
Bags: MoosePacks handlebar bag and frame bag
Bottle cages: Arundel Mandible and Arundel STR
Nutrition: Untapped.cc